Every client matters
De Jong Packaging specialises in manufacturing corrugated board packaging for fresh produce and industrial food, and it supplies SME,s in Northwest Europe
De Jong Packaging was established 20 years ago, and since then it has gone from strength-to-strength, developing from humble beginnings into a key provider of packaging for small and medium sized companies. It currently produces over 300 million trays and boxes every year, supplying a range of companies, which includes all Dutch fresh produce growers of tomatoes,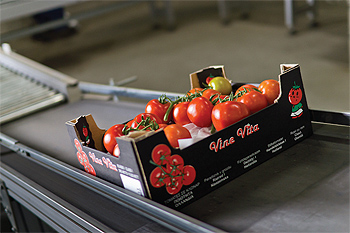 peppers, vegetables and potatoes. Though it has a large presence in Holland and was established there, it now has a strong position in a number of countries in Northwest Europe, and has most recently started to grow itself in the United Kingdom. The company's approach to packaging is one that ensures that its customers needs are always met, which involves flexibility, creativity, and efficiency, all of which De Jong Packaging excels at.
The history of the company has provided it with a great understanding of its customers as it began as a user of packaging and then subsequently became a manufacturer. Sales and Marketing Director Arie Barendregt discussed how the business came about: "The company was founded by a farmer in fact, and this is one reason why the company still remains very connected to fresh produce packaging. He was approached by the Dutch retail sector and they wanted him to start supplying directly outside of the corporation he was a part of. This meant that the corporation would not support or supply him with any packaging, and this is when he decided to start producing his own packaging." This was the defining moment in its history, and De Jong has developed from that point, it has invested in various new machinery, and become a manufacturer of packaging for its home market and across Europe.
Its investments came in the form of its first corrugated machine in 2007 and a second installed in 2014, plus many more new machines over the years, and these allow De Jong to design bespoke corrugated board trays and folding boxes. Due to many years of experience it has a vast knowledge and understanding of packaging, and is able to create designs that support transport, stacking, function, protection, and optimal manufacturability. This process is also all conducted in-house with its machinery, and experienced staff, all of which means that its customers can rest assured that from start-tofinish their packaging needs are being met by De Jong.
Due to its growth and evolution over the years the company has transformed, and become increasingly international, with an expanding portfolio of packaging. Arie provided some information on this: "We are of course very strong in Holland, and this also extends to Germany, Poland, Austria, and Belgium, as well as in 2015 when we started to make a successful market entry in the United Kingdom. Furthermore, we not only sell fresh produce boxes – in 2011 it was approximately 100 per cent fresh produce and nought per cent in other categories, which has shifted to something akin to 75 per cent fresh produce and 25 per cent other categories. Both areas have increased and are supported by the growth of the company as a whole, which has gone from an annual turnover of €90 million to one of €160 million."
The business has achieved this growth through working closely with small and medium sized companies to solve their specific needs, and this is an approach that De Jong will continue to pursue: "We really specialise in addressing what any small to medium enterprises want and need, and this allows us to remain flexible and work with the lowest possible cost. It also means that our capacity is never blocked due to orders from larger players, and as a result our customers can reduce stock because they can rely on us to supply them quickly. This is something we offer to customers wherever they are, for example even in the UK we can supply them in five to seven days. We ship to customers not only during the weekdays, but also weekends, holidays, in Easter, and in Christmas, whenever a customer needs packaging, we can deliver."
De Jong's approach to its customers is something that it wants to get across to all of the markets it is active in, which is why the business regularly attends trade shows. One of the most recent examples of which is the Empak trade show in Birmingham that De Jong used to show prospective UK customers that it offers something that focuses on the needs of every client that it works with.
This engagement, and its determination to work with small to medium sized businesses, means that it can truly tailor its services to its clients. For these reasons and countless more De Jong distributes its high quality product throughout Holland, and many more countries such as the UK and Germany. Therefore, with the latest machinery in place, and a exceptional understanding of its customers, the future of De Jong will likely be one that sees the company continue to grow for many years to come.
De Jong Packaging
Products: Corrugated board packaging for fresh produce and industrial food