Delivering high-quality products within a culture of continuous improvement, Reyco Granning has been serving its customers in the transportation industry since 1924
With over 90 years of experience in the transportation industry, Reyco Granning has a long-established history of designing and manufacturing air spring, leaf spring, and auxiliary suspensions for specialty vehicle, truck, and trailer OEMs. Headquartered in Mount Vernon, Missouri, Reyco's central position in the US means it is well placed to provide customers with quality-assured, reliable products.

The company's core expertise focuses on suspension systems, and the products it provides can be categorized into three types. The first category is turnkey modules, which provides customers with a preassembled system that may include not only suspension but axle, steering, braking and drive systems. Alternatively, some customers prefer to assemble their own systems and for those Reyco provides unassembled kits. Finally, the company provides aftermarket solutions, selling individual parts to customers where replacement is necessary due to damage or wear. The company operates across a broad range of markets, primarily serving customers in the motorhome sector, in addition to emergency response vehicles, specialty trailers, commercial trucks, and transit vehicles, such as buses and luxury coaches.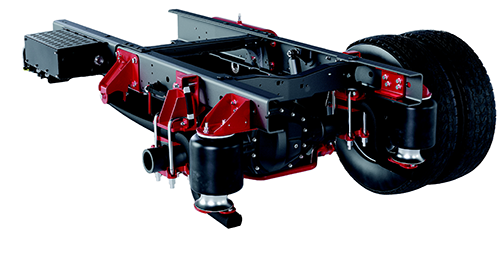 Safety first
Safety is critical in the transportation industry, thus, quality assurance is core for Reyco Granning. The company uses electronic process documents, which can be accessed via smartphone or on workstations throughout the facility. Critical joints and steering linkages are electronically fastened and controlled in an automated fashion to ensure that torque specifications are met. Furthermore, inspection is implemented at all stages of the production process to ensure that any mistakes are caught early and can be easily resolved well before the customer would be exposed to them. This is in addition to the traditional end of line checklist inspections, which ensure that the final product meets all requirements. Finally, Reyco has IATF 16949 quality system certification, demonstrating a qualified level of competence.
Reyco Granning uses a stage-gated process to keep product development disciplined and efficient. A dedicated Program Manager ensures Reyco's product development machine runs smoothly. This process incorporates solid body mechanics, topology optimization and virtual design simulation tools which can be used to predict how a product will react to real-world environments. In addition to this, the company utilizes its own fleet of vehicles for data acquisition, optimization, and benchmarking to ensure world-class performance across the product range.
Alongside the company headquarters, Reyco Granning also has a tech center in Indiana, which serves as a hub for research and innovation. The company boasts more patented technological breakthroughs for Independent Front Suspension (IFS) than any other heavy vehicle system supplier. Reyco can back this up with real world experience, having fielded nearly 60,000 IFS units.
Production technology plays an equally important role within the industry, with an increased reliance on automation. This is reflected in Reyco's recent capital investments. The first of which is a highly automated laser cutter, which cuts steel sheets into parts for use further downstream. The laser cutter runs 20 hours per day and 12 of this completely unattended; hugely beneficial for increasing productivity.
The second recent investment is an additional weld robot that utilizes artificial intelligence and machine learning techniques to develop its capabilities in real-time. For example, the robot can detect fluctuations in the distance of the gap between various pieces and can adjust its weld speed accordingly. As a smaller company, these well-judged investments in automation serve to demonstrate the company's willingness to evolve and remain competitive.
Sustainable culture
Investing in automation forms a significant part of the company growth strategy. However, according to Reyco Granning President, John Stuart "You just don't run without people". Investing in people and developing a dedicated and hardworking team is critical to Reyco. Human capital diversity is demonstrated by the fact that five of the nine executive staff members are women: unusual in the manufacturing industry. Diversity is important at Reyco because it encourages differences of perspective. Contrasting opinions are welcomed in the Reyco culture.
Sustainability is another significant element of the company's culture and strategy. Reyco Granning is always looking for opportunities to reduce its carbon footprint and help the planet in ways that also benefit the bottom line. For example, Reyco has become 100 percent reliant on energy-saving, LED lightbulbs throughout its facilities. The company has taken further steps to reduce its energy consumption by switching from gas-fired heat treat ovens to electric ovens, which heat up quicker and can be switched off while not in use. Replacing old air compressors with demand-based compressors has reduced energy consumption and improved the quality of compressed air.
Reyco Granning's commitment to continuous improvement, quality assurance, product technology, and a diverse and sustainable culture will no doubt allow the company to fulfil its vision of being the trusted and indispensable partner for suspension solutions.
www.reycogranning.com