A game changer
Danish exhaust systems manufacturer, Dinex, has the ability to respond proactively to the increasing pressures concerning emissions and is well placed to take its systems across the globe
Still a family owned business, Dinex was founded in 1982 by Jørgen Dinesen and his wife making aftermarket mufflers for heavy duty, medium sized trucks and vans. Over the years the company has grown in size and competence to now produce complete exhaust systems across 16 countries in four continents around the world. With innovation at the core of its business, the company is heavily driven by ever changing emissions standards and serves both the aftermarket and OEM industries. Well established in Europe, Dinex has now set its sights on the US and Chinese markets, both of which represent significant growth opportunities.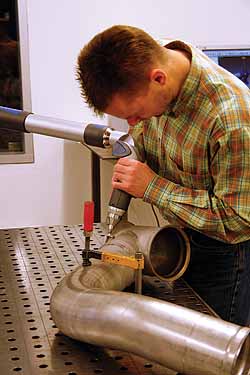 Talking to Manufacturing Today Europe, vice president and director of operations, Poul Henrik Jørgensen, explains what makes Dinex a strong player within the industry. "A lot of people in the market will focus on one particular product, whilst our proposition is that we are a one-stop supplier, we offer the complete system. It can be a hard business because, particularly with the more complex substrate and catalyst systems where reliability is important, some customers can be reluctant to change suppliers. However, there is a trend at the moment within the heavy-duty industry where companies are looking to reduce complexity and the number of suppliers. We are in a leading position to respond to this."
Aside to the breadth of exhaust systems the company offers is its ability to respond to the ever-increasing environmental standards imposed upon the automotive industry. Dinex has R&D facilities in Germany, Finland and Denmark where an experienced workforce, which includes PhD, are focused on innovation to drive the industry towards a more efficient adherence to environmental standards. "Due to implementations of Euro standards we have seen the engine get smaller and smaller as they utilise fuel better," explains Poul. "At the same time, however, the exhaust system is getting bigger and heavier as we add more substrates and filters. The muffler is getting more complex as environmental standards are imposed and therefore prices are going up. We have developed a game changer. With the Eminizer, we have been able to reduce the size, weight and cost of the exhaust system, whilst still reducing emission levels." The development of the Eminizer puts Dinex in a strong position to respond to future Euro standards, which will push emissions levels even lower.
Testament to its ability to innovate and run parallel to emissions standards is a recent contract signed with Ford. A major part of the company's move towards the complete systems OEM market, the contract represents a significant step in the Dinex's growth strategy. "The contract is for Ford trucks of Euro 4 and 6 emission standards," reports Poul. "We have developed a high volume line in Turkey with Ford. They will build trucks in a plant 60km from our plant and we will supply between 12,000 and 20,000 mufflers a year, with the start of production in Summer 2015."
Another recent contract, which represents a significant step for the company, is a joint venture with Chinese manufacturer, Longda to supply Dongfeng, one of the largest truck suppliers in China. Poul express: "When you look at the numbers they supply, European numbers are next to nothing. As we succeed in the venture it can potentially bring huge volume, and build our reputation. The more substrates and mufflers that we have on the road, the more evidence we have to show that our conservative business has a product which is very quality- and cost-competitive." The success of this venture could have subsequent benefits for the company's business in Europe as it grows a more competitive global footprint, and Poul hopes it will provide the company with a good knowledge base to help grow the business in the US as well.
In terms of innovation and market opportunities, Dinex looks well placed to succeed as the industry drives forward. However, Poul expresses that there are other things that need to be done to support this growth. "We are currently trying to build up more relationships with our suppliers, we see that there are some synergies to be gained," he says. "By improving these relationships we hope to create a better, more efficient supply chain, and better cost-performance, both of which we can pass on to our customers."
For the future, the company is focused on making the most of new opportunities. "Growing with our customers and looking at new markets is where our opportunities are," explains Poul. Pre-empting the next Euro standard, the Eminizer should be well placed to draw attention to the company, and the company hopes to get these installed into some OEM contracts to stimulate growth. The Middle East also looks to be a potential opportunity as that market opens up for Dinex. Ultimately, the strategy is to gain a stronger foothold in the US and Chinese markets. Despite being relatively smaller players at the moment, both markets represent huge opportunities and Dinex is already well placed to make the most of these, so growing profits and increasing sales is a target for both.
Dinex
Products: Manufacture complete exhaust systems for mid- to heavy-duty diesel and gas engines
Employees: 1300