Discover Boss Design's beautifully upholstered solutions for commercial spaces
With absolute quality at its core, and a meticulous eye for the details that really matter, Boss Design (Boss) has been manufacturing furniture for nearly 40 years. The company was established in Dudley in 1983 and has focused on redefining spaces within the commercial sector. Boss prides itself on being a product-centric business, analyzing problems to provide stylish and effective solutions.
Boss began the transition from a UK business that served an entirely UK market, to an international enterprise in 2004. Mark Barrell, Design Director, describes this period of Boss' history as both challenging and incredibly formative, as he elaborates: "By 2008, we had somebody based out in the Middle East for the first time. We were selling furniture in the region well before that and it appeared that there was an opportunity to achieve a lot more with a physical presence on the ground. This set the tone for our operations going forward and we bought a furniture manufacturing business in the US five years later. Ever since, we have been working hard on extending our reach within the US – on reflection, it may have been our biggest challenge to date.
"Our venture across the Atlantic was partially due to the activity of our existing clients, typically the largest banks, power companies and infrastructure providers in the world," he continues. "Going back 15 years, it was commonplace for global businesses to purchase the furniture they needed for their UK projects from a UK company, as they would from a US company for their projects over there. This changed, however, in line with a general drive to consolidate different supply chains, and more frequently, we saw global design guides being introduced. This stood to damage our previous model logistically, especially considering the increased focus on green initiatives. More of the global corporates started to place a radius in which their procurement teams could source products."
Climates, lighting and air
As well as being customer-driven in its operations, Boss also reacts to ever-evolving interior design trends. As workplaces have been turned on their heads in recent years, consumer needs have also changed. For example: this year the company released a pod system called Mews, which was developed through the pandemic, and has been extremely well-received. Social distancing aside, these habitable spaces improve quality of work, connection and collaboration through adaptable climates, lighting and air quality. "The quality of a workplace is a key selling point for a company, in both attracting and then retaining the correct demographic of staff. The layout of a room and the way in which it's furnished vastly affects the efficiency of a team. We were one of the first companies to ascertain that an ongoing process of reconfiguration, with regards to a workplace floor plan, is a key building block to success."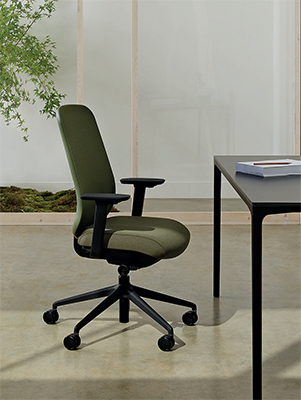 Future partners
Sustainability is a fundamental part of the business' agenda; it monitors the volume of embedded carbon in each of its products closely, to document the company's overall carbon footprint. Not only does this generate the requisite information to satisfy its customers and their initiatives, it also influences Boss' culture of innovation. Ceri Lovett, Creative Director, elaborates further on the environment and recent product releases: "Every decision we make is through the lens of 'how do we make this better, how do we reduce the embedded carbon and increase the recycled content of this piece?' Mark has worked tirelessly with our supply chain partners, in our journey towards net -zero. Those that have proven themselves to be more responsive to our mission have set the scope for the kind of people we want to work with going forward.
Gold standard work
"We have recently launched Sia," Ceri expands, "a prime example of how we're breaking the boundaries of the materials we're using. It successfully incorporates our core propositions of comfort, quality, choice and sustainability. The benchmark of comfort that it offers is incredibly high. In parallel with its level of quality, it's available in four different colors with a multitude of choices in terms of the back design. Additionally, the craftmanship lends itself to sustainability in its reduced carbon footprint."
The future is looking promising for Boss, just last year it won the gold standard for its Amelia chair at NeoCon, a huge milestone in terms of its US operations. The company has managed to secure a hefty forward orders book through its attractive portfolio and expert servicing department, but it also has the general changes in society on its side. The larger companies, with which its work is synonymous, are increasingly being held accountable by shareholders and the media for their environmental policies. "They can't afford not to change," cites Mark. "The time to evolve and invest in greener products, such as ours, is here. One of the interesting dynamics to come from this, is where new workplace projects will be fitted out with a mixture of new and re-upholstered, or re-conditioned, fittings – it's pretty easy to see how that could become the new normal. In terms of Boss and the future, I think the key word is 'better'. We just want to keep getting better."
www.bossdesign.com