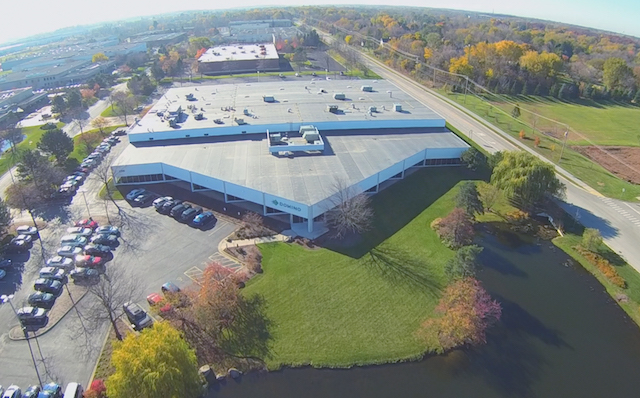 When Bill Bonaccorsi joined Domino North America in 2007, the industrial printer manufacturer was on the verge of a transformation. The recession had just begun and Domino had to shift to a more strategic approach to handle the downturn.
It reviewed the printing market and saw a potential in several industries, including pharmaceuticals and food and beverage. By becoming more selective, Domino realized it could build up its expertise in targeted industries and better serve its customers.
To facilitate that strategy, the company created sector teams dedicated to one of three markets: life sciences, snacks and chips and food canning. Each sector team is staffed with dedicated employees who work only with customers in that industry. Bonaccorsi, vice president of marketing, says the strategy has resulted in better value and relationships with customers. We are spending significant time in these sectors in an effort to thoroughly understand the challenges and needs so that we can design solutions and support teams that bring value. We are embedding ourselves into these markets," he adds.
Domino chose those three industries for sector teams by weighing a number of criteria, such as opportunity, geography, how well its portfolio matched the needs of the market and whether there was any legislation that could drive business. Government regulations, for instance, were changing to force pharmaceutical manufacturers to include more information on drug packaging, which meant they needed more printing equipment.
Those strategies began to pay off about four years ago, Bonaccorsi says. The introduction of new products and the success of industry-focused sector teams have led to four consecutive years of record sales and profits.
The company also drew attention from other parts of the printing industry. In 2015, Japanese manufacturer Brother Industries completed the acquisition of Domino. Brother Industries' sought to diversify the business. In Domino, Brother Industries saw a strong organization with good values and a global footprint that could strengthen its presence in the B2B segment.
Investing in Growth
Brother Industries infused resources into Domino, but let its new subsidiary retain its marketing and name. Additional funding allowed Domino to invest more in product development and the North American branch specifically added more staff. "That brought further investment into our organization, including the opportunity to expand our sales, service and marketing functions," Bonaccorsi says of the acquisition.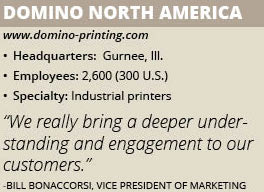 The North American division, headquartered in Gurnee, Ill., houses engineering services, marketing and customer support for the United States and Canada, although the equipment itself is manufactured overseas. Aside from printing equipment, Domino produces inks and develops software that enables its equipment to integrate into manufacturing processes, making it a complete solutions provider.
"Our focus is a full product portfolio to meet coding and product marking needs, coupled with outstanding service and support," Bonaccorsi says, adding that Domino's key is providing agility and customization in its product solutions. "Regardless of the product, we like to think we're recognized as a good partner to do business with."
Charting a Roadmap
Like every industry, the printing market is constantly evolving. New technologies arrive and disrupt. For example, Dominos' new F720i laser was invented to print codes directly onto beverage cans. Since the inception of industrial inkjet technology, inkjet used to print codes onto the bottom of cans. Nearly 50 years later, Domino created a new technology as a viable option for can printing. Bonaccorsi says another area of rapid and significant change he's witnessed has come from automation.
As recently as five years ago, the typical application would include Domino supplying a laser printer to a customer that could be plugged in and managed independent of the production line. Things such as message creation and formats were maintained in the printer's user interface.
Automation has changed all that. Customers today manufacture more products with fewer people working the production lines. They need custom solutions that are not only highly reliable, but that can also be integrated directly into their production lines and ERP systems. That kind of cohesiveness requires more sophisticated solutions including programing resources and compatible protocols. Domino had to evolve from a manufacturer to a technology-based resource with its own engineers who can work with customers to build printing machines that are designed to  directly fit into the manufacturing equipment and processes.
Another strength of the Domino organization is the engineering-led project management team works directly with the client to develop a solution around their requirements. "We try to be accommodating and flexible to give the best option to any type of customer we're working with," Bonaccorsi explains.  "We don't want to be perceived as a cookie-cutter commoditization business. We really bring a deeper understanding and engagement to our customers."
The foundation of Domino's relationships with customers and material suppliers is its technology and engineering expertise. Domino is recognized as a leading innovator in continuous inkjet and laser printing, as evidenced by its multiple Queen's Awards for international trade and innovation, the United Kingdom's awards for business performance.
Driving that innovation is the company's R&D roadmap, which outlines the enhancements and technology Domino expects to develop in the coming years. "It means more, newer products with greater innovation more frequently," Bonaccorsi says of the roadmap.
Domino engages its clients in creating its R&D roadmap. In developing the Ax-Series printers, the company talked to about 1,000's of customers to learn what features and specifications they wanted from the technology. From there, Domino combined its nearly 40 years of product development experience to create one of the fastest and most accurate inkjet printers available in the market.
"We don't take for granted that we know everything," Bonaccorsi notes. "Things are changing so fast that we understand the importance of reaching out to the market to ensure we are meeting the latest sector-specific requirements."