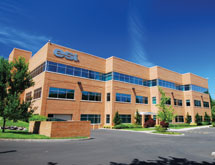 Electro Scientific Industries (ESI) Inc
The capital equipment manufactured by Electro Scientific Industries (ESI) Inc. plays a major role in the creation of many of the most commonly used electronic products in the world.
"When it comes to electronic devices – whether it be a circuit board that goes into a car, a cell phone or a laptop computer – one of the components going into that device is going to be touched by an ESI machine during its manufacturing process," says Lonnie Ellingson, director of worldwide manufacturing for the Portland, Ore.-based company.
The role ESI's laser-based equipment plays in the manufacturing of the semiconductors and microelectronic components used in such devices is generally small – at least in terms of scale. ESI's machines are used in a variety of applications including laser memory repair in semiconductors, drilling microscopic holes in flexible circuits and printed circuit boards and laser scribing used to produce and manufacture LEDs, to name a few.
The company leads the global market in several of its niches including memory repair and ceramic capacitor testing. "We've made significant investments in the engineering side of the business and pride ourselves on understanding customers' problems, allowing us to be a solutions provider in the microtechnology space," Ellingson says. "We know lasers and laser material interaction better than any company in the world."
Forecasting Needs
ESI's manufacturing processes include high-precision machining, high-precision injection molding of plastics and silicone, laser optical alignment and laser material interaction. U.S. manufacturing operations are based in Portland and Klamath Falls, Ore. The Portland facility is ISO 14001 certified, and the Klamath Falls facility is ISO 9001 certified.
The company serves customers around the world, including in Asia, which it serves through manufacturing facilities in Singapore and China. The company's client base has changed within the last 10 years, requiring it to adapt its operations from a historically U.S.-based footprint to a variable and outsourced environment, Director of Investor Relations Brian Smith says.
"Manufacturers have the ability to shut off capital purchases entirely, so there's an inherent cyclical nature to our business, which we have accounted for in our manufacturing process," he adds. "We can get deluged with orders one quarter and have none the next."
The company uses forecasting tools to determine manufacturing schedules. These tools include the SAP enterprise resource planning system. "We have a tightly controlled demand management system we use to harmonize sales forecasts with business unit forecasts and find a consensus between those two on the manufacturing floor," Ellingson says.
ESI also works closely with suppliers to retain just-in-time inventory. "We rely on them to manage as much of the inventory as is feasible, and only bring it on when it's ready to be turned into a final system and shipped out the door," he adds. "Our inventory now is at the lowest levels in 10 years, so it's been a very effective model for us."
An Eye Toward Optimization
Lean manufacturing methods such as 5S and kaizen events are also used to reduce ESI's cycle time and manufacturing costs. The company has already seen a significant reduction in time to market, and has a commitment to continue this trend at a rate of 10 to 15 percent each year. Ellingson credits this in part to the company's process development and optimization teams, who work specifically to reduce cycle time and costs on a continuous basis.
"Over the last three years, through the implementation of lean, demand management and our development process, we've been able to reduce our time to market," Ellingson says. "The time it takes to get a product from final design through to full-scale manufacturing and out of the door has gone from six months to one or two."
ESI's focus on optimization allows it to produce machines that can then allow its customers to increase their own throughput. "Our markets have become more and more demanding as time has gone on, and we've had to radically change the way we operate to meet customers' needs, so I'm most proud that we've been able to cut our production time in half and provide them with a quality product that works as soon as you plug it in," he adds.