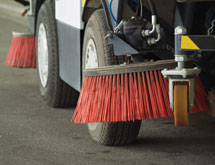 Ever since Elgin Sweeper's founder, John Murphy, created the first street sweeper and the company began cleaning the roadways in 1914, the company has maintained a commitment quality, performance and innovation. It is by producing the best and most durable sweepers on the market that Elgin Sweeper has helped contribute to improved sanitary conditions, water quality, air quality and community health.
Today, the company is a subsidiary of Federal Signal Corp., and its sweepers take advantage of all available sweeping technology advances, including mechanical, pure vacuum systems, regenerative air, alternative fuel, waterless dust control and high-efficiency filtration. Elgin Sweeper's clients include municipalities, contractors, airports, industry and racetracks.
Pioneering Tools
The company's products include mechanical-broom, vacuum, regenerative-air, waterless dust control, alternatively fueled and high-efficiency filtration sweepers. This ensures that clients have the sweeping tools they need, whether used for general street sweeping, contract sweeping, special industrial sweeping or airport applications.
Elgin Sweeper's air street sweepers are equipped with vacuum sweeper and regenerative air sweeper technologies that use air to vacuum materials. Its broom street sweepers use a main broom to pick up debris before it is sent to a conveyor and lands in a debris body.
The company's specialty street sweepers are engineered for unique needs, such as picking up glycol, fine particulates and the needs of airport customers. Its waterless dust-control sweepers meet tough environmental specifications around water usage, and they can pick up bulky or fine material without using water for dust control.
Most of Elgin Sweeper's sweepers are available with fuel systems such as liquid natural gas, compressed natural gas or liquid propane gas. Elgin Sweeper also offers used street sweepers for sale.
Elgin Sweepers works hard to ensure that clients are well served long after the sale. This helps with customer satisfaction because it demonstrates that the company is committed to high quality and rapid-response service to keep its machines up and running.
Elgin Sweeper has an extensive dealer network of more than 70 dealers and service centers worldwide. This network provides the company and its clients with access to factory-trained, experienced service technicians and an inventory of stocked street sweeper parts.
In addition, all new Elgin street sweepers are sold with a one-year factory warranty, an operator's manual, a replacement parts book and an engine operator's and parts manual. The company's customers also have the option to select from a variety of extended warranty options. Elgin stays on top of customer needs through regular customer satisfaction surveys and focus group research, as well as regular meetings with its street sweeper parts and service dealer council.
Green Thumb
One thing that clearly stands out about Elgin Sweeper is its commitment to the environment, as the company is always looking for ways to devise solutions that reduce stormwater and air pollution. Its alternative fuel sweepers, waterless dust control sweepers and regenerative filtration systems are all indicative of this commitment.
Its customers are taking advantage of these technologies. In April 2012, the District of Columbia added two new compressed natural gas-fueled Pelican broom sweepers – as well as two compressed natural gas-fueled refuse trucks and six ethanol-fueled heavy-duty trucks – to the its public works fleet.
The Pelican – Elgin Sweeper's flagship product – is a three-wheel broom sweeper known for its maneuverability and visibility, along with a 10-foot sweeping path and its No-Jam debris conveyor. Adding to its reputation is the fact that it can be powered by liquid natural gas, compressed natural gas or liquid propane gas.
"Elgin Sweeper is leading the charge in advancing the use of cleaner, safer and healthier energy technologies in the sweeper industry," says Brian Giles, sweeper products manager. "With the CNG-fueled Pelican sweeper, we are providing our municipal customers, like the District of Columbia, with an efficient, hard-working sweeper that significantly reduces costs and environmental emissions."
In addition, the company recently introduced EcoInfused Technology to the Elgin brand. In August, Federal Signal Corp.'s Environmental Solutions Group announced an initiative to develop and deploy environmentally sustainable products to increase energy efficiency and enhance air and water quality in communities. This EcoInfused Technology initiative is focused on developing green, energy-efficient and low-emissions technology solutions for Elgin Sweeper street sweepers and Vactor Manufacturing sewer and catch basin cleaners.
"Over the years, the Environmental Solutions Group has led the charge in advancing the use of cleaner, safer and more efficient technologies for sweeping roads and streets and cleaning sewer lines and catch basins," says Mark Weber, president of Federal Signal Corp.'s Environmental Solutions Group. "The technological innovations developed as part of the EcoInfused Technology initiative will provide the powerful performance, fuel economy and overall value our municipal and contractor customers demand."