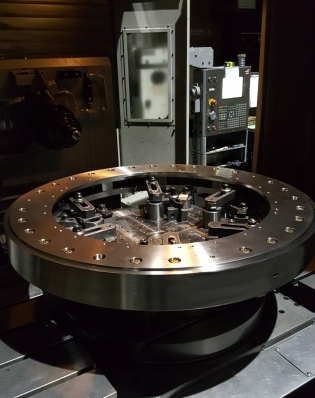 Ellery Manufacturing's customers know they can rely on the company to machine high-quality large parts. "We employ experienced machinists and maintain a level of machining capacity that allows us to take on jobs that other shops might not be prepared to handle," says Paul Ellery, vice president of the Surrey, British Columbia-based company. "We are very flexible when it comes to the types of parts and materials we can work with."
The 40-year-old company provides custom machining, fabrication and project management services to major industrial customers and engineering firms. "We can build everything from components for amusement park rides to heavy-duty drill works and top drives for the oil and gas industries and everything in between," he adds.
In addition to its work for the entertainment/amusement and oil and gas industries, the company produces parts for industries including alternative energy, mining, forestry, aerospace, defense and construction. "The customers we work with have very high expectations when it comes to the quality of our work," Ellery says. "We define the quality of the projects we work on by workmanship, the ability to meet exacting engineering specifications, detailed project documentation, quality control and our ability to deliver on time."
Pursuing New Opportunities
The company continues to pursue new markets. "Slowdowns in industries that we've traditionally served such as oil and gas, along with a fluctuating Canadian dollar and the uncertain future for trade agreements such as NAFTA, all have an impact on how we run our business," Ellery adds. "To address these economic challenges, Ellery Manufacturing is employing a strategy focused on diversification and internal preparation for future opportunities.
"First, we want to pursue a wider variety of projects in markets and industries that we may have underserved in the past. This involves a new approach to marketing and sales while at the same time acquiring and upgrading shop capacity and skills to enable us to work on a wide variety of parts," Ellery says. "The second part of our strategy is focused on ensuring our internal systems and processes are capable of supporting the type of projects we want to do while helping ensure we can consistently exceed customer expectations."
The company recently changed the way it markets itself to prospective customers. "We are employing new tactics to meet changes in how industrial customers approach the buying process," Ellery says. "Many buyers now rely on a vendor's website and online content to help them identify potential suppliers. In many cases, a potential new customer won't speak to you until they've researched your company and capabilities online."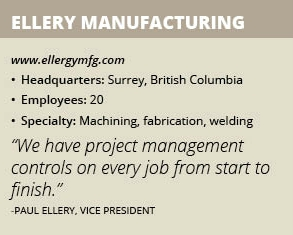 With this in mind, the company two years ago upgraded its website and is in the process of a redesign. The company has also seen success from its use of social media. Social marketing has enabled Ellery Manufacturing to promote its brand and capabilities to a new larger audience that wasn't within reach through traditional marketing and sales tactics, it notes.
Recent upgrades to the company's operations include a new enterprise resource planning platform, enhanced network hardware and the implementation of a data security and business continuation plan. The company recently added a tooling vending system to its shop floor and is in the process of attaining ISO 9001:2015 and the Occupational Safety Standards of Excellence certification (OSSE).
Ellery Manufacturing is registered as a Canadian Controlled Goods manufacturer – equal to the U.S. International Traffic in Arms (ITAR) designation – and its welding department is certified to Canadian Welding Bureau CSA 47.1 standards.
Driven by Quality
Quality control is at the heart of Ellery Manufacturing's production process. "We have project management controls on every job from start to finish," Ellery says.
All raw materials received by the company are checked as soon as they are received to ensure they match a customer's quality documentation. Every piece of material received by the company is fully traceable, and each of Ellery Manufacturing's vendors is prequalified. "We have worked with several of our suppliers for many years and have a strong loyalty to them," Ellery says. "Our suppliers meet all of our quality expectations."
After an initial fabrication process, each of the company's projects is inspected prior to welding. After welding, projects go into third party non-destructive testing before being prepared for machining. Ellery Manufacturing performs in-process inspections at several points during the machining process. The company's machining capabilities include CNC milling and turning, horizontal and vertical boring, precision machining and prototyping.
Going Strong at 40
Ellery Manufacturing is celebrating its 40th anniversary in 2018. Les Ellery, Paul's father, started the company in 1978. "We couldn't be prouder of our accomplishments," Paul Ellery says. "We're probably one of only a few 40-year-old companies that are still family owned and operated."
Although Les Ellery, 86, is still involved in the company as its president, Paul and his brother Dave Ellery, the company's production manager, oversee much of its day-to-day management. Paul Ellery joined the company soon after its founding, and Dave Ellery has been involved since 1982.
Paul Ellery credits the company's longevity to one quality that he says has defined it throughout its history. "One thing we have always offered here is honesty," he says. "Honesty with our customers, with our vendors and with our employees has been the cornerstone of our success."
"We work as partners with our customers and maintain a strong family atmosphere with our employees," he adds. "Our family values influence our day-to-day operations, and that's what's kept us a tight-knit group in good times and bad."