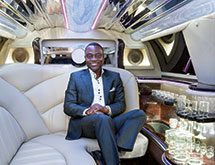 Executive Coach Builders Inc.
If you've been in a luxury stretch limousine recently, there's a very good chance the manufacturer was Executive Coach Builders Inc. The Springfield, Mo.-based company, founded in 1976, claims more than 70 percent of the market of vehicles owned by national livery operators, as well as a large portion of the U.S. custom limo business.
Owner David Bakare, the company's owner since 1993, credits its success to a few factors. "We are an innovative, forward-thinking company," he says. "Many of the things that we come up with eventually are adopted by our competition a few years after we've done them."
A recent example is a proprietary smartphone app that riders can use to control the lighting, divider and other controls within a vehicle without leaving their seat. "People already use cellphones as an extension of themselves," Bakare says. "This is a great way for us to tap into that."
The company also patented a touchscreen electrical system in its vehicles. The system features a 7-inch television which doubles as a lighting, divider and audiovisual control system.
The smartphone app connects to all of the limo's functions through the car's wi-fi network. Other common features in Executive Coach's limousines – aside from standards such as mini-bars – include microwaves and satellite dishes.
Catering to Customers
In addition to its standard line of vehicles, Executive Coach builds custom limousines for celebrities and business moguls. "If someone can dream it, we can build it, within reason," Bakare says, noting that many of the company's vehicles serve as mobile offices or even living quarters for travelers. "We generally only say 'no' to a request if something is unsafe. We have a lot of tricks up our sleeve that our customers can choose from."
Executive Coach's ability to work with customers on custom products is another company strength. "We meet and exceed the expectations of not only the fleet owner, but also the person riding in the limo," Bakare says. "We cater directly to the end-user, so we try to read their minds and determine what it is they want."
The focus on customer service has helped it retain customers and build a positive reputation in the industry. Roughly 80 percent of Executive Coach's business comes from repeat clients. "It's easy to achieve a good reputation, but hard to maintain it steadily over time," Bakare says. "Building a positive reputation for more than 30 years and having it untarnished is a great accomplishment."
A Quality Process
The company produces roughly 600 limousines per year using 15 different chassis models including Ford, Lincoln, Cadillac, Mercedes, Rolls Royce, Bentley and BMW. Manufacturing is performed in a state-of-the-art facility in Springfield. Executive Coach purchases vehicles directly from OEMs, strips them down to their frames, removes major components, and then cuts them in half. The company manufactures the framework it uses to stretch the chassis to one of several standard lengths, and then replaces the parts it removed with new parts the company manufactured in-house.
Initial crash testing is performed once the car's frame is completed. Bodywork and painting are then completed before interior work is performed. One standard-model limousine typically requires 10 to 12 days of work; fully customized vehicles require 30 manufacturing days.
Quality checks are performed during every step of manufacturing. "Our entire factory is centered around quality control from the beginning to the end of the process," Bakare says.
Market Expansion
Expansion into new markets is a high priority for Executive Coach. The company earlier this year secured a contract with a Mercedes Benz dealership in China for whom it will perform conversions on at least 80 vehicles. The cars will be shipped from China to Springfield, modified, and then shipped back. The company is working on securing similar business with other international clients. "Our customer base used to be just high-end customers in the United States; now we're in a global marketplace," Bakare says.
Executive Coach also expanded its capabilities earlier this year, when it began operations on a bus production line. The company is converting Ford F-Series van and Mercedes Sprinter chassis into luxury buses ranging in size from 15 to 40 passengers.
The new production line will allow the company access to a much wider potential market. Typically, 3,000 limousines are produced annually across the industry, compared to 33,000 buses, Bakare says. "This gives us the opportunity to make an even bigger impact in the market and give our customers more choices," he adds.