Automatic for the people
Having experienced major success in 2016, FANUC has begun moving into a new state-of-the-art facility to enable further growth
Operating as part of the global FANUC organisation, Coventry based FANUC UK has developed a solid reputation as a provider of ground-breaking industrial automation and robotic solutions to its diverse customer base. Currently located at a site that has integrated the robotics, controls and machine tools divisions, the company is known for pushing the boundaries of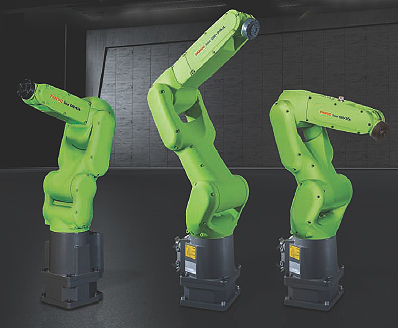 innovation in its supply of high quality products; these include CNC controllers, lasers, robots, machining centres, wire EDM, injection moulding machines and fully integrated automation systems.
With versatile technologies available to suit every manufacturing process, FANUC UK's decision to strategically integrate the three divisions into one in 2015 resulted in a sales increase of 20 per cent on the previous year. Further bolstering growth was the company's focus on training its engineers in all areas of the business, which in turn ensures increased flexibility, particularly when it comes to service/ spares and machine sales.
Having achieved its first major automation contract in 2015, which incorporates both robotics and machine tools, as well as boasting a strong performance in all areas of the business, FANUC UK is now preparing for a relocation to a site in the Technology Park, Ansty, on the outskirts of Coventry. Four times the size of the existing facility, this new site will enable full turnkey automation as well as the opportunity to work on larger, more complex projects.
Speaking to Manufacturing Today Europe on FANUC UK's strategic relocation is Tom Bouchier, Managing Director at FANUC UK: "The new facility will enable us to progress into larger systems and full turnkey automation projects as we can currently only do a certain size of project where we are presently based; this is because the new site has a larger workshop and also offers additional space for us to begin doing full production lines, as opposed to individual cells. We can provide customers with solutions that will include FANUC Robots, Robodrill CNC machines, Roboshot injection molding machines, Robocut EDM machines and lasers. We are the only automation company in the UK with this range of products that are all manufactured by ourselves, which means we can make the control platform the same and thus join products together with ease."
The overall cost of the building is £19 million, with the company also acquiring an additional two acres of land to allow for a further 25 per cent expansion in the future. In line with this significant expansion, FANUC UK will be seeking to add an extra 50 to 60 personnel over the next few years, however, Tom is currently focused on the more immediate matter of ensuring a smooth relocation to the new site: "It will be a bit of a juggling act over the next few months but we anticipate the relocation will be complete by mid-May 2017. We have managed to get early access to workshop space, which means we can start working on a project without any downtime. However, logistically we are only five miles away from the new site so engineers can still get parts and go to the new site to work; it will just take a little more transportation time for us. To prevent downtime we will relocate department by department while continuing to work at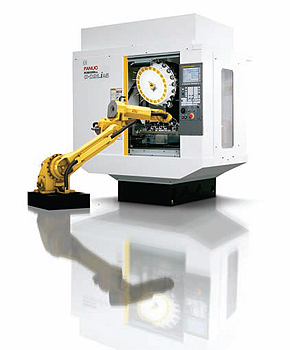 each site until the move is complete."
Alongside this strategic relocation, another major development for the company has been the launch of a new collaborative robot, the CR-7iA, which works alongside humans in close proximity. The robot is one of FANUC's range of collaborative robots, which uses multiple sensors for safety, can handle payload of up to 35 kilos and boasts 100 per cent reliability, is aimed at the automotive market and has generated huge interest from the international automotive manufacturing industry. Despite the collaborative robot's success in Europe, Tom says the UK market remains conservative when it comes to working alongside larger robots: "The UK is a little bit behind in embracing collaborative robots working in production lines and has a mainstream attitude as to how these robots can be employed. Changing these traditional views is proving challenging for us, nevertheless, we will be looking to introduce this robot to a customer in an assembly plant in March 2017."
Keen to remain competitive FANUC also recently announced a collaborative effort with Cisco, Rockwell Automation and Preferred Networks (PFN) to jointly develop and deploy the FANUC Intelligent Edge Link and Drive (FIELD) system with the goal of making the factory of the future a reality. The FIELD system is to be a platform for the delivery of advanced analytics for FANUC CNCs, robots, sensors and peripheral devices used in automation systems and will drive enhanced machine reliability, flexibility, quality and speed.
The system also extends the success of the group's existing FANUC Zero Downtime (ZDT) project in the US, which leverages the Cisco IOT cloud and software platform to help customers connect their machines and plant floor assets with exceptional results. For example, FANUC ZDT can be installed on all new systems, improves cycle times, reduces energy consumption and extends the life of the robot. "FANUC ZDT is a prediction method of checking robots as it can monitor potential problems before there is an issue and can then prevent downtime of these robots; it is a great tool for major companies that have multiple robots," explains Tom.
As it continues to launch innovative products and increases productivity at its new facility, FANUC UK is certain to continue its trend of growth over the coming years.
FANUC UK
Products: Industrial automation and robotic solutions