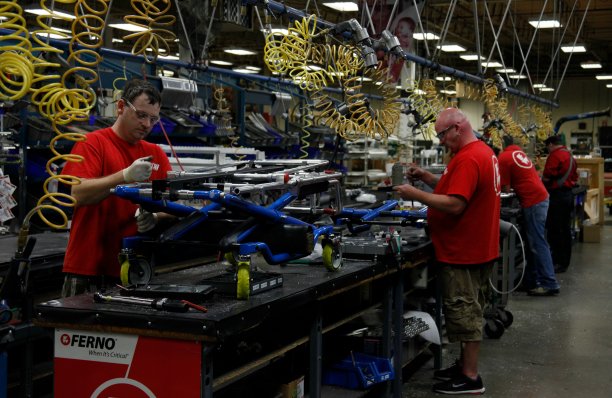 There are few industries that require mission-critical equipment so highly specialized that every stitch, every screw, every new technology that goes into the manufacture and design of products is executed in a controlled system. Ferno's team of product managers, engineers and quality assurance staff continually strive to ensure Ferno products are working with and not against the needs of their EMS customers.
"EMS has changed significantly in all areas of the industry and it continues to evolve," says Christopher Way, Vice President of Global Marketing and Product Development. "This is a profession that must do things quickly from the minute they receive a call until the time they get back to their station. During that time, they are required to assess a patient, begin pre-hospital care, if needed, and transport the patient all the while relaying critical information to the health facility. Because our products are part of that process, they must be able to consistently and efficiently function to serve the critical purpose of delivering care to a patient."
Way oversees the Global Marketing and Product Development for Ferno. He takes both a consultative and strategic approach when managing the company's product portfolio within the industry.
"Every Ferno product is scrutinized for two different goals," adds Way. "First, will this product enhance the safety and efficiency rate for the medic(s) and second, will this product enhance the safety and comfort for the patient."
Founded more than 60 years ago, Ferno is still a family owned company, based in Wilmington, Ohio, and is made up of 18 group companies serving more than 100 countries worldwide. Ferno manufactures medical products that provide pre-hospital emergency care solutions to EMS, fire, rescue, mortuary, industrial safety and police. The corporate mission includes a commitment to pursue innovation in our products because we are passionate about advancing the standard of care while preserving the dignity of life.
Mission-Critical Products
Ferno products focus on providing innovations that increase the safety for medics and patients and the efficiency and performance of EMS operations. The iN∫X® was designed as an Integrated Patient Transport and Loading system incorporating dual powered actuators which allows the iN∫X to do the work of lifting the loaded cot and effectively eliminates the need for the medics to do the lifting.
The iN∫X design utilizes the dual powered actuators to maximize tip stability and lift patient loads up to 700 pounds. The design also includes an integrated charging system and programmable load height which can be customized and set to the ambulance floor height.
"A patient loading system was clearly a necessary item," says Jason Wender, Director of Global Marketing. "Ferno listened to and worked with medics to identify patient and medic needs and then developed the only integrated patient and transport system that effectively eliminates lifting. It was critical this new technology reduce and/or eliminate the risks and hazards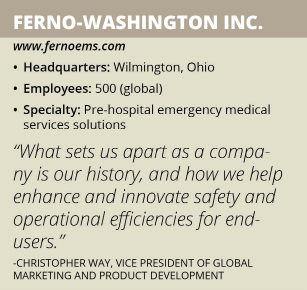 associated with patient handling injuries and the physical demands required of the medic."
The EZ Glide® Stair Chair with POWERTraxx™ is another product Ferno has developed and is a successful example of the company's commitment to a highly specialized design function.
"The cot is not always feasible when access to the patient is in limited space and stairs are involved," says Wender. "Public buildings, national parks, and beaches are calls that often include stairs and limited access. The EZ Glide Stair Chair with POWERTraxx was designed to reduce lifting because it powers itself up and down stairs. It was also created to glide so that the patient is protected from unnecessary movement."
Workflow and Organized Processes
Compliance issues are becoming an important focus for many EMS decision-makers who are required to address new protocols for patient transport. The solution that many have incorporated into their ambulances is Ferno's modular iN∫TRAXX™ Integrated Vehicle Component System.
Last year, EMS World honored iN∫TRAXX with the Top Innovator Award citing it as "a whole new vision for the ambulance delivery of care space."
Tim Schroeder, Director of Ambulance Systems for Ferno, credits the company's design team for developing a workflow system that allows the medic can deliver care from a seated, restrained position.
"The iN∫TRAXX system was developed to be configured by the end-user," says Schroeder. "It should allow the team and any agency to easily incorporate mission-specific ambulance configurations into their routine and workflow. Every agency has different needs based on their location, their service area, and region. The value is in the enhanced safety and operational efficiency generated by a flexible workflow oriented design"
iN∫TRAXX is an integrated track-based modular mounting system in the ambulance that incorporates aluminum track rails, soft-sided SafePaks, plug-and-play equipment mounts and storage solutions. The components are made from heavy duty material that have been crash-tested at 26g impacts, which satisfies the SAE J3043 ambulance crash standards. The system also improves infection control and the use of space within the vehicle. The components are removable and power washable for thorough, easy cleaning.
Staying Innovative
Ferno's research and development team are made up of engineers, researchers and field teams that continually assess their products so additional tools and products can be created to complement the existing equipment.
"EMS budgets are tight," adds Way, "if we can manufacture a piece of equipment that can be used alongside our current products then we've created an efficiency at a low cost per ownership.
"We are manufacturing products that are designed with built in efficiencies and technology that reflect the standards of the Ferno name," says Way. "We do more than build EMS products. Ferno insists on a standard of excellence in every product and solution we deliver, and in the services wer provide."