Fullerton Tool is a leader in solid carbide cutting tools and maintains this with investments in its operation, team and growth.
In today's manufacturing environment, the companies that tend to succeed above the rest are dedicated to quality, maintain a high level of service, innovate products that best meet customers' needs and understand that continuous improvement will keep all of this in line. Fullerton Tool Company checks all of these boxes and more – the family owned organization is committed to manufacturing in the United States, and by maintaining a world-class operation, the company has a base of thousands of loyal customers.
Based in Saginaw, Mich., since its inception in 1942, Fullerton Tool takes pride in manufacturing solid carbide cutting tools for a variety of industries. In fact, it stresses that Saginaw is the only location in the world that manufactures the Fullerton brand of tools. The company is currently led by the third generation of the Curry family – cousins Patrick and Mat Curry – who took over the business in 2018 and share the family's zeal for manufacturing and continuing to provide Fullerton Tool's customers with a high level of quality.
"The third generation has grown up in the business and learned a lot from the second and third generation," President Patrick Curry stresses. "We plan to continue that legacy with respect to the foundation that has been built by our family. Both Mat and I have a passion for manufacturing and enjoy what we do while having a lot of fun working hard."
Now that the two Curry cousins are in charge, Fullerton Tool has a one-year strategic plan, a three-year target and a 10-year target for growth. With this plan in front of it, Patrick Curry says,
the company remains committed to being a leader in precision-made tooling for customers in markets such as medical, aerospace, automotive and mold and die. As a result, Fullerton's tools are used wherever there is a difficult machining operation that requires quality tooling and quick on-time deliveries.
"We have a very aggressive plan for continuing to grow," Curry adds. "Overall, we are focused on always having an impact with customers, with our people and with the community that we live in."
A FAST Culture
Fullerton's key product lines involve solid carbide end mills, drills, reamers, composite routers, keyseat cutters, saw blades, burrs and countersinks. The company uses its expertise and skilled team to create opportunities from clients' machine tool problems, whether the project is domestic or international. Its advanced engineers, latest innovative technology and inspection equipment are important pieces in Fullerton's ability to help clients reduce cycle times, minimize costs per piece, combine multiple operations in a single tool and complete a turnkey tooling process.
The company's dedication to continuous improvement is demonstrated in its "FAST" culture, which stands for the Fullerton Advance Solutions Team. Established in 2009, FAST is Fullerton's commitment to improve, innovative and provide vast product diversity. It combines the expertise of its engineering staff with its highly skilled operators and advanced machinery to design and produce custom carbide cutting tools for clients' most demanding applications. Fullerton takes pride in working closely with customers to help them obtain their goals, while also being lean, efficient and profitable.
"The concept behind FAST is that we are defining what we do for our customers and then delivering on that promise," Curry says. "We can solve customers' problems on our machines, not theirs, and our overall portfolio is focused on coming out with new and advanced products. We have our internal engineers and operators working with our sales team and key customers to develop new concepts, ideas, testing and tool equipment.
"This past year, we had more than $1.5 million in cost savings because of the FAST program," he adds. "We are running more efficiently and we were able to take a three-tool operation and make it into a one-tool operation. We're reducing costs and helping customers solve problems. It's not just about cost, however, it's how you apply an idea to improve throughput and cost per piece."
As an ISO 9001:2015 certified company, Fullerton Tool continually strives to deliver the highest quality and uses ongoing process improvement to ensure it delivers what customers need. Last year, for example, the company invested more than $2.3 million in new equipment, enhancing its overall operations. Its new equipment included a Reinecker RS 700, Walter CNC grinder, Rollomatic 629XS, Rollomatic Nano6, Alicona Edge MasterX and Haimer wheel balancer.
"We focused a lot on CNC grinding equipment and five-axis machines to make the cutting tools," Curry says. "We also invested in inspection equipment – we make precision tools, so we have to have really tight tolerances. We want our operators to have the tools to continually make great products, so we also got some robotic feeders. The technology continues to get better and better, especially for inspection and grinding, and with faster technology, you can get better finishes and have more creativity in the cutting tools you make."
Team Investments
In its efforts to always be the best for its customer base, Fullerton has focused on enhancing its team in the past year in a couple of ways. Working to build a strong sales team, the company launched its sales apprenticeship program with its first associate to go through the program, Whitney Miller. She worked in various departments throughout the company, such as customer service, quoting, engineering, sales and shipping, while also attending CNC machine shop classes at Michigan's Delta College. Miller had experience doing sales and marketing for one of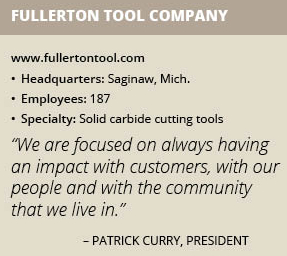 Fullerton's industrial manufacturer's reps, and in late January, became responsible for covering California for Fullerton.
"This was the first time we ever did this program," Curry says. "It was Mat's idea because it can be hard to find people. We can train people, but to then move them into an area where we need a rep is a challenge because they might not know the area. We decided to find a person who has the right attitude, train them and then move them into an area they are comfortable with. Whitney was young, intelligent, aggressive and had a great attitude, and she spent the last year-and-a-half working in various places throughout the entire shop. As a result, she understands the basic application support.
"She has a thick skin to come into a male-dominated industry like this, and we are excited to have her," he adds. "She has the right attitude and foundation, and it was important that we find people who have a willingness to learn, are coachable and moldable. Our people need to continuously find ways to come up with solutions for customers, and with the foundation she has, she will be more confident doing that. There's also a team of people back at the factory who know her, so when she needs help, they will go the extra mile for her to solve a customer problem."
Fullerton also continues to partner and support local colleges and high schools to develop new talent to enter its workforce. The company is dedicated to showing students the possible career opportunities it offers, while also supporting their school programs with tooling and sponsorships.
"In the past year, we hired about 11 people from a program at a local community college," Curry explains. "It's an accredited journeyman's program that we've worked with them on and supported them with tooling. They've been a great partner for us to continue to grow the pipeline of great Fullerton associates. We also use continuing education to help our people be the best they can be. There are classes on running equipment, leadership training, quality training – it's never-ending for us and we have great partnerships in our community to help facilitate that learning."
He notes Fullerton is part of a career and technical education (CTE) program at a local high school, which also helps it find quality associates to join the company. "We are excited to be involved in that CTE program," he says. "This is the first robotics program in a local high school, and we've supposed to them with tooling and investments. We hired some of the students last year, but we also offer job shadowing. That way, we can ensure an individual is a good candidate and likes the job, and they are exposed to the different jobs in our facilities."
Up to the Challenges
Going forward, Fullerton Tool plans to maintain its focus on quality, innovation and service while expanding internationally. In 2017, the company partnered with an operation in China to establish a local presence in the Chinese industrial market. Fullerton plans to grow further internationally, and last year hired Uwe Heinrich as its vice president of global business development. Heinrich has more than 26 years in the cutting tool industry with significant success in sales. Curry notes Fullerton is strong in the domestic market and in Mexico, but he is looking forward to expanding further globally.
"We are hiring to focus on building our international sales and development, and we have 31 new industrial distributors who will help us get into Russia and Japan," Curry says. "We are excited to sell into countries we've never sold in before and become a bigger global player in the manufacturing of solid carbide cutting tools."
He believes all of this is possible for Fullerton because of its dedication to excellence in all it does. By investing in its operations and its skilled team, Curry is confident about the company's future. "Mat and I have a big task ahead of us – we have big shoulders to step onto but also big shoes to fill. We are excited and feel up to the challenge because we have a great team and a solid foundation to build on. People that work here love working here, customers love working with us, and with that loyalty we can do a lot."