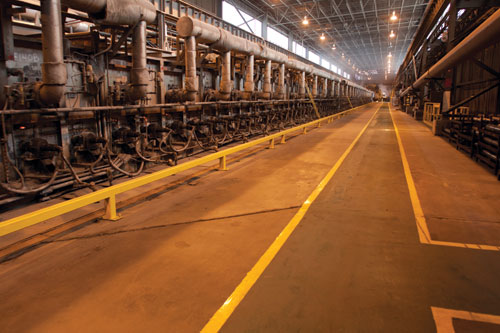 As a producer of steel hot-rolled coils, he says Gallatin's three major focuses are safety, quality, and reliability and its goal is to improve all three. "Along with the majority of the steel industry, we continue to sharpen our product quality and move into applications that people didn't be­lieve mini mills could supply," he says.
"We also continue to focus on reliability, which has really been a key focus for us. We melt, cast and roll all in-line, so if any piece of equipment or component is down, the entire plant is down."
Gallatin's product is used for a variety of industrial applications, such as metal buildings, pressure tanks and energy pipelines. It produces coils in widths of 42.5 inches to 64 inches and thicknesses of .055 inches to .625 inches in a wide range of chemistries tailored to meet customer requirements for strength, surface and other product characteristics. Gallatin also provides product that has been slit or pickled all on a single invoice basis.
Reliable Quality
"Most of our improvements have not been through manufacturing equipment investments," Pospisil ex­plains. "Most of it has been through the innovation of our associates, im­proving our processes and reducing our variability." For instance, the company recently purchased a scanning electron microscope to enable it to improve its products' internal composition. This helps it keep a tighter rein on quality control and product consistency.
However, the company still stresses the importance of the human element, as each coil is visually inspected for surface imperfections and rolling and coiling defects. The company will also cut samples from production batches on a regular basis and send them to its physical testing laboratory, which examines the samples' tensile strength, hardness and grain structure.
Vendors and suppliers are also key to maintaining quality. Tobin ex­plains the company feels "very strongly about having partnerships with our vendors." For in­stance, the company teamed with its slag processor to help each other get through the slow times. "We agreed on a pricing mechanism such that we shared the financial burden of lower volume and then allowed us to recoup any sharing once volumes returned.
"We jointly worked on a way to get through the crisis of the last two years, and that just further solidified the respect between us," he continues.
All of these steps ensure quality, which is especially important during uncertain economic times because, after all, quality control is part of being a reliable customer-focused manufacturer. Many of its strategies to be a reliable producer have been engrained in the company since its 1993 founding.
For instance, Gallatin is a build-to-order manufacturer, which paid off when clients began slashing expenditures and reducing inventory. "The economic collapse over the last two years has caused a lot of our customers to be very wary of investing in working capital," Pospisil says. "They like to have short lead times and not a lot of inventory, and our processes already support that. We are able to turn orders around very quickly and respond to every customer, so we actually benefited from the change in the industry."
Gallatin itself keeps minimal inventory. In fact, the majority of its inventory consists of coils freshly coming off the mills. The coils are too hot to put on a delivery truck, so it will sit in the yard to cool for two days.
Gallatin's flexibility has kept it afloat, even at the low point two years ago when much of the steel industry was operating at 30 percent capacity and Gallatin was operating at 50 percent of its 1.8 million-tons-per-year capacity. At the start of the downturn, the company would begin production on a Friday afternoon and shut down Monday morning. As the market began to come back, Gallatin started adding shifts on each shoulder. "As the customers began needing more, then we would adjust and supply to that need," Pospisil says. "It really gains customer loyalty, and it continues to pay off today." After a few months of de­creased operations in early 2009, Gallatin has resumed its 24/7 production schedule.
Safety First
Pospisil praises the company's associates for seeing it through the past couple of years.
"They are very can-do people, and I think that's what sets Gallatin apart," he says. "They are very focused on serving the customer and serving them well. We have great people that take personal responsibility."
In return, Gallatin provides its associates with a safe work environment where each person can learn and grow. In fact, Gallatin kicks off every year with a safety dinner for employees and their families. In 2008, the company received the Kentucky Governor's Safety and Health Award for more than 1.2 million man-hours worked without a lost-time injury. The company also employs safety team leaders who facilitate accident investigations and evaluate its procedures, as well as provide outlets for workers to identify safety deficiencies and ways they can be improved.
Gallatin Steel recognizes the safest way to do a job is to know the ins and outs of how to perform it. It partners with local community colleges to pro­vide a comprehensive employee train­ing curriculum. It also uses the Uni­versity of Michigan's and the Center for Crea­tive Leadership's man­age­ment courses. "We offer lots of training in both core and soft skills," Pospisil says.
"We actually are looking at revamp­ing and providing a more structured way to help our associates to progress through various levels and give them a career path as well as tools and training needed to move up in their path," he adds.
A Giving Company
We've yet to reach the halfway mark of 2011 and already Gallatin Steel has donated more than $140,000 to various organizations providing services to the people of Kentucky's Gallatin, Carroll, Owen and Trimble counties.
On March 1 it donated $100,000 to the Gallatin County Public Library. Gallatin Steel is the library's cornerstone partner as it undergoes a major construction project to add 2,000 square feet.
It also sponsored students from the Kathryn Winn and Cartmell Elementary Schools in Carrollton, Ky. to attend Camp Invention – a week-long, hands-on science camp held each July. "Gallatin Steel's donation will make it possible for students in need, who otherwise couldn't afford the programs $75 fee, to participate," states Gail Becraft, a teacher at Kathryn Winn and director of Camp Invention. "This is going to make a big difference for these students, and we are very grateful."
On March 15, the company doubled its community efforts when it presented a $25,000 check to Gallatin County Schools and received the Ohio Valley United Charities Silver Award for a recent $15,000 donation. The donation to Gallatin County Schools will be used to fund several projects including new library materials, science lab equipment, math kits and math books, graphing calculators and the county's SNAP math recovery system. The Ohio Valley United Charities donation will help support the organizations efforts to assist people in need in four Ken­tucky counties. "Giving back is one of our company's core principles," states Gallatin Steel President Tobin Pospisil. "And we are very happy to help make a difference in our local communities."
In Memory
Don B. Daily was president of Gallatin Steel when he unexpectedly passed away in 2009. The effect was felt not only at Gallatin, but across the entire steel manufacturing industry, as well.
"Mr. Daily was a compassionate man who truly cared about the safety of all employees working in the steel industry," the Steel Manufacturers Association and the Association for Iron & Steel Technology said in a recent statement.
"His enduring mark on the steel industry of North America has been the establishment of numerous safety and health initiatives that have significantly improved the workplace."