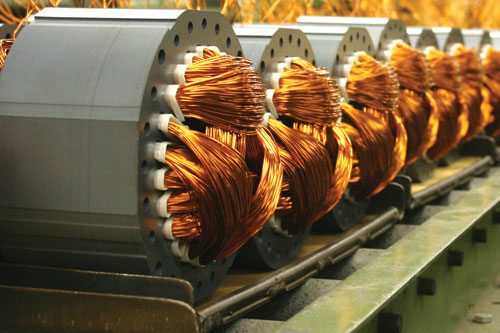 "[Our cli­ents] expect a high level of service and we do our best to provide it," President Scott Lechner says. Based in Kendallville, Ind., the company is a manufacturer of water pumps, centrifugal pumps, pressure booster pumps, variable speed drive systems, and specialty products such as pond and fountain systems. Flint and Wall­ing started operations in 1866, one year after the presidency of Ab­raham Lincoln.
Originally, the company manufactured hand-operated water pumps and windmills. Today, Flint and Walling employs a staff of more than 125 and operates from a 202,000-square-foot manufacturing facility in Kendallville, Ind.
Flint and Walling is the only U.S. pump company that manufactures its own 50- and 60-hertz electric motors for jet and centrifugal pumps. In addition, "We've been told by customers that we probably have the best-performing hydraulic submersible pump in the industry," Lechner says.
In Good Company
Lechner has been with Flint and Walling for 24 years. He began in sales and marketing and moved his way up to serve as the company's vice president of sales and marketing and executive vice president, be­fore he took his current role four years ago as its president.
Lechner says he is guided by "doing the right thing" in his role as manager. "[If you] do what's right for your customers and employees, success follows," he declares, adding that Flint and Walling strives to treat its em­ployees well.
"[It is] a privately own­ed company that does value and care about the people," Lechner says. "It is just a good company to work for."
As a company, Flint and Walling provides its employees with a cash incentive plan that is based on the overall company profitability. In add­ition, it donates annually a percentage of pretax profits to local charitable organizations.
This philosophy has helped nurture employee loyalty at Flint and Walling. "We have 23 employees who have been with the company for over 25 years or more," Lechner says, adding that this includes Tool Room Supervisor Ted Ridenour, who has been with the company for 54 years.
Meeting Demands
Flint and Walling serves a customer base that is dominated by medium-sized to larger wholesalers, Lechner says. "[They are] very loyal," he declares. "[But] they are demanding more and more of the manufacturer to provide better service and inventory levels."
To meet that customer demand, "We beefed up our inventory, which has been a very positive thing for the company," Lechner says, adding that the company builds up extra inventory during the slower winter months.  This enables Flint and Walling to provide products quickly during the peak summer months.
This "level loading" concept also helps Flint & Walling maintain a steady work force.
Because of this preparation, "We have not laid off an employee for over three years – during some tough economical times in our economy," Lechner says. "We've maintained a steady work force since the bubble burst in 2008."
Flint and Walling has grown its market share in the past five years by providing dependable product quickly when its customers needed the product, a trend that the company plans to continue. "Our [strategy] is to continue to grow by providing consistent value-added quality service to customers," he says, noting that the company continues to expand its reach to third-world countries, too.
Quality and Green Focused
To maintain product quality, Flint and Walling regularly inspects and audits the items on its assembly line. Lechner says the company's quality assurance process is rigorous.
"We actually hand-test every pump before it leaves the facilities,"  Lechner explains. "For example, many of our pumps go through four different tests."
Flint and Walling also has adopted green manufacturing practices within its operations and is developing new products designed for greater energy efficiency. "We've switched over to LED lighting [in our facility]," Lechner says. "In the engineering stage, we've got several products [in development stages that will be more energy efficient]."