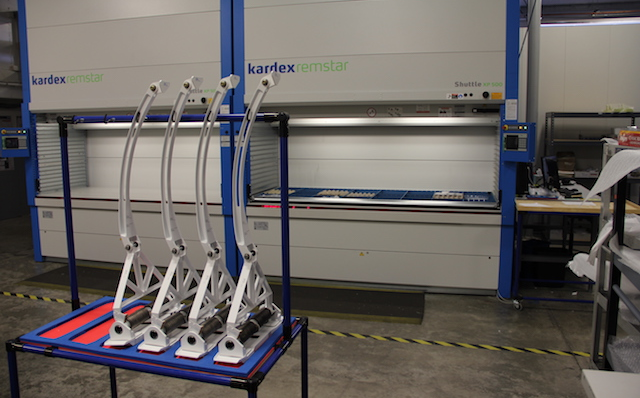 Brent Barker and Brad Stuczynski (President) founded Global Machine Works (GMW) as a small subcontract machining company. Nearly 20 years later, the privately owned enterprise has grown to become one of the leading aerospace machining companies in the area.
GMW provides a variety of services, including CNC milling, turning and assemblies out of its 55,000-square-foot facility with 25 machine centers in Arlington, Wash. The location supports several global commercial aircraft manufacturers with its structural components and assemblies.
"We grew the shop from 10,000 square feet and five used CNC's, and purchased a brand new CNC vertical mill within the first year," Vice President Barker recalls. "Over a 10-year period we added more machines. However, we really started to gain some traction when we bought our first cell system, two Makino A81's with a 24 pallet MFS in 2008. Additionally, we had some customers at the time who were over capacity with like equipment. This was our opportunity to provide more larger and complex parts. It was a major step in the right direction."
Growth Through Tech
Barker adds that he and his partner quickly saw the value in cell systems, which have been a key attribute in GMW's growth. "We believe that we rival our competition when it comes to technology, and we continue to invest very heavily back into the company," he says. "We've acquired millions of dollars' worth of cell system technology. We also utilize a state-of-the-art inventory control system manufactured by Kardex that stores the finished goods and assembly standards."
Technology is playing a critical role in the company's operations to not only ensure on-time deliveries, but to also streamline processes. "We've invested in everything from advanced coordinate measuring machines to multiple cell systems," Barker says. "In 2012 we acquired three Makino a61nx's with a 48 pallet MFS, and in 2014 we purchased three 5-axis Grob G550's with a 32 pallet MFS. Our company has 100 employees who operate in 55,000 square feet of manufacturing space, so we have a lot of high-tech new equipment.
"In 2015 we added 14,000 square feet onto our newest 10,000-square-foot building we acquired in 2012," he adds. "This allowed us to expand our growing assembly department. Late last year, we acquired a Makino Mag 1, which is now the largest machine in our factory and has a full five-axis capability. We intend to eventually install three more of them with an MFS to create a cell system in the new building."
With its AS 9100 certification, GMW supplies products and services directly to aerospace OEMs and tier 1 companies."From initial accreditation through countless third-party audits, it makes it evident that our quality system is very robust," Barker explains. "You simply can't be a supplier of complex machined parts and assemblies to any OEM or major aerospace company without it.
"As a privately-owned and operated company, ownership is on-site and able to make key decisions rapidly – like the purchase of capital equipment, or making personnel and manufacturing decisions without delay", Barker adds. "Brad and I are on the shop floor daily and our team loves that personal interaction as much as we do."
Key Advantages
GMW has seen steady and significant growth over the past six years, Barker says. This has been aided by the hiring of key management personnel. "We have been able to attract a great group of experienced aerospace managers to assist us in driving growth and improvement in all areas," he says. "A common thread among these individuals has been the desire to work for a
privately-held company again. Large corporations and investment groups have purchased countless competitors and almost every customer we've done business with over the years. We strive to have a different kind of business culture here.
"This started nearly 15 years ago when, I think, people on Wall Street and investment groups started to see that aerospace was really booming," Barker continues. "Those ownership changes worked out well for our company as we welcomed some really great individuals, including our quality assurance, materials and project managers. They are all top-notch people. I truly believe we have one of the best aerospace management groups in Washington State."
GMW's managers are "very experienced," Barker notes, and don't require training. "They have a wealth of knowledge that translates down to those who work under them," he says. "Our operators and assembly workers take internal training courses, and we're a registered training agent for an accredited apprenticeship program. We also give tours regularly to the local high school and community colleges that offer manufacturing classes. They bring students in to learn about the manufacturing industry and see actual examples of what they're being taught."
The company also works closely with its suppliers. "We have great relationships with the local machine tool suppliers," Barker says. "They have great technicians and local support people. We also work with a lot of local cutting tool companies and manufacturer's representatives on applications to improve processes."
One of GMW's differences and keys to their rapid growth has been their 'speed-to-market.' "We can get a new project from award to production much faster than most of our competitors," Barker explains. "With our growth in recent years it has been a steady focus not to lose that ability that customers – new and old – hold in high value."
GMW takes it one step further and gives back to up-and-coming companies as well. "What really helped my partner and me when we first started the company were the bigger machine shops that mentored us," Barker explains. "We gleaned a ton of information from them and were able to help them with their processes, too. Now we're trying to mentor the next generation of small shops by helping them with tooling, ideas and stressing the need to build sound quality systems. So just like we were groomed to get better, we're trying to help those coming behind us to be successful."
The Boeing Company is GMW's largest customer. "Three years ago we gained our approval to be a Tier 1 supplier to Boeing," Barker says proudly. "We are also a supplier to many Tier 1 shops in our area. We worked hard to become a No. 1 supplier to all of them by delivering quality product, on-time, with all of them. We believe that because of that commitment, we received a lot more opportunities that led to growth and expansion in the way of more buildings, more cell systems and more great personnel.
"GMW has a different philosophy than most," he continues. "Most of the larger companies we compete with seem to look more at generating cash by reducing WIP and inventory to dangerously low levels. I agree that cash flow is important, but it can also get a company in trouble if there is a glitch in their production, their supply chain or in customer demand, and ultimately causes late deliveries. We operate with the ideal that when you deliver late to customers you will limit or eliminate new opportunities."
Looking ahead, GMW wants to be a leader in Boeing's supply chain. "We always strive to be on time, provide quality products and be a top supplier to all of our customers," Barker says. "I think the sky is the limit. We're constantly looking to expand, looking for the best technology and are always looking for top talent. We run this place like a family business and treat our employees and customers in that manner."
That is one thing Barker notes that some big companies seem to have lost sight of: customer service. "Customers often tell us that they have trouble getting through to someone via phone or get timely answers that they need from other suppliers," he says. "We are always available and try to get answers immediately to our customers. Communication is critical and too many companies have lost that. As a result, Global Machine Works emphasizes that and we pride ourselves on being the best we can be at it."