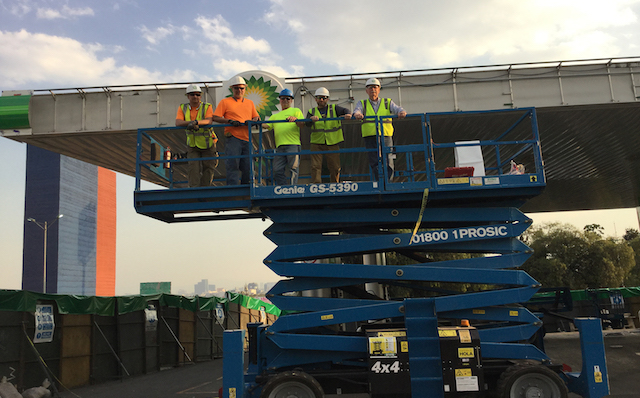 Federal Heath Sign Company
When it comes to making brands come to life, Federal Heath Sign Company knows its sign language. The Oceanside, Calif.-based company manufactures and supplies electric signs for a variety of industries including automotive, gaming, hospitality, petroleum, restaurant and retail. It also offers visual solutions such as brand conversion, corporate identity, custom signage, digital signage and exterior sign and lighting maintenance.
Federal Heath, founded more than 100 years ago, has witnessed many trends over the decades – and moved with them. Today, Federal Heath is helping companies respond to increasing demand for interactive elements in their advertising signage. "It's all about customer engagement," says Kevin Stotmeister, president of Federal Health. "That's what we do. We help other companies connect and engage with their customers."
As technology speeds forward, consumers demand more from the businesses they choose to patronize. They don't want to see old-fashioned menu boards and boring signs. They want to be wooed. They want to be entertained. They want to interact with the brand.
"Businesses are trying to find ways to engage you as their client," Stotmeister says. "They want you to touch their screen, they want signs that attract you and interior signs that tell you about sales."
Federal Heath helps businesses connect with their customers through a variety of digital solutions for their signage. That includes cloud-based software, content creation and app development. The company installs, trains and offers technical support. It can deliver anything from sophisticated displays to easy-to-use digital signage systems.
When it comes to creativity, there's no limit. Federal Heath enjoys working with clients on unique and engaging prototypes. A petroleum company recently asked Federal Heath to help it experiment with its customers' sense of smell while pumping gas.
"They wanted scent machines at the pump," Stotmeister says. "Basically, they had us pump a coffee smell from the pump station." Did the aroma make people buy more coffee? No. In the end, gasoline overpowered the aroma of coffee and the idea was scrapped. But Federal Health is always up for trying something new for its clients.
Doors Into Mexico
Since Mexico recently de-nationalized its entire energy sector and opened the doors of its oil and gas industry to  foreign companies, investors have been scurrying to carve themselves a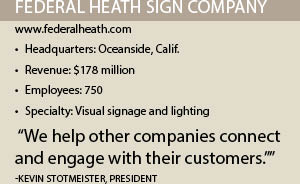 chunk of the market.
This includes BP – one of Federal Heath's numerous petroleum clients. In fact, Federal Heath installed signage for the first internationally branded BP retail gas station in Mexico. "BP and other brands are working fast to get established in Mexico and we're helping them with that," Stotmeister says. Since Exxon Mobil started branding its own gasoline, Exxon Mobil Synergy, Federal Heath has been helping the petroleum giant establish its new brand. Federal Heath will be installing signage for more than 2,000 of its gas stations, Stotmeister says. "It's one of the exciting things we have going on right now," he adds.
Chicago Roots
Founded in 1901, Federal Electric Company was the largest electric sign company in the nation, and the first and only of its kind.
Two executives from Chicago Edison Company, John F. Gilchrist and John H. Goehst, were looking for new revenue streams for selling electricity. They came up with the idea of inserting incandescent lamps into porcelain and steel signs. These became the first electrified signs to be used as advertising messages in Chicago. Joined by James M. Gilchrist, the three entrepreneurs founded Federal Electric Company Inc. Federal Heath traces its history to these three founding fathers. Through the decades, the company experienced unparalleled growth as chnological advancements became available. "We have evolved from traditional signage," Stotmeister says. "We have a lot of different market segments." The company has enjoyed double-digit growth in the past few years. In terms of revenue, it has seen a 20.3 percent increase from 2015 to 2016. "The last four years have been the biggest in the company's history," Stotmeister says. "I'd like to think that it's because we're doing a good job for our clients."
Federal Heath has roughly 750 employees along with about 3,000 subcontractors in its network. It operates manufacturing plants in Oceanside, Calif.; Euless, Texas; Jacksonville, Texas; Delaware, Ohio; and Racine, Wis. The largest out of its five plants is the Delaware location, which encompasses roughly 200,000 square feet.
"We expanded it this year," Stotmeister says. "We virtually almost doubled our square footage. It originally had about 100,000 square feet." In addition, Federal Heath operates two call centers, one in Daytona Beach, Fla., and the other in Houston. From these two locations, they dispatch and manage maintenance services throughout the entire United States. This includes exterior sign maintenance, repairs of parking lot lighting, and upgrades and energy-efficient solutions such as LED retrofits or conversions.