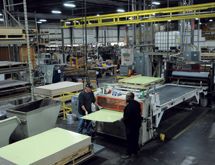 GMi Companies manufactures innovative visual communication and furniture products to keep up with its customers' continuously evolving technology and communication needs.
The Lebanon, Ohio-based company was founded in 1976 as Ghent Manufacturing Inc., manufacturing visual communication products including whiteboards, tack boards, easels and enclosed message boards. Through the years, GMi Companies began to manufacture furniture products and today is made up of four separate companies: Ghent, VividBoard, Waddell and WoodWare Furniture.
Ghent and VividBoard focus on visual communication products used primarily in education, office buildings, healthcare, manufacturing plants and government facilities. VividBoard customizes whiteboards by sublimating graphics and words such as "patient" or "nurse" onto the board, which is then used in patient rooms in hospitals, President Janet Collins says. Many manufacturing facilities use VividBoards for visual tracking of metrics. Waddell and WoodWare manufacture display cases and technology support furniture, respectively.
Made To Order
GMi Companies prides itself on being an American manufacturing success story. "Part of our core is that we are made in America and we have never faltered from that," Collins explains. "People buy from us because of our quality and reliability. We can customize products and have been able to do that because we are made in America."
All of its products are made in Ohio, allowing GMi Companies to ship 90 percent of its products within 48 hours of order placement. The company watches its performance metrics on a regular basis to ensure key objectives are met, such as on-time shipments and damage prevention. "Because we are focused on being made in America we have to be efficient," Collins adds. "We are constantly looking at metrics and making improvements."
GMi Companies operates its shop floors on the "made to order" philosophy. Collins explains this means lean manufacturing is essential to its operations and complicated by the fact that they have both assembly line production and job-shop mentality for custom products made in the same facility. "We have to have a really good system when we make and ship a product within 48 hours, especially when some of the items have special handling," she adds.
At the core of the company is its focus on the customer experience. The company vision is posted and echoed throughout its facilities to provide distinctive products and experiences that result in a feeling of "That's exactly what I wanted." "We are constantly surveying and re-evaluating how we can create an impressive, hassle-free and pleasant experience for our customers," Collins says. "Knowing what our customers want and appreciate is crucial."
Quality Performance
Training its 150 employees on manufacturing is critical to being efficient and producing high-quality products. GMi Companies has safety and general manufacturing training programs in place for employees at each of its companies. The OZ Principle Training Program encourages accountability among every employee. "This has made a big impact on individual empowerment, understanding their role in the organization and focuses a lot on each individual asking themselves 'What can I do to improve that?,'" Collins explains.
GMi Companies is successful because its employees and leadership team members are focused on exceeding customer needs by keeping up with the constant changes in visual communication and technology. "Technology is the biggest challenge in our industry," Collins notes. "There is still a need for people to take a marker and write, dream or collaborate on a whiteboard, but supporting technology is prevalent and [our customers] are looking for how we can connect the whiteboard with an iPad or a flat screen television. We are working to complement and support technology while it's changing rapidly."
Innovative Designs
GMi Companies' product line is constantly evolving, but some items are always available. "We discontinue a dozen or so products during the year and add a significant number of new products every year," Collins explains. "Parts of our product line have also been the same for 20 years and those are the staples of the line."
Because visual communication and furniture products can be easily researched, the company recognizes it needs to offer unique and high-quality products. "We have changed to become more high-end and offer a higher value of product," Collins adds. "We work with dealers to bring distinctive products that others can't."
Glass is one of the most popular materials GMi Companies is using to stay relevant among its customers, Collins says. "Glass is the hottest thing in use for dry erase," she adds. "People are writing all over glass any chance they get." The company is launching several glass products this year along with its new simplicity family of whiteboards, featuring Acrylite. Acrylite is a strong, acrylic-type surface that looks and performs like glass, but is half the weight and has twice the scratch-resistance. "We are constantly doing things like that and looking for new opportunities and ways to help our customers communicate," Collins adds. "We keep changing and remain open and flexible. It's fun to see the organization continue to evolve that way."