Meeting the challenges of tomorrow
The last 12 months have seen Go Plant Fleet Services win its biggest contract to date, continue strengthening its fleet, and adopt environmentally-friendly practices to ensure its sustainable growth
'To be the UK market-leading, 'go-to' specialist fleet provider for a safe, reliable and professional service.' Such is the aspiration of Go Plant Fleet Services. Following an excellent 12 months, in March 2019, the company appointed a new CEO in the form of Graham Hale, who is now leading by example in the consistent application of the business' four core beliefs. These include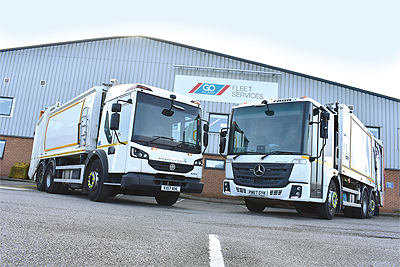 Trust, Safety First, Wowness (i.e., going the extra mile), and Together Matters (i.e., teamwork).
"I joined the business at an exciting time within its evolution and am hugely looking forward to a new challenge. Having been here for a few months, I have already been impressed by the financial, technical, and operational expertise we have, and the credibility we are building in the market around our technical, operational, and safety compliance," Mr Hale commented shortly after he joined Go Plant Fleet Services.
Securing major contracts like the one with Harrow Council (valued at more than £25 million) just before his appointment must have contributed to the new CEO's impression of the business' capabilities. It was in January that the specialist commercial vehicles operator signed an eight-year deal for the supply and maintenance of a wide range of machines and equipment for the local authority. The full-service agreement, which includes fleet management services, also incorporates the Council's substantial workshop and the TUPE transfer of ten existing maintenance staff.
The contract is the largest in Go Plant Fleet Services' 40-year history and sees it provide full contract hire with maintenance for around 140 brand-new assets, including compact sweepers, 7.5 and 12-tonne refuse collection vehicles and 60 accessible buses. It also includes grounds maintenance equipment, such as tractors, mowers, and rollers, as well as quad bikes for weed spraying activity. In addition, the company will provide a 'maintenance only' service for the remainder of the authority's 350-strong fleet, which feature RCVs, road sweepers, and various light commercial vehicles.
Having developed its nationwide operation with a series of acquisitions in 2018, it has become a priority for Go Plant Fleet Services to ensure that its further growth is entirely sustainable. To this end, the company acquired a total of 266 vehicles formerly owned by Gulliver's Truck Hire in a deal worth more than £13 million, which was announced in the second half of January.
Commenting on the agreement, which features a combination of truck-mount and compact sweepers, refuse trucks, and gritters, Commercial Director, Mark Gallimore said: "The latest
acquisition strengthens both our contract hire and spot hire fleets, reinforces our status as a market leader, and further enhances our capacity to deliver an all-encompassing solution for specialist commercial vehicles."
Another important transaction, albeit on a smaller scale, took place in April when Go Plant Fleet Services took delivery of 37 brand-new Johnston VT802 and VT652 machines. The deal – worth more than £5.5 million – was advanced, in order for the business to ramp up its fleet of heavy-duty road sweepers for operated work on motorways and trunk roads.
"The investment ensures that we are fully geared up both for today and for the future," Ben Gilmore, General Manager Operated/Self Drive Division, pointed out. "The machines are built specifically for work on large infrastructure projects and are, therefore, ideal for the kind of operated hire that we specialise in. We are involved in quite a number of high-profile road construction operations at the moment, including several on the M6. We have also secured a number of major new contracts and have several other large-scale projects in the pipeline, so this is a move that will give us the additional capacity to expand our services in the future."
Go Plant Fleet Services' leadership in providing specialist commercial vehicles and fleet management comes with the responsibility of driving the sector forward in a sustainable manner that respects the environment. Taking up this role, the company has recently become the first of its kind to trial Shell GTL (gas to liquid) fuel for road sweepers, hoping that the initiative – executed in partnership with the UK's exclusive supplier of Shell GTL fuel, Certas Energy – could lead to the long-term replacement of diesel across its sweeper fleet, and thus to a significant reduction in local emissions.
The trials started in July of this year and are taking place in London and Birmingham over a six-month period. In order to measure whether alternative fuel could solve the issues surrounding air quality and noise pollution, two heavy-duty Johnston 651 and 652 have been fitted with special telematics devices to capture data relating to these and other aspects, such as performance and economy.
"We have been looking into the alternative fuels area for quite some time and we feel that if the industry was to wait around for new technology to become available, that would take a lot of time," noted Phil Quelch, Chief Operating Officer at Go Plant Fleet Services. "Shell GTL fuel, on the other hand, is a drop-in alternative that has an immediate effect in reducing emissions and improving local air quality without engine modification. It is a fuel that can be used with our existing vehicles and we are confident it can help us to future-proof our fleet, but the trial will provide us with total clarity of the benefits."
There is no doubt that, going into the last quarter of 2019, the year will go down in history as one of the most successful for Go Plant Fleet Services. The winning of new contracts presupposes a steady flow of new business, while the constant fleet upgrade and the GTL fuel trial send a clear signal that the organisation aims to keep abreast of its peers at all times and get ready to meet the challenges of tomorrow.
Go Plant Fleet Services
Products: Specialist commercial vehicles