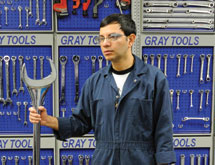 Last year, Gray Tools marked its 100th anniversary – no small feat in any industry. Much of that success and longevity is due to the quality of the company's high-end hand tools, but there's more to the story than that. As owner and President Gary Nuttall explains, Gray Tools' exceptional history owes as much to the way it treats its customers as the way it manufactures its tools.
The company was founded in 1912 with a focus on producing hand tools specifically for professional applications, and that remains the company's emphasis more than a century later. Gray Tools' customer base consists mainly of professional users with a concentration on heavy industrial use. The company's product line ranges from hammers and screwdrivers to pry bars and clamps. The largest section of the company's catalog is devoted to wrenches and sockets of all types and sizes.
No matter what kind of tool it manufactures, Nuttall says Gray Tools is devoted to making tools that give customers superior performance and reliability. Gray Tools manufactures products that professionals in multiple industries find easy to work with, and Nuttall says the company strives to be just as easy for customers to work with itself.
Flexible Capabilities
One of the most significant advantages Gray Tools has is the sheer breadth of its products, which makes the company a preferred supplier to sectors ranging from mining to aviation. Nuttall says the company produces some of the largest wrenches in the world – up to four inches across and 39 inches in length – and it also manufactures pry bars up to five feet in length.
With such a varied lineup of products, Nuttall says a flexible production floor is essential to Gray Tools' success. Not only does the company boast state-of-the-art equipment, but its workforce also has the production cross training necessary to allow employees to work where they are needed most at any given time. This workforce flexibility makes it easy for the company to switch gears and manufacture many varieties of products while remaining responsive to everchanging customer demands.
"We make products where you need to have some unique manufacturing processes," Nuttall says.
The company's flexibility manifests itself in other ways, too. Nuttall says another of Gray Tools' key differentiators is the fact that the company can produce custom tools that meet customers' exact specifications. He notes that with the high-precision nature of many of the markets it serves, Gray Tools' ability to custom-manufacture tools makes it a highly sought-after partner for many customers. "One of the things that we do for our customer base is the ability to request for specialized tooling," he says.
Gray Tools also demonstrates flexibility when it comes to order sizes. As Nuttall explains, many tool manufacturers won't allow customers to place small orders because they don't consider it worth the effort. However, Gray Tools is ready and willing to fulfill orders of any size. "Gray Tools has never had a minimum order size," Nuttall explains. "If you want one screwdriver, we will ship one screwdriver."
International Partnerships
Although Gray Tools' strengths have allowed it to thrive for more than 100 years, the company has not been immune from some of the challenges threatening the entire industry. As owner and Marketing Director Frank Dominguez says, many of the sectors Gray Tools serves have come under intense pressure from the recession, and as a result there are fewer domestic customers. "Over the last number of years, the manufacturing sector has been hit quite heavily," Dominguez says. "I think that can make things very challenging."
Adding to the difficulties caused by a shrinking customer base is the increased competition Gray Tools is facing from overseas. One of the ways Gray Tools has responded to the competition has been to develop its own line of more affordably priced tools. Introduced in 2009, the Dynamic line was designed to address the need for quality tools for occasional yet demanding projects. Tools in the line feature innovative characteristics such as laser-etched size markings and high-visibility ergonomic handles.
Nuttall says the company has spent years vetting and working with global manufacturers to ensure that it only works with those that are capable of making tools to Gray Tools' high standards.
"What we ended up with was a complementary line of products," Nuttall says.
Better Equipped
Thanks in part to the Dynamic line, Gray Tools is better equipped to meet 21st-century challenges, Nuttall says. As the world becomes smaller through advanced communication technology, the pressure is on manufacturers to deliver their products faster and further.
Dominguez says Gray Tools has increased its presence in international markets over the last several years, and has found greater success as a result. Although the markets it serves can be different based on their location and needs, the common element is that customers want tools that they can count on. "I think we can meet those expectations," Dominguez says.