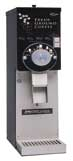 Grindmaster-Cecilware Corp.
In September 2009, Grindmaster Corp. and Cecilware Corp. merged to form Grindmaster-Cecilware™. Grindmaster-Cecilware's™ extensive product line is the basis for the company's mission; to build the next generation single source global beverage and foodservice equipment solution. Grindmaster-Cecilware™ manufactures a comprehensive line of quality beverage dispensing equipment for hot, cold, and frozen beverages and a complementary foodservice equipment line.
For the past 100 years, Grindmaster-Cecilware™ has contributed significantly to the history and evolution of the beverage and foodservice industry. The company's commitment to customer-focused solutions drives innovation that is proven in the customer experience.
According to CFO Rob Poe, the September 2009 merger of the two companies, each with a long and
distinct history, "has allowed Grindmaster-Cecilware to enhance our resources and take advantage of the many strengths that both companies had to offer. Our combined global customer base will continue to benefit from the economies of scale and the extensive product portfolio the combined entity has to offer. Our commitment to customer satisfaction and product quality will only continue to improve."
Grindmaster-Cecilware's corporate headquarters is located in Louisville, Ky., and has manufacturing sites in New York, Illinois and Thailand. Grindmaster-Cecilware employs more than 375 individuals worldwide. The combined company develops, manufactures, markets and services a broad line of equipment for leading convenience store chains, coffee roasters, foodservice equipment dealers, QSRs and institutional clients throughout the world.
'One Dynamic Company'
Cecilware, originally founded in 1911, introduced the first fully automatic coffee urn and commercial powdered cappuccino dispensers. Grindmaster, founded in 1933, was the pioneer in commercial and retail coffee grinders and through Crathco®, has been an innovator in developing cold beverage dispensing equipment.
Lisa Klein, Senior Vice President of Global Sales and Marketing stated, "Combining two strong brands under the umbrella of one dynamic company has allowed us to continue to focus on the needs and opportunities of our global customer base, emphasizing our expanded ability to meet the complete beverage and food preparation needs of all customers."
Grindmaster-Cecilware has committed to a continued effort of being a responsible corporate citizen in ways ranging from minimizing its impact on the environment to preserving a corporate culture that expresses its commitment and support to its employees and the communities where they operate. Specific goals include: reducing its use of natural resources (energy and water) and its production of solid waste; maintaining recycling initiatives in every area of operation; and continuing research and engineering initiatives to create energy efficiency and sustainability in all product lines.
Recent Innovations
At the Specialty Coffee Association of America (SCAA) Show in October 2010, Grindmaster-Cecilware introduced Series 2.0 of its popular PrecisionBrew™ Digital Coffee Brewer line.  PrecisionBrew™ Series 2.0 offers users increased control over important brew variables such as pulse brewing sequence, bypass percentage, low temp/no brew, water temperature and drip time. Having control over these variables allows the user to achieve the unique flavor profile of their coffee with each brew.  Real-time operator feedback was also added. The brewer automatically provides the user with information about the status of the current brew cycle indicating how much time is left in the brew cycle, when the brew basket is dripping and when the brew cycle is complete. This information is visible from the front of the machine in blue LED lights.
Also, in line with the company's commitment to creating energy efficiency in all product lines, a programmable energy-saving feature allows the brewer to go into energy conservation mode after a specified period of inactivity.
Customers can choose from several different PrecisionBrew™ Series 2.0 models. Each model includes a stainless steel Shuttle® that will keep freshly brewed coffee hot for hours without additional heat.
Grindmaster-Cecilware, now more than ever, has the ability to better service a broader range of customers with more sales and customer service personnel; and an enhanced ability to service national and international chain accounts.
With the demand for beverage products increasing dramatically throughout the foodservice industry, especially in the convenience store segment, the combined company is committed to aggressively pursuing new and innovative products that will satisfy the ever-changing requirements of its loyal customer base.