The sticking place
With a history comprising ingenuity, innovation and even dragons, GripIt represents a company with a remarkable success story that is primed to step up to the next level within the global market
The fascinating journey of GripIt from literally a bedroom project to the world's ultimate plasterboard fixing technology on the market began in 2008, when the company's current Managing Director and co-inventor of GripIt, Jordan Daykin, encountered a problem when attempting to attach fittings to plasterboard walls. "I was 13 years old and had just moved into my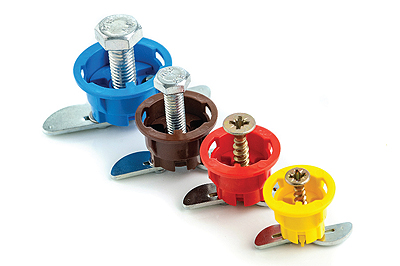 grandparent's house. They had converted their garage into a bedroom for me and as is typical in these kinds of projects, plasterboard had been fitted over the top of the building's outside walls, which leaves only a small gap where fixings are able to open behind the board," Jordan explains. "This created problems when attempting to hang items such as curtain rails and my grandfather, Stanley Daykin and I tried all of the existing fixings on the market and found that none of them worked. As a result, we took to my grandfather's shed to create a bespoke solution that would go on to become the foundation of the GripIt concept today."
After applying the same solution to fix heavier items such as television sets to the walls of his garage bedroom, Jordan realised that there was huge potential for an effective solution like GripIt to take a leading position within the market for plasterboard wall fixings. Following this eureka moment and a period of research and further development, the GripIt Fixings business was born and quickly caught the attention of both retailers and customers alike. After a rapid entry into the market and an impressive period of growth, it became clear that the creators of GripIt would again need to take innovative, bold steps to progress further.
"It took about four years to get the patent granted for GripIt and to undertake all of the relevant product development and testing before we finally launched the product in November 2012. This was hugely successful and we eventually managed to get GripIt into 500 stores across the UK. At the end of 2013 I was keen to get the company to the next level," Jordan says. "I then decided to apply for BBC's 'Dragons' Den, thinking that I would never get on the show. However, a few months later I received a telephone call telling me that I had made it through to the next round and would be appearing on the show. The appearance was filmed in March 2014 and I was able to win investment from Deborah Meaden, who invested £80,000 for 25 per cent of the business."
As a result of this victory, the business once again entered into a period of rapid development and grew from being present in 500 stores to more than 5000 locations across the UK. These include everything from small independent retailers through to highly recognised brands such as Maplin, B&Q, ScrewFix, Wickes and several others. To meet this increasing demand, GripIt has also continued to invest into its manufacturing capabilities to both facilitate its present market expansion as well as to set the stage for future growth into the international arena. During 2015 for example, the company invested £1 million into opening its own in-house manufacturing facility and throughout 2016 GripIt spent an additional £2.5 million on enhancing its production capacity. The company now manages 12 moulding machines, two automatic assembly lines and a fully automated packaging line. This development also allowed the business to expand from two to five units, increasing its manufacturing space to 35,000 sq ft and growing its team to 32 members of staff.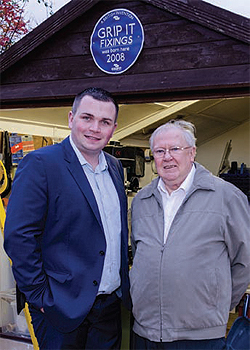 Despite interest from several venture capitalists and existing investors in contributing further funds for the growth of the company, GripIt took the decision to raise the desired capital via the Crowdcube crowd-funding platform. This generated huge levels of interest and enabled GripIt to hit a target of £2 million in investment in just five days. As a result of this success, GripIt is again actively using the Crowdcube platform with an aim to further engage with its clients and investors, as well as to raise capital to introduce further products to the company's portfolio. "We decided to use the Crowdcube platform because we wanted to give people a chance to buy into the technology," Jordan reveals. "That was the reason that we originally chose the crowd-funding option and the reason that we have gone back to it is that the system has been very successful and we have investors that are contacting us daily to say that they would like to invest more. This next round of development will help us to add new products to our existing range."
This next step in the GripIt journey will also allow the business to further break into the global market, with target growth across the US, Europe and Australia. Indeed, the company has already established teams that are dedicated to promoting and selling the GripIt brand into regions around the world and has ambitious plans for the coming years. "We have just signed a deal with Kingfisher in Europe and will be appearing in 900 stores across the region, while Australia, New Zealand and America also offer great opportunities for expansion," Jordan concludes. "We have a five year plan in place for America, with a distributor that sells to 24,000 stores, our target is to fit GripIt into 18,000 of those. The aim of the business is to increase its overall store count from 5000 to 25,000-30,000 locations around the world. This will be all about innovation and delivering new products to extend what the GripIt brand is able to offer."
GripIt
Products: Innovative plasterboard fixtures