Hallite Seals International
A seal of approval
Embodying more than a century of market experience, Hallite Seals International remains at the cutting-edge of fluid power technology
Established in 1903, Hallite Seals International (Hallite) Hallite, part of the publically traded Fenner PLC group of companies is a provider of highperformance fluid power sealing solutions for the global power fluid industry.
As a global player, Hallite operates across five continents and works with the best-in-class international and regional OEMs and hydraulic cylinder manufacturers by providing first-class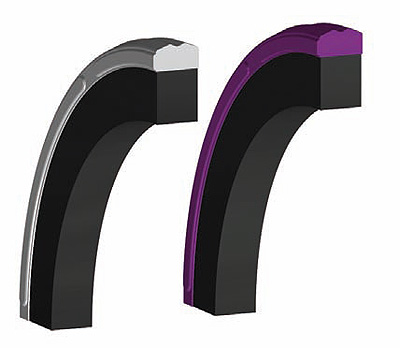 commitment to engineering experience. The UK manufacturing plant, which employs circa 200 people, holds full ISO 9001, AS 9100, ISO 14001, OSHAS 18001 accreditation as a trusted manufacturer of hydraulic and pneumatic standard and catalogue seals.
For more than 100 years Hallite has been at the forefront of fluid power technology providing design, engineering, and material expertise for technically challenging and critical applications thanks to a wide portfolio of materials including Polytetrafluoroethylene (PTFE), Polyurethane (AU), nitrile rubbers (NBR) and Fluoroelastomers (FKM).
"In terms of standard off-the-shelf components, Hallite has more than 105,000 products in standard and metric sizes in its portfolio, with products such as rod, single-acting piston and double-acting piston seals; wipers; bearings; vee packing sets; unitised pistons; and swivel seals; as well as those that can be customised for specific applications," explains Senior Business and Market Strategist, Jeffrei Clifton.
"Hallite maintains six manufacturing facilities around the world, with its three largest hubs located within the UK, US and China, where the company executes most large production runs. All Hallite locations have dedicated engineering teams to help our customers chose the most appropriate profile, material and dimension for the required application in their language and time zone. Our global network of regional location and manufacturing centres allows Hallite to ensure a full range and supply of products are readily available anywhere in the world."
The comprehensive range of Hallite standardised and bespoke seals has allowed the company to establish itself as a recognised leader in hydraulic seal technology and serve a variety of clients across several industries such as construction and infrastructure; mining; aerospace; agriculture; oil and gas fluid power; and general industry and material handling applications.
During November 2016, the company further expanded its product portfolio with the announcement of its new Armorlene® Polytetrafluoroethylene (PTFE) portfolio in a complete range of product profiles and materials to form one of the most comprehensive collections of its kind in the industry.
"Our new Armorlene® PTFE range expands and further builds on the company's long-standing history of material and product development, as well as its success of existing PTFE products in the German and Chinese markets. Customers now have access to one of the most comprehensive PTFE portfolios in the industry, covering 30 profiles and 26 materials that include our top-ofthe- line Armorlene® HLX bronze-filled PTFE and HLA mineral-filled PTFE materials," Jeffrei explains. "Since we developed this range in direct response to requests from customers, there has been a great response from both OEMs and distributor partners who are really excited to have the opportunity to use Hallite as a single source provider for their PTFE needs."
With its exciting array of material properties and demonstrable benefits to the end-user, the Hallite Armorlene® PTFE material and product portfolio is a fit-for-purpose solution designed for dynamic and static sealing applications, where high speeds of up to 15 m/s (50ft/s), low friction, temperatures ranging from between -200˚C to 260˚C (-328˚F to 500˚F), strong wear performance, broad fluid compatibility and highpressure capabilities up to 600 bar (8700 psi) are required.
Hallite products have a proud heritage of setting new benchmarks in hydraulic sealing applications and the company's new Armorlene® PTFE fluid power seal offering continues in this tradition. The company's latest PTFE material provides a fit-for-purpose solution designed for dynamic sealing applications that provide:
Improved wear resistance
Improved heat transfer
Increase in mechanical strength
Improved extrusion resistance
Improved low friction
Increase in thermal conductivity
Having successfully introduced its new Armorlene® PTFE portfolio to market, Hallite is already preparing to launch new products that will continue to revolutionise the market for sealing technology. The company will be present at International Fluid Power Exposition (IFPE) 2017 between the 7th and the 11th of March, where it will continue to engage with industry operators directly to demonstrate the advantages of its leading solutions.
"We are very excited about this year's IFPE. We are showcasing our Armorlene® PTFE portfolio and launching a new product finder app this year. It will be a great opportunity to allow the industry to touch and feel our products and technologies to develop a real understanding of what Hallite can offer," Jeffrei reveals.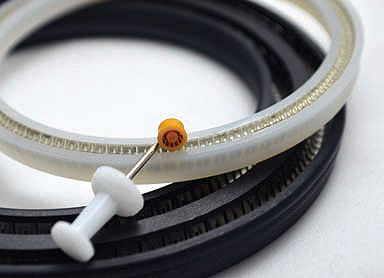 "We are also going to be showing our springenergised Optiseal™ system, which is a highperformance, low-friction, full-spectrum sealing solution with benefits ranging from enhanced media compatibility to superior performance in broad temperature ranges. With diameters from 1mm (0.040 in) to 2.8m (110 in), customisable heights and special geometries, the Optiseal™ system can be configured to fit in almost any hardware, making it the ideal choice for criticalservice sealing."
Taking into account the number of exciting developments taken place within the company, Hallite Seals is well placed to continue in its mission to use advanced polymer technology to supply better solutions for demanding performance critical applications 'faster' than anyone else. To this end Hallite will continue to draw on its competitive advantages to drive the business forward throughout 2017 and beyond.
"Our competitive edge in the market is providing customers with the global reach, extensive manufacturing capability, comprehensive product portfolio and the in-depth design knowledge of our larger competitors while remaining nimble enough to respond quickly to the requirements and needs of our customers," Jeffrei concludes. "During the coming months we are keen to further develop our distributor network much more closely, invest in extensive test fixtures and third-party testing solutions, and launch several new products into the market this year to expand our position as a leading provider of sealing components around the world."
Hallite Seals International
Products: A leading manufacturer and distributor hydraulic seals and fluid power hydraulics