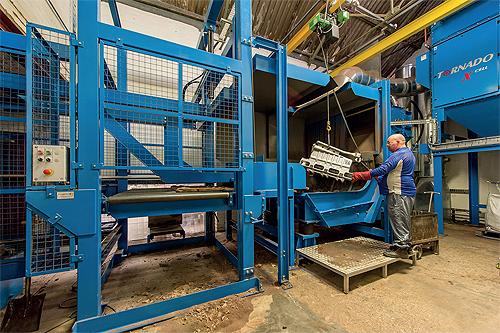 Master casters
Fueled by a buoyant export market, Harrison Castings, one of the world's leading aluminum sand casting foundries, has recorded growth of almost 40 per cent since 2018
From compressor casings for the pioneering Gloster-Whittle jet-engined aircraft, to ten-foot-tall crosses and candlesticks standing sentinel in St Paul's Cathedral, Harrison Castings has left its mark on history. With over 100 years of quality to its name, the Leicestershire-based aluminum sand foundry has been guided by three generations of the Harrison family and continues to grow today.
Hoping to take Harrison Castings to the next level in 2021 is Managing Director Mick Jenney, a former apprentice who has worked his way up over the course of 35 years at the firm. Having been present for some of the company's biggest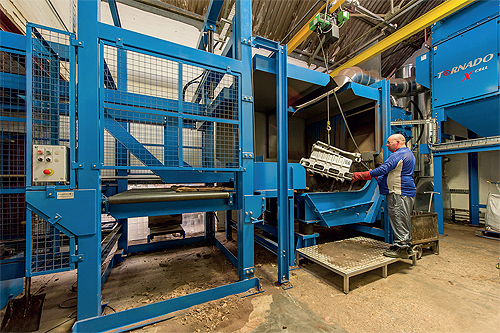 modern milestones – including Harrison's shift from a jobbing foundry to an operation based on a more chemically bonded system – Mick is perhaps better placed than anyone to discuss the present state of the business.
"The strategic change of direction that the third generation of the Harrison family launched around 20 years ago really set us up for today," Mick states. "The chemically bonded system gave us an advantage in the UK because we could start producing large aluminum sand castings, which the owners believed would be one of the last items to be sourced offshore. Realignment led to a streamlining of the business and helped us get involved with a lot of big OEMs looking for high volume, large product sand castings. Key accounts with major firms like Cummins, Caterpillar and Siemens remain an important focus of our business today."
Predominantly serving global power generation businesses, Harrison Castings also works with high-end medical customers and performs commercial castings for a range of engineering applications. In recent months, the company has moved into the manufacture of products for automated warehouses – an area of interest for clients, including a leading retail warehouse company. Though Harrison tends to stay away from the high-volume world of mainstream automotive production, the manufacture of castings for the burgeoning electric vehicle market is an increasingly profitable proposition.
"I think the main thing about Harrison is that we are totally flexible in our approach to manufacturing and the parts that our customers are looking for," Mick remarks. "We are pretty unique in the UK as we can produce large parts in high volumes. Other foundries just aren't geared up for that.
"Getting into new markets is important to us and the biggest shift lately has been the addition of fully machined parts for the automated warehousing sector. These are castings that go into robotic boxes for order picking and sorting. It's totally different to anything we've done before, but our expertise is highly-valued throughout the process.
"Most recently, we've started producing castings for a company that do very large ground-based satellite systems. Again, these are complex parts that other foundries have not been able to get right. We regularly win work on the back of problematic castings like this because we demonstrate that we can get them right from pretty much our first attempt, leaving the client with a fast, reliable solution."
Harrison Casting's superior manufacturing capabilities are derived from a 90,000-square-foot facility made up of dedicated production cells. Though new technologies, such as the 3D-printing of molds, have become influential in the way the foundry operates, many of its processes are similar to those used by the company's first employees. However, in order to remain at the head of the industry, Harrison regularly invests in improvements to its machinery and equipment.
"Alongside the introduction of new machinery, like large shot blast machines to accommodate the size of our castings, we constantly replenish and renew our equipment because of the wear factor involved with our work," Mick reports. "We first moved to Gough Road in the 1930s, so we've had to grow our warehousing space, but we've got no visions of moving because we think we've got a really good streamlined production setup, with our own fleet of vehicles to support delivery."
A key takeaway from Harrison Casting's manufacturing process is that, as a business that is only semi-automated, the backbone of the production operation is the company's people. "Making castings is very heavy, hard, demanding work, so it is vital that we have the right people in the business," Mick asserts. "Myself and the other directors are shop-floor based and very hands on, which helps everyone to buy in to what we are trying to do. We have some very loyal team members, some with over 50 years of service, and I think that is a reflection of our culture. People who want a career in this business tend to stay with us.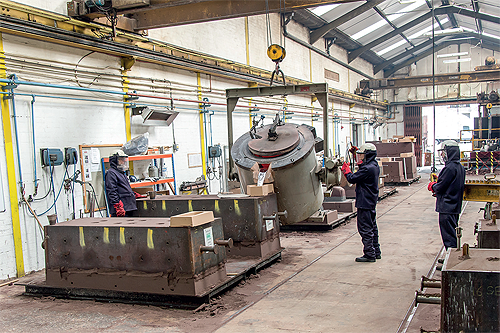 "Perhaps most importantly, Harrison Castings has always been a family business and I think our customers appreciate that. The family ethos is evident in the way we build relationships with clients – they know who we are and they put a lot of faith in us. In return, we supply on time and do everything they request – we never let our customers down."
From the latest equipment to the focus on values, with everything Mick discusses in place at Harrison Castings, it is no surprise that the company has experienced significant growth over the last five years, much of which has been driven by success in the export market. After struggling to make any major breakthroughs with European casting buyers, Harrison has instead looked to the USA – with tremendous results.
"Over the course of three years, we grew our US exports from zero to £2.5 million, which was around 20 per cent of our total business," Mick reveals. "It was a big step for us. We were sending raw parts out of the UK to North America and we'd never been involved in that level of shipping and transportation. It was a different way of working, but it paid off.
"Doubling down on this new revenue stream, we recently invested in an £80,000 software package called Magnasoft, which helps produce higher quality castings. We are a preferred foundry for customers across the US and we want those relationships to continue evolving. Enquiries are coming in all the time and we have picked up two new US projects in the last six months, which is obviously very encouraging."
With the support of its employees, customers and suppliers, Harrison Castings has made it through a challenging 18 months defined by Covid-19 and a management buyout that saw Mick and three colleagues become majority shareholders in the business. Now, with a clear vision for Harrison's future, Mick is confident that the firm can take another step forward on the path to further growth.
"There are so many different areas outside of our core markets where aluminum castings are being used, so I think the challenge for us now is to discover who those potential clients are, what they want, and then supply them with a manufacturing solution," Mick says. "That doesn't mean we are going to neglect the power generation sector, but there are certainly more opportunities out there. New technology is arriving all the time – the transition to electric vehicles and the rising popularity of offshore wind farms being just two examples at present – so for us, it is just about taking advantage of these situations and getting our name out there again.
"Harrison Castings has been around a long time, and from a marketing perspective that is key. We are trusted by major brands and corporations the world over, and that established name and reputation for quality will only be beneficial to us going forward. We are a company that can supply a solution to satisfy all manner of sophisticated 21st century requirements, and a partner with a history and track record unmatched across the industry."
Harrison Castings
Services: Aluminum casting foundry
www.harrisoncastings.com