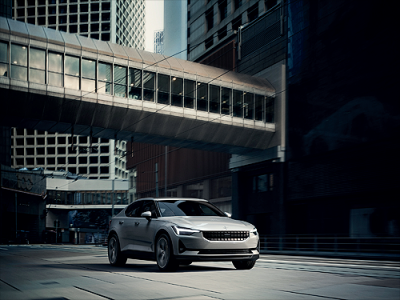 A guiding star
Determined to drive progress and improve the society that we live in, Polestar is an electric performance car brand unlike any other
Headquartered in Gothenburg, Sweden – and with vehicle production emanating from China – Polestar is an electric performance car brand that has made its name from harnessing refined performance and cutting-edge technology to create a product offering of progressive, electric vehicles that are designed and engineered without compromise.
The origins of the business date back to the foundation of Flash Engineering in 1996, a Swedish racing team that competed in the Swedish Touring Car Championship (STCC) and was later sold and rebranded as Polestar Racing. In 2009, the brand became the official Volvo partner tasked with modifying existing racing Volvo models – under the name Polestar Performance. Eventually, in July 2015, Volvo acquired the entire company, and in 2017 it announced that Polestar would begin producing high-end electric performance cars under its own name and badge. Meanwhile, Polestar continues to function as an innovation lab for Volvo Cars, developing designs and technologies of a more experimental nature.
"Polestar is a brand focused primarily on bringing better, more sustainable cars to market," explains the company's Chief Operating Officer, Dennis Nobelius. "Today, we have two cars available, Polestar 1 and Polestar 2. Polestar 1 is a two-door, electric performance hybrid GT with a fantastic design, front-mounted engine, two electric motors at the rear, a fully carbon fiber body, and excellent driving dynamics. Polestar 2, on the other hand, is an all-electric performance fastback boasting truly superb performance."
With the development of Polestar 1, the company made a strong statement about the type of ground-breaking vehicles it wanted to introduce society to. "Among the characteristics of the car that people who have had the chance to drive it have found is that Polestar 1 possesses fantastic electric performance – which gives it really good electric mileage– and a unique low center of gravity that provides truly dynamic handling, which is awesome to experience," Dennis continues. "When it comes to Polestar 2, it represents a further example of how we as a company are working to break with some of the traditional conventions of the automotive industry, while continuously looking to improve on our designs and make our cars better, whether that be through hardware or software improvements, or the addition of further value-added features."
Both Polestar 1 and Polestar 2 have been greeted with virtually universal praise from not only customers, but also industry experts and observers. Indeed, each model has been presented with numerous industry accolades, including several international Car of the Year awards. "Our awards success to date is further evidence of how people are drawn to what are premium electric vehicles that are well built and well crafted," Dennis states. "Industry observers are also equally impressed by advances we have made, such as the connected nature of our vehicles – for example the always-connected and always up-to-date Android interface in Polestar 2."
A hugely beneficial quality that the company has, which has helped contribute to its success, is what it calls its 'low asset strategy', which it shares with its contract partners. "This strategy essentially means that, rather than needing to own any of our own major manufacturing facilities, we are able to call upon the immense infrastructure and expertise possessed by Volvo Car Group, or indeed other third parties if we wish," Dennis states. "For our part, we are trusted to have the complete freedom to choose what features or technologies we feel best attract customers to the Polestar brand. We can then leverage the knowledge of Volvo's engineers, as well as our own, to bring new capabilities to market."
Production of Polestar 1 takes place in Chengdu, China, where the company's first production facility was built, while Polestar 2 is produced at Volvo's existing plant in Luqiao, China. "Our facility in Chengdu is a fantastic manufacturing base,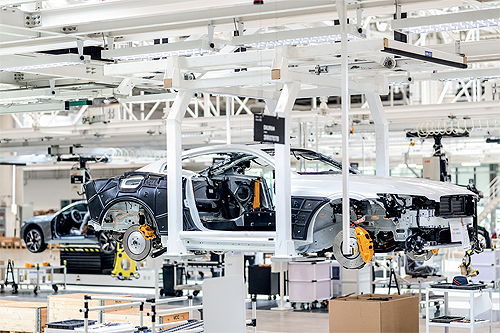 and one that also includes its own advanced testing track, while our access to Volvo's Luqiao plant gives us the ability to utilize a high degree of manufacturing automation when putting together Polestar 2," Dennis reveals. "In the future, we will build a new plant in China, which will be dedicated to a future car, the Precept. A striking model, the Precept will be a halo model for sustainable vehicles, and will be produced in a state-of-the-art, smart manufacturing facility befitting its potential."
The aforementioned future plans for the business will also go a long way towards Polestar achieving its aim of achieving net-zero greenhouse gas emissions across its entire operation. "When you look at how to meet such a significant target, I think you have to view it through one's entire value chain," Dennis says. "That starts all the way back at the design stage, so looking at how you design the cars themselves. From there, you also need to be confident that the supplier base that you are hoping to tap into also meets the same high sustainability standards as yourself. Then, it becomes about how you physically construct the cars within your manufacturing space, and finally about your logistics model for getting them to the end user. So, having a strong sustainability record requires you to look at every little detail, from the materials you use all of the way through to how you package and transport the end product."
As the company looks ahead to its plans for 2021 and beyond, in addition to further developing its range of vehicles – particularly the Precept– it also intends to focus on delivering greater operational efficiencies. "A goal that we have which underlines everything we do is to get more and more of these fantastic cars out there to greater numbers of customers," Dennis enthuses. "Therefore, this year is likely to be one of expansion and of scaling up the business industrially and commercially so the we can bring our offering to more markets. In doing so, we believe that Polestar can play an important role in accelerating society's journey towards a more sustainable future. That is a mission that is very close to our heart, and to be seen as a guiding star in showcasing how one can be both sustainable and successful in this industry is very much an ambition of ours.
"Finally, Volvo has considerable ambitions when it comes to the autonomous driving space, and there is no doubt that we will also want to play our own part in that journey going forward. We are likely to do that by once again partnering up others within the Volvo Car Group family, as we look to take on the challenge of mastering yet another important technological element that is likely to influence the future of the automotive industry."
Polestar
Products: Electric performance cars
www.polestar.com