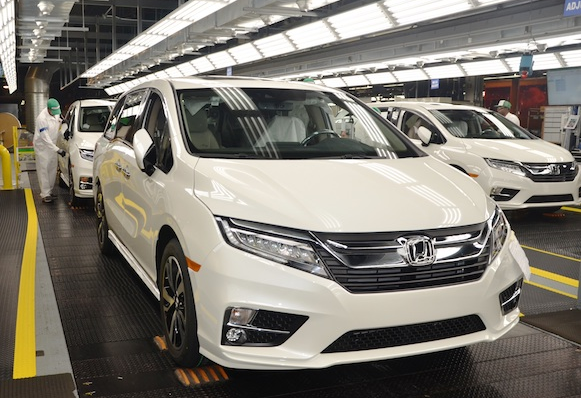 Since starting operations in the North American market nearly 60 years ago, Honda has not dramatically changed its philosophy regarding investments in the region.
"We came to the United States as an extension of our manufacturing philosophy, which is to build products where they are sold," says Tom Shoupe, executive vice president and COO of Honda of America Mfg., the Japanese auto-making giant's U.S.-based division in Central Ohio. "We believe we need to be ingrained in the communities we manufacture in, and purchase products and materials near those locations."
The company has invested more than $22 billion in its North American operations. Honda started manufacturing operations in the region in 1979 when it opened a motorcycle plant that employed 64 people in Marysville, Ohio. Today, Honda operates 19 manufacturing plants, where more than 95 percent of the Honda and Acura automobiles sold in the United States in 2016 were produced, the company notes.
Honda also operates 16 research and development centers in the United States, where it designs, develops and engineers many of its products.
In addition to providing jobs for more than 30,000 employees, Honda operations also provide opportunities for the people who work for the 610 OEM supplier companies and other vendors that supply it with parts and equipment. Many of these suppliers are based in the same communities where Honda manufactures products. "For every new, direct opportunity we add, there are a lot of indirect and contract opportunities," Shoupe says. "These opportunities provide a multiplier growth effect to communities, enabling them to grow and prosper."
"Our associates engage in communities in a way that provides a long-term benefit," he adds. "We want people outside of Honda to want us around, and we do a number of things to be a good neighbor."
Plant Improvements
Just in the past four years, Honda has invested $3 billion into its plants in the United States. That investment soon will grow even larger as a result of several projects announced earlier this year.
The company in March announced an $85 million multiphase project that will improve the manufacturing flexibility of its 3.7-million-square-foot Honda Manufacturing of Alabama (HMA) plant in Lincoln, Ala. The plant produces four light truck models: the Honda Odyssey, Pilot and Ridgeline, for which it has sole responsibility; and the Acura MDX. The $2.4 billion facility also builds the V-6 engines powering each of these vehicles.
The project includes improvements to logistics and supply chain operations at one of HMA's assembly lines. Construction of the first phase of the project is set for completion in 2018. "Customer demand and product volume requires us to improve the layout and logistical efficiency of that facility," Shoupe says. "This reflects how our product volume has grown."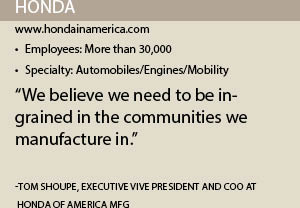 High Performance
Two of Honda's recent investments will support its recent launch of a new 10-speed automatic transmission for front-wheel-drive vehicles.
The company is dedicating $100 million to the construction of a new assembly line and production modifications to its Honda Precision Parts of Georgia (HPPG) LLC plant in Tallapoosa, Ga. An additional $49 million will be invested in new equipment and increased production capacity at the Honda Transmission Manufacturing (HTM) of America Inc. plant in Russells Point, Ohio, which will provide components for transmissions built at the Georgia facility.
The new 10-speed automatic transmission has been in the works for several years. "We wanted to have a new Honda powertrain product that would provide an efficient, reliable and excellent performance experience," Shoupe says. "In our heart we are an engine company, and we believe we should be in the market with a strong product for torque conversion."
The transmission, which features a low-friction design, appears in the all-new 2018 Honda Odyssey minivan. It will be rolled out to other Honda and Acura models over time.
Established in 2006, HPPG's annual capacity is 375,000 transmissions for Honda and Acura automobiles. HTM began production in 1996 and has a capacity to manufacture  1 million transmissions for Honda and Acura models, as well as gearsets and four-wheel drive systems.
Proving Ground
Honda in April announced a $124 million investment to create a multifunctional wind tunnel at the Transportation Research Center (TRC) in East Liberty, Ohio. Groundbreaking will be in the summer. Owned by Honda but operated independently, the TRC is the largest vehicle testing and proving ground in the United States.
"This wind tunnel is about meeting the growing demand for aerodynamic and aeroacoustic research and testing," Shoupe says. "There is a worldwide and growing demand for this capability; we thought it was important to add that to the TRC for the industry as well as our own testing purposes."
The tunnel will be able to produce wind speeds of 192 mph and will include an interchangeable belt system capable of testing both production vehicles and race cars. The five-belt rolling road system is designed for the development of production vehicles and a second, single/wide belt system designed for testing high-performance sports cars and purpose-built race vehicles.
Future Flexibility
The new wind tunnel at TRC is not the only recent Honda  investment that will benefit other automakers.
The company recently announced a joint venture with General Motors Co. to mass-produce an advanced hydrogen fuel cell system that will be used in each company's future products. Honda and GM are each investing $85 million in the venture, known as Fuel Cell System Manufacturing LLC. The venture will operate within an existing GM battery pack manufacturing facility in Brownstown, Mich.
The two companies integrated their development teams and shared intellectual property to create an affordable commercial solution for fuel cell and hydrogen storage systems, Honda says. Mass production is expected to begin in 2020, and the venture will create roughly 100 new jobs.
Honda continues to look for opportunities to improve its overall operations. "Facility-wise, our future investments will be based on our current market situation," Shoupe says. "Much of our investment will capitalize on improving our flexibility overall or launching new models."