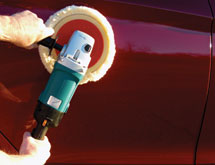 Red Wing Shoes is a brand so well known for quality that part of its product line is stitched by hand to ensure optimum craftsmanship. The more than 100-year-old company constructs its boots with quality methods and materials to ensure they last a lifetime, and when it needed laces for its boots that met this level of quality, Red Wing turned to Hope Global. Founded in 1883 as a producer of cotton webbing, Hope Global also is well known for its strict dedication to quality in its braid, wire, weaving and components divisions, and it approached its work with Red Wing the same way it does with all of its customers – using its "relentless pursuit of excellence" to exceed expectations.
"Red Wing came to us because they make industrial work boots that 'last a lifetime' – even with everything industrial work puts a boot through – and they needed laces that met the same standard," President and CEO Cheryl Merchant explains. "The development of a new shoelace was so successful for Red Wing – and they were so happy with the results – that they brought all of their Asian shoelace business back to the United States.
"A customer comes to us with a request, and we work with them to develop the best solution," she says. "That's the basis of our business."
Hope Global's business has such a strong reputation that it often gains clients for life in industries such as apparel, aerospace, automotive, construction, electrical, heavy vehicle, marine, medical, military, furniture, sporting goods and windows and doors. Known today for its "engineered textile solutions," Hope started out as Hope Webbing Co. producing cotton webbing until 1957, when it began its braid operations, producing apparel and parachute cord, as well as industrial cords and shoelaces.
In the mid-1980s, the company began developing its wire knit division through the production of Form-a-Grip – an automotive wire-carrier reinforcement for trunk and door seals. During this time, it also created the first mesh map pocket for General Motors. Its assembly and wire divisions continued to grow, and by 1997 the company opened facilities in Mexico and France to better serve its North American and European markets. With this expansion and a strategic plan for the future, the company changed its name to Hope Global in 2000.
Based in Cumberland, R.I., Hope Global currently has production facilities in Mexico and the Czech Republic with sales/engineering offices in Brazil, China and Detroit. Its focus is the development and manufacture of "engineered textile solutions" for automotive, commercial and industrial use.
Proactive for Automotive
Hope Global continuously focuses on new product development, usually in response to customers' needs. Some customers, like Red Wing, come to the company with a specific request, while others have a problem for Hope Global to solve with various materials and textile knitting, weaving, braiding and assembly solutions. The automotive industry, Merchant explains, is in constant need of new products involving aesthetic and functional solutions, primarily due to consumer trends and evolving specifications.
"The automotive companies are worried about weight, so we want to reduce the weight in our parts – every little bit helps our automotive clients," she says. "This is something we saw as an important initiative; it wasn't really a specific customer request. For example, we produce a product that is part of the rubber seal encircling the perimeter around the door of a car, and our engineers were able to reduce its weight by more than half. That is a benefit to our clients, and this particular product is in the Honda Civic, Nissan Pathfinder and many other makes and models."
Hope Global's operations are vertically integrated, which is an important factor in quality control and its ability to meet customer specifications, she notes. To create cargo nets that go into trunks of cars, for example, Hope Global sources raw yarn and sends it through its own yarn preparation, weaving, heat setting, and braiding operations. The product then goes through Hope's cutting and assembling functions, and finally to packaging. This process involves four different departments and two different plants, but it's all in-house, so Hope maintains quality control.
"We have the market share in North and South America for the knitted wire that goes inside a car door's rubber lining," Merchant says. "We buy a coiled steel rod – 5.5 millimeters in diameter – and draw it down to a piece of .75mm wire in one operation at speeds surpassing 100 mph. We knit this wire with other yarns and coatings, and then sell knitted wire to rubber extrusion companies, who sell to automotive OEMs."
Going Global
Quality is crucial for every item Hope Global supplies, so this is a constant focus for the company. All of the company's operations are ISO 9001 certified, and it also possesses the ISO 14001 and American Architectural Manufacturers Association certifications. For its auto industry customers, the company gained the TS 16949 certificate, which requires "at least two years of zero major non-conformances in any audit," Merchant says. Hope Global maintains a structured quality program, she notes, because it is dedicated to maintaining long-term relationships with its clients.
"We pride ourselves on running a very sophisticated manufacturing operation," Merchant stresses. "We make so many things that no one ever sees, but that doesn't make quality any less important. We are strong believers in lean manufacturing and take a team approach to 5S and continuous improvement."
She cites the company's business in Mexico as an example of its quality focus. Hope Global did $10 million in business in Mexico last year, and only had $7,000 in errors. In its Rhode Island facility, she says, the rate of errors is less than 0.5 percent.
"If there ever is an issue, we follow-up with our customers within 24 hours, and we have a solution to them within three days," she says. "Quality is important to every one of our customers, but we also have to meet military specifications because we are a major supplier of the parachute chord to the U.S. military. All of those products are made here in the United States, and we've passed every audit with them."
Hope Global plans to open a new facility in Asia within a year, but Merchant stresses the company is not abandoning its home base for any perceived benefits of offshore production.
"We are proud to be a U.S. manufacturer and we are not moving our U.S. business," she says. "Right now we are serving Asian countries India, Korea, Japan, Thailand, and China and South American countries Brazil and Argentina from our U.S. and Czech plants. All of our customers are global, and our objective is to be where our customers are located. We're  going to Asia for Asian market share of our products, not for cheap labor – we're going to their market to make the high-quality products we're known for."
The company also plans to expand its Czech operation, and it is building a new R&D team at its Rhode Island site to better support its global sales team. "There are many new military applications and we look forward to any opportunity to support the American government, so we are not leaving the United States," Merchant notes.
A Story of Hope
Hope Global had to learn to do more with less during the recession, and through the use of lean, it improved its inventory management system and reduced its production time by half. Coming out of the recession, the company is more than twice the size it was 10 years ago, Merchant says, and she expects Hope Global to be more than three times that size in the next three years.
"I can't stress how proud I am of where we are today," she says. "In October 2005, our Rhode Island facility was flooded. Water rushed in through the windows, wiped out 300,000 square feet of manufacturing space – machines, computers, filing cabinets – and caused $5 million in damage. Every employee got involved and we saved the operation and kept every customer. To come through something like that is phenomenal.
"In March 2010, it happened again, but this time we had a plan and got notification 24 hours before the storm hit," she continues. "We sheared the bolts on our machines and lifted everything three-and-a-half feet into the air. I rode on a rubber raft through our shipping doors with our local senator and the rescue divers, to view the damage as it occurred. Because of advanced preparation and a 24-hour notice the damage was minimal. After everything we've come through, there is a lot of pride here, and our people work hard to maintain the pride in our company. We came out stronger, and now we are growing and adding employees. We believe in taking care of our people as well as we take care of our customers."