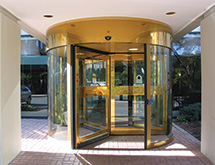 If you have walked into an airport, hospital or grocery store, there is a good chance you have walked through one of Horton Automatics' automatic doors. "We are good at adapting our design to meet the application needs for the end-customers," Vice President of Operations Bill Liles says.
The idea for the company came to founders Lew Hewitt and Dee Horton as they worked in the glass storefront business in 1950s. The two found that people had trouble operating swing doors in the windy city of Corpus Christi, Texas.
Together, both men invented an automatic sliding door that circumvented the windy conditions and formed Horton Automatics in 1960. Today, Liles says, the company has manufacturing sites in Corpus Christi; Matamoros, Mexico; and Telford, England.
"In those sites, we have about 270 employees in manufacturing," he says, noting that its products are primarily sold through 140 distributors worldwide. "We sell to them and they do the insulation and service."
Horton Automatics has started acquiring some of its distributors to gain local insulation and service capabilities. "We call that portion of our business the 'door services' corporation," he states.
A wide range of end-customers uses Horton Automatics' products, including pharmaceutical and semiconductor companies, Liles says. "We also have security products for high-tech companies and corporate offices," he says.
He adds that Horton Automatics has established a leadership position in its market. "We're either No. 1 or No. 2 in different areas," Liles says. "Our products are the Cadillacs of the industry.
"They're robust in design and longevity," he continues. "They provide a good product [and operate for] a long life for the end-customers."
Overcoming Obstacles
Horton Automatics is still coping with the impacts of the economic downturn, Liles says. "Our sales are still lagging," he admits. "The economic recovery is not as fast as we would like it to be."
The company also encountered challenges when it implemented Oracle as its enterprise resource planning system in April 2014. "The order processing through the system was not flowing as it should have," he recalls.
However, "We've overcome those challenges now and are back at it full swing," he says. "Our sales and marketing team also has a series of initiatives to reconnect with the customers and reassure them that we're back in full swing on manufacturing."
Additionally, Horton Automatics is still growing. "We've been able to expand our Mexico operations and have the ability to grow our business through the initiatives," Liles says, noting that people in Mexico are eager to work. "That is one of the reasons they seem to be more productive than the American workforce."
The company also plans to expand business throughout its channels of trade, including the transit sector. "We've just partnered with Bombardier to build doors for [airport] terminals," Liles explains.
Streamlined Systems
Manufacturing quality is an important focus for Horton Automatics. "We continue to enhance our capabilities with CNC equipment to provide precise machine components for the door assembles," Liles says. "We also continue to work with our R&D group to improve the different fabrication of the components."
The company also has implemented lean manufacturing over the past decade to reduce waste and streamline the workflow. The initiatives have paid off, Liles reports. "We have improved our labor effectiveness over the years by 20 to 30 percent," he says.
Staying the Leader
Liles has 20 years' experience with Horton Automatics. "My first career was in the electronics semiconductor manufacturing industry," he says, noting that he also worked in the chemicals sector.
He is proud of Horton Automatics' products and its staff. "The people we have working are all good people," he says, highlighting its staff in Mexico. "I'm closely involved with all of the expansions and increases out there."
So far, the facility has steadily ramped up the size of its staff in Mexico. "We had a starting point of 20 people," Liles says. "Today, we're at 100 production workers and 20 staff workers."
Going forward, Horton Automatics will continue to invest in CNC equipment to improve its manufacturing capabilities, he says. "We're also looking at some other areas, [including] possibly implementing a powder coat paint line to improve delivery times for our customers," he says. "We believe we're the industry leader in providing unique solutions for our customers' needs."