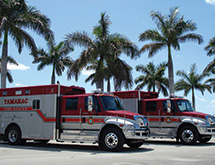 Horton Emergency Vehicles
Established in 1968, Horton Emergency Vehicles has positioned itself as a leading manufacturer of custom-built ambulances. The company's goal is to produce the world's safest and most innovative ambulances through extensive testing and high standards for quality and customer satisfaction.
Today, Horton is the industry leader in medium-duty ambulances. Its products are able to withstand a 90,000-pound load test, are equipped with VI-Tech mounting to isolate vibration and noise, and feature an exclusive rollover occupant protection system. Horton sells locally in Ohio, Indiana and Michigan, and it distributes product on a wider level through the support of its dealer network.
"We now have around 400 employees in two locations," Vice President of Engineering and Research and Design Eric Fisher says. "We serve the entire country, and we've done some work in South America, Europe and the Middle East. Our customers include municipalities, fire departments and some hospitals. The customer base varies, as some have small fleets while others have fleets of up to 100 trucks."
Leading Products
What first stands out about Horton is its commitment to custom-engineer and manufacture the safest and most reliable ambulances. Its product offerings include the Type III, Type I, Medium Duty, CCT/Hospital and Stock ambulances. Operational excellence ensures that the company is utilizing the highest-quality materials and putting internal collaboration and customer feedback to work in driving innovation.
This is how the company is able to introduce the best ambulance features, benefits and performance, all verified through testing. Horton has sought to provide innovation in all aspects of its ambulances, from structure, sound and ride, safety and electrical to HVAC, lighting and interiors.
For example, Horton says it builds the best structural box in the ambulance industry based on features such as use of the highest-quality aluminum available. Its safety features include providing the first and only standard occupant rollover protection system.
Horton's Intelliplex i4G control system is a smart control electrical system that features an enhanced, 7-inch LCD touch screen with custom programming capabilities. It can also interface with the Horton Connect mobile app for mobile ambulance control.
Beyond that, Horton's Max Cool cooling system features two 6,500 CFM fans and two 32,000 BTU cooling coils and achieves uniform airflow through dual-location fans. Horton has also introduced LED marker lights and dual-color LED strip lights to offer maximum visibility for users when responding to a call. Among the many other innovations Horton has pioneered are four-point seat belts, body door handles, Horton 360, collision avoidance systems, enhancement box systems, Mobileye and Horton telematics.
At the same time, Horton is able to offer the industry's lowest cost of ownership. When examining purchase price, maintenance costs, operating costs, uptime, life expectancy and resale value, the cost of Horton's products are competitive with – and often better than – industry competitors.
Adding Value
From there, the company strives to work with customers and dealers to provide the best service in addition to the best product. Horton's goal is to build strong ties and relationships with all employees, customers, dealers and suppliers.
"Everyone that works for us and with us plays a role," Fisher says. "For example, our dealer network extends across the country, and they handle everything from graphics and vehicle specifications to after-sale service. That dealer network is critical."
Additionally, Horton Emergency Vehicles is member of a number of industry associations and regularly attends industry truck shows and association meetings. It also engages in vendor sessions to get a look at new products, and it strives to stay on top of the latest technological and the regulatory standards coming from government agencies.
"It is important that we keep our eyes on what is happening with competitors, suppliers and industry trends," Fisher says. "We go to all of the industry shows for fire and emergency services."
Horton finds time to work on new projects and discuss ideas with different suppliers, too. The company looks to its vendor network for recommendations, and its purchasing department engages with suppliers to learn about product development initiatives so the company can see samples and conduct testing, validation and demonstrations.
"We seek out those suppliers that can help us succeed, and we listen to those suppliers that come to us with ideas," Fisher says.
Horton's biggest investment areas have concentrated on lean manufacturing initiatives and training, as well as facility updates, new equipment and safety-related projects. Fisher says the company is also looking to update its paint shop as part of its overall effort to improve equipment, facility maintenance, training, automation and enhance assembly processes.
The main challenge for Horton is keeping up with demand. Fisher says the company's backlog is growing because there is an appetite in the market for Horton products. This is why the company is looking at its assembly processes to find ways it can streamline and standardize to improve flow while still ensuring the highest levels of quality.
"Over the next few years, we want to enhance our production process so we can shorten our backlog," Fisher says. "Product development and innovation will continue to be key for us. We have received nearly a dozen patents in the last three years on new products. We look to lead the industry, so innovation, product development and technological leadership will continue to be part of our differentiation strategy."