How a TV commercial inspired Allsee Technologies' multi-million-dollar enterprise
Allsee Technologies (Allsee) considers itself a one-stop-shop. If it is, then this shop's growing – and fast. Last year, for instance, the UK digital advertising display manufacturer, which was founded in 2007, had to bring in waves of new staff to cope with the market demand. In 2022 alone, revenue shot up by an impressive 39 percent, testifying to a strong product – and even stronger reputation – in the LCD and LED digital display market.
About to embark on its single biggest project to date, we took the opportunity to sit down with Managing Director, Baoli Zhao, to investigate how Allsee, despite the rapid changes it's having to implement to keep up with demand, is keeping its eye on the prize: becoming a true global brand.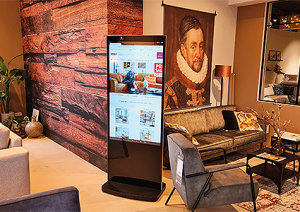 But first, how did the Allsee story begin? As Baoli starts to explain, it's decidedly simple – just like most multi-million-dollar ideas are.
"The year was 2006," he remembers. "I was working as a software engineer at the time, and on one night in particular, my friend and I were sat watching TV in his flat. Not much was on. But, then an ad break – not something you'd typically fuss over – rolled onto our old, boxy CRT TV, and we were suddenly glued to the screen.
"A commercial had grabbed our total attention," he goes on. "It was one of Sony's latest models: the Bravia, a beautiful, cutting-edge, flat screen TV. Pure innovation. To this day, it remains the best commercial I've seen.
"I remember thinking: 'What a beautiful piece of technology.' And from that moment, I realized that this technology – a liquid-crystal display (LCD) – was going to become the next big thing. It would become a thought-snowball, so to speak, and new possibilities for it were opening up every second."
Sat there on his friend's couch, the idea sprang into Baoli's consciousness: What could companies use the LCD screen for outside of the home? Back in 2006, he says, social media either didn't exist or was as rudimentary as the CRT TV that LCDs threatened to make obsolete.
Continuous development
In that moment, he understood the possibilities. Like a radio or local newspaper, the LCD screen would soon become a powerful advertising channel. As a result, he decided to start a company with a view to harness its power, bringing it to shops and enabling businesses to display their products and services for all to see.
That idea has turned into a multi-million-dollar company which employs over 60 people and has been awarded the Queen's Award for Enterprise for its innovative, all-in-one Android-based advertising displays.
Yet it wasn't a smooth road to success, as Baoli tells us: "When I created Allsee with a classmate of mine and manufactured our first screen experience, I thought everyone was going to love it. Unfortunately, that wasn't the case."
It was a great idea. But the business world of 2007 wasn't ready for LCD-based digital display advertising.
Baoli knew that he had to first educate the market. So that's what he did. "The initial four years of Allsee were spent demonstrating to possible customers the benefits that digital display advertising can offer – and they were slowly beginning to get it," he recalls. "The biggest challenge, I suppose, was promoting the advantages of a technology that most didn't even know existed!
"It was a really hard period," he continues. "But we didn't give up. Instead, we attended seminars and exhibitions; we met customers in person and did everything we could to educate them, offering case studies that demonstrated the viability of LCD technology in commercial spaces.
"As a result, we developed a strong marketing team that helped to bring in customers and establish a robust network of reseller partners. From there on, it was steady growth. It's only really in the last five years that we've seen just how high the uptake of digital display advertising could be. Now it's an increasingly hard task to walk down a high street without seeing LCDs in shop windows!
"There's no mistaking that we are up against strong competition – global names that you probably have in your sitting room right now," he adds. "However, we don't concern ourselves too much what they do; rather, we listen to our customers because, at the end of the day, we are working in collaboration with them. We listen to their qualms and requirements – no matter how small – to ensure we're developing the best possible product we can."
Bespoke solutions
In fact, this approach often means that Allsee finds itself ahead of the curve, and it's those big, blue-chip companies, with names we all recognize, that are playing catch-up. That brings us to Baoli's biggest project to date.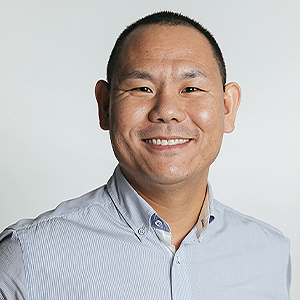 Though he cannot disclose the client's name, it's definitely one to watch. "We're working with a major supermarket chain on our largest project yet," he reveals. "In the first stage of the development alone, we'll be installing 5750 bespoke screens across 2400 stores."
A mammoth undertaking, then – and that's only just the start. "There are many more screens coming," Baoli details. "Other supermarkets are sure to follow next year, and we're looking to expand the premise of the project across Europe. So far, it's progressing very well.
"When we discovered this opportunity, we knew that we had to come up with a unique solution to set ourselves apart from our competitors and win the contract. Often the big names concentrate on things like hardware, and say: 'This is the solution, so take it or leave it.' They won't adapt or change things to the specification and requirements of the client.
"Whereas, with Allsee, you get a bespoke solution," Baoli claims. "There's not always one standard or one-size-fits-all answer. Therefore, we sit down and have a deep conversation with our customer to truly understand the pain or pressure point they need to resolve, and adapt our product to meet those needs."
Over the next three months, Allsee will install the complete number of units. Beyond that time frame, Baoli and the team intend to expand their operations further. While the company remains the market leader in the UK, he admits there's still much work to be done across European, North American, and Middle Eastern markets. In doing so, Baoli says he knows that Allsee will become a true global brand.