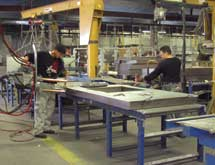 Industrial Acoustics Company U.S
As a global leader in engineering solutions for noise control, Industrial Acoustics focuses a lot of attention on communication. The company, founded in 1949, long had what U.S. Division Vice President of Operations Bill Taylor describes as a "tribal culture"– one where senior engineering, design and manufacturing staff would verbally pass down insight to the incoming generation of acoustical problem-solvers.
For decades, the culture worked for IAC and its strictly internal operations. But eight years ago, the technology innovator had to change with the times and transition from a mainly verbal to a verbal and documented system. "For a company of our size and long history, it's always challenging to implement new processes," Taylor says. "But the most difficult thing to change anywhere is the company culture."
The transition was imperative for IAC because it began outsourcing to manufacturers throughout the country to lower its overhead. The cost of conducting business from a New York City address already exceeds the national average, but with shipping costs on the rise and competitors' costs at a minimum, IAC was compelled to move to a decentralized manufacturing strategy.
"A restructuring of the shipping industry has resulted in fewer and larger logistic companies that offer less choice than in the past," Taylor says. "We ship large, bulky products, but it's mostly air. We needed to have strategic subcontractors geographically located in the United States, especially on the West Coast, in order to lower our shipping costs."
Another reason for the switch was competition from companies with acoustical niches. Taylor notes that while there are few companies like IAC that run the gamut of acoustical solutions for all industries, there are several companies that specialize in one niche such as broadcast studios or testing chambers. "Much of our competition came from smaller companies that specialized in one or only a few of the products we offer," Taylor explains. "For us, offering the depth and breadth of products that we do, it's challenging to stay cost-competitive, so we developed a decentralized strategy and started manufacturing more locally to our markets ."
This is why the company tightened up its documentation process. IAC still manufacturers many of its own products, especially for nearby clients. It also keeps some products stocked year-round, but for states like Washington, the company depends on subcontractors, and those subcontractors depend on paperwork.
In the past, an IAC engineer walked down to the manufacturing floor and told his colleague what needed to be changed. But now, with the manufacturer hundreds of miles away, all updates are documented promptly.
"When you are manufacturing remotely there are time barriers, sometimes language barriers and a lack of product knowledge that we have gained in-house," Taylor says. "We learned it's critical to spend the time to give all the information upfront, so we can assure we're both on the same page." After some initial trial and error, Taylor says the company is about 80 percent of the way there. The teamwork IAC displays in-house and with subcontractors has proved beneficial to another aspect of its business – general contracting.
Recently, IAC in the United States and Europe has begun delivering turnkey solutions for its clients. In the past, IAC would develop a solution, like the isolation chamber it created for Toyota so it could measure and isolate engine sound in the interior of its cars. The company would design, engineer, manufacture, deliver and, on request, install the solution, but Taylor says that many firms are looking for IAC as not just a supplier or subcontractor, but a contractor with an acoustics specialty.
In August 2010, IAC broke ground on a 1 million-cubic-foot facility for Cummins, the global leader in designing, manufacturing and distributing service engines and related products. The hemi-anechoic test facility, which is a room designed to stop reflections of interior sound inside and eliminate exterior sound, is for Cummins' Power Generation facility in Fridley, Minn., and will measure the noise output of its diesel engines. The site includes a:
Large hemi-anechoic chamber
Reverberation room
Test cell
Control room
Conference center
Mechanical equipment room
"In the past, we may have provided the acoustics, but not the brick and mortar," Taylor says. "Now more and more, the client will say, 'I want to come in, turn the switch on and have it all working.' It's become a big portion of our revenue that 10 years ago we would have never seen."