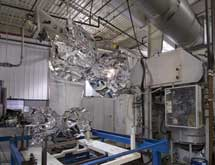 When building an automobile, it takes quality parts to construct an impressive whole. At Jay Industries Inc., the parts are at the very center of its business. Based in Mansfield, Ohio, the company is a manufacturer of automotive components. Jay Industries' roots go back to 1928. President Rick Taylor's grandfather, Glen Taylor, bought a wooden steering wheel manufacturing company. There were fires, depressions and many businesses at the 150 East Longview location, but in 1968, Rick Taylor's Father, Dick, formed the Jay Plastics Division.
In 1989, Jay Plastics became a separate entity and was incorporated as Jay Industries in 1995, Vice President Paul Boggs says.
Today, the company serves not only the automotive markets, but also lawn and garden and agricultural. In addition, Boggs says, Jay Industries' clients include high-profile firms like Ford Motor Co. and General Motors. "ACH and Lear are probably our largest [clients], ACH being a subsidiary of Ford," he says.
Important People
Boggs joined Jay Industries nearly
19 years ago after gaining extensive experience in the engineering and tool and die fields. He has stayed loyal to the company due to its appreciation of its workers. "I've been treated [as] a vital and important part to the operation," he says. "That's very re­warding for me."
For instance, Jay Industries spends time developing the skills of its em­ployees and promotes from within. "Some of our top people in our facilities are people that have come up from the line and worked their way through," Boggs says. "All of our tool designers are tool makers by trade."
He explains that he is proud of the company's staff and its work ethic. "We've got really good people that want to produce a better product," Boggs stresses. "They're always [working with] better equipment and better processes to find better ways to do it with more consistency."
He also praises the leadership of owner and President Rick Taylor.
"He's certainly the driving force behind what's going on [here]," Boggs stresses. "You can find him on the floor on any given day because of his drive. Anyone around him gives 110 percent.
"His desire to take a risk, innovate and reinvest in the facilities has really been key to our success."
Stepping Up
Boggs says he is proud of Jay Industries' ability to control its supply chain. "We've stepped up and added new equipment," he says. "We have added an additional metalizing line as well as two additional injection molding presses.
"We have also invested in several pieces of equipment to improve our processes. On the metal side, we have added laser-cutting equipment to vertically integrate our process and better support our customers."
Additionally, the company has not let green initiatives pass it by. One new technology Jay Industries has launched removes hexavalent chromium from bright finishes on cars, which is found in the electroplating process.
"It is very volatile to the environment as well as expensive," Boggs explains. "We are able to provide a bright finish utilizing vacuum metalizing and a UV durable Redspot top coat. This also allows you to use materials that have better strength and can withstand more heat than traditional ABS or PC+ABS, which must be used when electro plating.
"We've gotten a lot of requests [for that]," Boggs says. "It will remove a lot of volatiles from the system."
Adapting to the Market
Due to the economic downturn, Jay Industries recently had to decrease the size of its staff. "We were at 1,300 [employees] at one time," Boggs recalls. "This market forced everyone to really analyze what they really needed. At one point in time, within our facility, if we had a week that was slow, we would keep people on the regular shift and find some busy work for them.
"In today's market, you can't afford to do that. You had to understand that your work force was going to fluctuate with our sales."
Despite these reductions, Boggs says Jay Industries is still growing and will continue to do so. "We just added onto the plastics facility," he says. "We [also will] have two injection presses coming later this month."
Jay Industries also plans to diversify, Boggs says. Currently, 95 percent of the company's business is related to the automotive industry.
"From the plastic side, we're looking to increase our presence in the appliance industry," he says. "From the metal side, we've actually started developing business in the agricultural industry.
"We are working with Bulk Molding Compound Inc. (BMCI) to replace aluminum die cast knobs and stainless steel grab handles in the appliance industry," he continues.
"We have successfully duplicated the brushed stainless appearance with a BMC knob and Redspot topcoat that will withstand the environment of an oven knob or handle while providing a significant cost savings to our customers."