Industrial robot sales in North America up 12 percent
New figures indicate strong growth in the uptake of industrial robot units across North American manufacturers
The International Federation of Robotics (IFR) has revealed total installations of robots in manufacturing is up 12 percent on last year – that's 41,624 extra units.
The automotive sector is spearheading that growth. Automotive companies across the US, Canada, and Mexico installed a whopping 20,391 industrial robots last year.
The 30 percent increase on 2021 demonstrates the power of automation within automotive disciplines. According to the IRF, installation counts in Canada largely depend on the sector.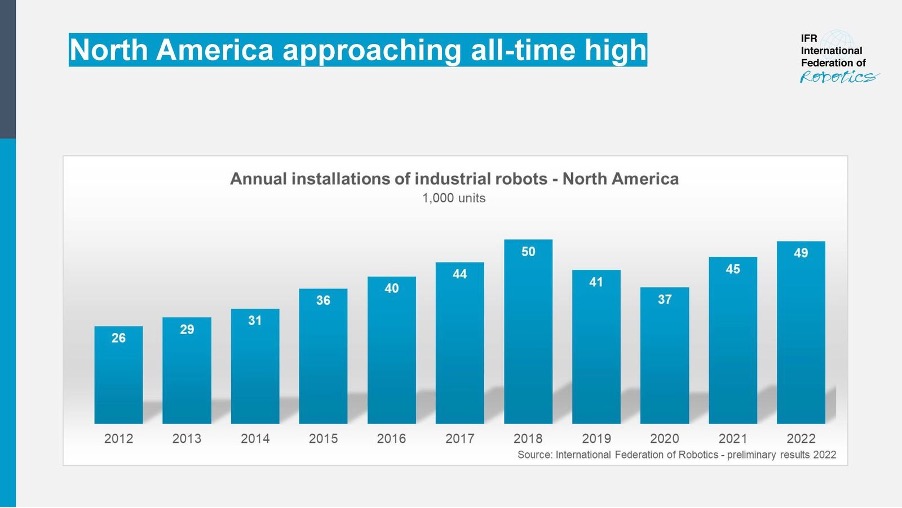 Automotive companies accounted for 40 percent of all robot installations in the country. An increase in the sale of vehicles, engines, and bodies (up 99 percent) could be responsible.
The figures jump even higher in Mexico. The automotive sector was responsible for 66 percent of all industrial robot installations in Mexico last year.
"North America represents the second largest operational stock of industrial robots in the world after China," said Marina Bill, President of the IFR.
"The United States, Canada, and Mexico are key markets in the global growth of robotics automation, and the automotive sector is leading the way."