Reliable supply
As it looks to venture into new industries, Intek Plastics Inc. is breaking the mold with an employee-first focus and emphasis on sustainability
Intek has a long history in Hastings, Minnesota. Originally founded in 1961 by engineer Lyle Ward, it began life as a vinyl extrusion company before its sale to family-owned cereals provider Malt-O-Meal. In 1989, then trading as Weather Shield Manufacturing, the company parted ways with its parent before rebranding under its present name in 1997. Now in its third-generation of family-ownership, and with a team of more than 200 associates, Intek has emerged as a major supplier of engineered thermoplastic extrusions, fabricated sub-assemblies and value-added services to original equipment manufacturers.
Like many businesses in the US, Intek's development throughout the last decade has occurred within the shadow of the financial crisis, which saw extreme stress across banking systems worldwide. The catalyst for that stress was a downturn in the US housing market, a fact that had major implications for Intek's business. "A critical part of our business was, and continues to be, supplying the window and door industry," says Intek CEO Jill Hesselroth. "Following the downturn, we ended up consolidating two plants into one. It was a difficult time for all plastic extruders, and for anyone in or supporting construction."
Fast forward to the year 2020, and the US faced further difficulty – with the arrival of the Covid-19 pandemic, closely followed by one of the most severe winter seasons to impact the country in several years. The chaos continued in 2021, with prolonged disruption to supply chains undermining recovery efforts. "We've had a couple of significant years," Jill continues. "Fortunately, we were able to work together with our customers, employees, suppliers, and board of directors to come up with some excellent plans."
Servant leadership
Intek's priority throughout the period was the retention of its employee base – by no means a certainty amid a hostile trading environment. "We have a unique skillset at Intek, one that takes a substantial amount of time to develop in our extrusion operations," Jill explains. "We didn't want to lose that experience, and we're happy to report that we saw no layoffs throughout 2020-21. At the same time, our leadership team worked closely with all our employees to develop a plan to keep everyone safe."
As employment cuts became the norm across the US and beyond, Intek capitalized on its labor force in order to enact vital improvements to its operations. "We were actually able to expand capacity during the last couple of years," Jill says. "It's one of the really good stories to come out of the pandemic, giving us a strong foundation to implement further expansions in the near future. It serves as a testament to the hard work and resilience of our employees."
The company prides itself on cultivating an open and rewarding culture throughout its operations. "Over the last seven years, we've pivoted towards a culture based on servant leadership," Jill explains. "What that means in practice, is that every single employee – whether they're a leader, mid-management, or on the shop floor – is expected to help one another in order to be successful in their work. To make that work, we rely on excellent strategic planning and execution. The people we hire are those who share our values. We have a very talented and collaborative leadership team, who work tirelessly with focused recruiting, retention and recognition to fill our vacant positions."
Integral to Intek's culture is the company's investment in continuous learning and improvement. In 2021, the company was the proud recipient of two ALIGN Awards from online education provider Biz Library, including 'Best Measured Results' and 'Training Program of the Year'. Intek followed this up in December 2021, being awarded the Hastings Chamber of Commerce '2022 Business of the Year' Award, nominated and voted for by the chamber members and committee.
"We've found that for the current generation of new hires, opportunities for development are a key priority," says Intek Vice President of HR and Service Operations, Sonya Prange. "We drive that through a number of training, development and engagement programs. Within our production area, for instance, we've explored how employees can move up in level within the business. Similarly, we've also partnered with local community organizations to implement our on-site English as a Second Language training, as part of our focus on Diversity, Equity and Inclusion (DEI). That's run for a few years now, but we're continually making improvements in order to benefit employees whose English might need improvement, and to ensure that we're providing everyone with the same high-quality experience."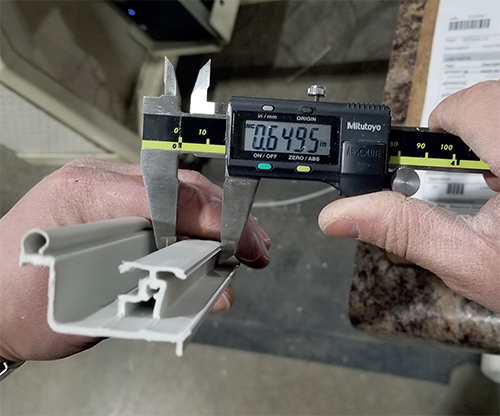 As trade gradually returns to normal, Intek is readying itself for a series of new projects. "During 2020, the biggest growth activity was found within housing," says Intek VP of Sales and Marketing, Paul Pedersen. "People were still building, and the need for windows and doors remained strong. Other markets and industries were on hold a little, but in 2021 they started to bounce back very strongly. Intek recently won some very important profiles with a big lighting customer. Their initial designs were challenging from a manufacturing standpoint, so we worked closely with them to come up with a new design that would meet their needs, and which could be extruded more efficiently and cost effectively."
Carbon-neutral products
Efficiency is more than a buzzword. An Energy Star partner, Intek has long been a proponent of measures to make its operations more sustainable. "For years, we've been set on reducing our energy consumption," Jill explains. "We actually partner with our energy providers to set goals annually, focusing on the installation of energy efficient equipment wherever possible. Along the same lines, we've employed recycled materials here for some time, achieving near-zero plastic waste sent to landfills through a mix of re-grinding and using this ourselves, or by selling it to someone who can do the same.
"More recently, as the scarcity of recycled materials has pushed up costs, we've begun testing carbon-neutral products and bio-based materials derived from plants," she continues. "We recently hired a PhD material scientist to support our technology development. He's already worked with our customers and supply chain teams to identify substitutions for materials that have the same characteristics as those we were already utilizing, but which were more widely available. With this addition, we now have more opportunities to work with our customers on understanding the characteristics that they're looking for in an end product, and to supply them with better engineering results and alternatives."
Despite a challenging year, Intek succeeded in meeting its on-time delivery target, underlining the company's commitment to its customers. "That didn't happen magically," Jill says. "It's the product of a lot of research, and a total team effort – across our material science people, our sales and operations teams and our supply chain people."
"This year, we've had several customers tell us that we've done a much better job supplying them than their other suppliers," Paul confirms. "We can see that in the quoting behavior, where customers are coming to us because they can't get material elsewhere.
"As we turn to the new year, we're confident that we're going to see continual increases across our fenestration business, as the demand for housing remains high," he continues. "We're also focusing more heavily on the controlled-environment agriculture (CEA) market, an area that's typically very demanding of positive environmental solutions. We're working with that market space, coming up with new materials to suit its needs."
Intek Plastics
www.intekplastics.com
Services: Thermoplastic extrusions and sub-assemblies