Tailored solutions
Innovative weaving business James Dewhurst has grown into one of the largest global manufacturers of flexible reinforcement materials
Having quickly earned a reputation as an innovator in adapting looms and processes for the production of fabrics in the first few years after opening for business in 1933, Lancashire based James Dewhurst Ltd had more than 140 looms in operation by the start of the World War II. With technical textiles entering the market in the 1950s, the company faced new challenges as the plastic and rubber industry began looking for open mesh scrims made from high tenacity yarns. In response to this, James Dewhurst spent the last three years of his working life finding a solution to this challenge; a level of patience and commitment that was rewarded with the launch of a new class of technical textile, scrims, which was patented as 'Jamette' scrim fabric. 'Jamette' became the forerunner of James Dewhurst's high performance woven and laid scrims, now known as Dewlock and Dewtex.


"In the early 1980s James Dewhurst developed its own proprietary laid scrim technology, which is now known as Dewtex. Instead of using traditional textile looms in a woven process, more open scrims were produced by arranging the yarns in two directions, the warp direction and the weft direction. These were then laid down in this pattern and glued together before being rolled up so the mechanical integrity of the scrim was not damaged," explains Jean-Claude Abed, Group Sales Director at James Dewhurst Ltd. "We are the only company to maintain this proprietary technology and are the only company to produce these laid scrims from our own unique process. All of our competitors use the more traditional rotary type process."
This unique process could produce scrims at more than three times the speed of conventional turbine looms and twice the width. However, following 20 years of continual development of James Dewhurst's Dewtex technology, the company's latest machines can now produce fabrics of more than five metres in width with weft insertion rates of over 3300 picks per minute.
Further innovations followed, with James Dewhurst launching its first off-line coating and laminating unit in 1999, which led to the firm providing its customers with a range of highly competitive coating substrates by combining nonwoven materials with scrims. Now marketed as Combitex and used in roofing, flooring, composites and other applications, the creation of this technology led to an entire factory being opened to support demand from the global market for the perfect coating substrate for their applications. The establishment of this new factory came in advance of the company's expansion into Georgia, the US, in 2004 as a result of increased demand for Dewtex in locations such as Asia and North America. "In 2004 a decision was made by the family to expand into the US, with a factory established the same year. From 2004 until 2010 this factory was predominantly used for additional capacity for the European markets while the company worked on developing a market in the US."
As a result of these innovative developments, James Dewhurst boasted three key product divisions by 2007, the traditional industrial textile solutions, laminated scrims and reinforced scrims. With the company well-established, the family decided to sell the business to a private equity firm in 2008, the same year that James Dewhurst's factory in the US increased in capacity in line with the introduction of the Triatex line making triaxial scrims that are suited for ducting applications. "We developed the Triaxial scrim in the US, it is still a laid scrim but instead of the 90 degree box look it has a more triangular look to it as it has a third element that means there are three different directions of the yarn," explains Jean-Claude.
With $1 million recently spent on a second Triaxial scrim line in Georgia, Triatex now plays an integral role in the success of James Dewhurst, alongside its two other reinforcement scrims: Dewtex, the company's market-leading laid scrim brand, which offers low profile and low scrim performance; and Dewlock, its woven scrim that offers superior geometry and tearing resistance. Leading in the development of flexible reinforcement solutions through open scrims or meshes, James Dewhurst's three scrims are used in markets such as construction, flooring, filtration, packaging, automotive, and insulation.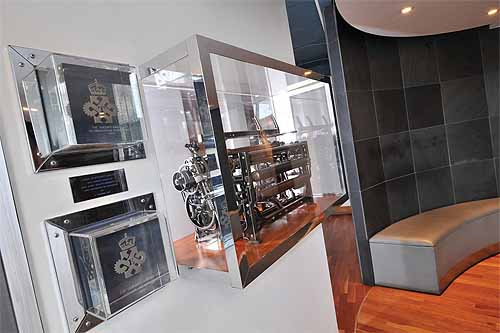 "We do a lot of business in construction markets, filtration and roofing," confirms Jean-Claude. "We are also developing a presence in the geo-textile market and are progressing into the hygienic wipes market globally; you may have seen in restrooms that there are paper towels to wipe your hands on and if you look closely you will see these have a netting in them that allows people to pull on the paper towels within a rotary piece of equipment without tearing. This is a big market in Europe and the US, it is growing in Asia too. We also sell woven material to the automotive industry for the engineered parts of car seats, however this is a difficult market to get into as it is high spec and the cars have life cycles, but once you have a contract in place you are connected to the lifecycle of that car, lightweight conveyor belts for a wide range of applications, woven substrates for coating and specific woven fabrics for ardous uses such as flak jackets for the military.
"In addition, we make glass woven materials that go into fibre reinforced composites such as windmill blades and other components to help create high-strength structural pieces. Ultimately the main performance attribute of our technology is strength and stability, we support other products through these capabilities."
Having sold more than one billion square metres of flexible reinforcement materials in 47 countries over the last two years alone, the company has enjoyed steady success despite the economic downturn; a feat that Jean-Claude puts down to a renewed focus on customer service. "We have not only maintained our market share, but grown it through a more customer-centric approach. By not only ensuring the material reaches our customers promptly, but also developing close relationships with customers through open discussions and flexibility, we can deliver solutions that are more targeted for our customers' requirements," he highlights.
With strengthened relationships in place, James Dewhurst is keen to continue its tradition for innovation by focusing on opportunities in the geo-textile/construction market through the development of higher Decitex yarns. "Now that we have overcome the technical challenges of producing the heavier yarn scrims demanded by this industry, we have begun aggressively pursuing geo-textile/construction business, including road paving, soil stabilisation and water retention applications. Having already gone through significant changes over the last two years, we are ready to expand and we are excited about the opportunities in the future," concludes Jean-Claude.
James Dewhurst Ltd
Products: Reinforcement scrims, laminated scrims and woven textiles