In demand
Following investments in facilities, personnel and process improvement, family-owned sheet metal fabricationb firm JC Metalworks has achieved record sales in 2016
Celebrating 30 years in operation, Loughborough based JC Metalworks has grown from its humble beginnings in founder Jesukh (Jack) Chauhan's garage to become a highly successful sheet metal fabrication firm that delivers superior solutions to its diverse customer base. Offering a total in-house solution for all metalworking manufacture requirements, from design and
precision engineering services through to product manufacture, assembly and delivery, the 95 employee strong JC Metalworks produces parts and assemblies to range of industry sectors; these include retail, HVAC, automotive, enclosures and electronics. Able to manufacture almost any item produced out of metal and tube, from a tiny component within a light fixture to housing for a television point of sale display, the company is committed to delivering just-in-time working practices that ensure tight deadlines are met.
Proud to add value for clients, JC Metalworks can undertake an entire product manufacture journey from concept design through to assembly and delivery; it can also provide account managing and oversee the entire project to save customers' time. Seeking to understand the exact requirements of each client, the company will recommend the most cost-effective engineering solution before any manufacturing takes place, with clients also able to outsource a portion of their product development. "We pride ourselves on being able to take a creative picture from our clients and turning this into a finished unit or assembly. The level of fully managed service differs by client, with some wanting to provide engineered drawings, while others will provide a sketch that our engineering team will draw up," says Nick Oakland, Managing Director at JC Metalworks Ltd.
"Many clients wish to purchase a finished assembly from us, which means we source plastics, electrics, prints, woods and fasteners for the final assembly process. We take away the hassle from clients managing the supply chain for these products and control both quality and delivery requirements through our purchasing function," he adds.
Having achieved record sales in 2016 that are set to continue over the coming years, Nick goes on to discuss JC Metalworks' success story: "Over the last 30 years we have focused on strengths such as flexibility and reactiveness, the skill sets of our employees and our engineering knowledge to become a well-reputed business with a turnover of £5.5 million in the last financial year. The reasons for these record sales are heavy investment in plant, people and process improvement over the last 12 months. However, this is only part of the reason for our significant growth as we also pride ourselves on delivering an overall package in terms of service, price and quality that sets us apart from our competition."
Recent investments include a four kilowatt Amada fiber laser, Salvagnini P4 panel bender and a fully automated powdercoat line; the company's latest addition to its folding operations is a 2.5 metre Amada 80 tonne press brake, which was commissioned at the end of April 2016. Investment is anticipated to continue as the fabrication department undergoes a full refurbishment in December 2016, which will include new extraction and welding bays.
Not a company to rest on its laurels, JC Metalworks has continued to enhance operations in other areas of the business to further boost its competitiveness in the market, as Nick reveals: "It is integral for our continued success to have the correct structure in place to manage customer's work once we have won the contract, as such, our project management structure was implemented in the final quarter of 2015. This has shown immediate gains by ensuring we maintain the focus on our clients' work while also ensuring the customers' requirements are clearly understood by all departments within JC Metalworks; this results in the whole team working towards the same common goal. In addition to the establishment of this department, we have invested in our sales function by recruiting a business development manager as we seek to widen our scope across the industry sectors we are targeting."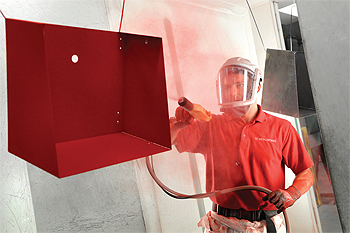 On top of this, the company is preparing for the future with its apprentice scheme, which is currently in its second year. Run in conjunction with Loughborough College, the apprentice scheme saw JC Metalworks take on three apprentices in 2015 and another three in 2016. "The apprentices all complete a carousel where they spend a certain amount of time in each department across operations. Moreover, when it comes to our employees, we have a training strategy in place to ensure our personnel remain experts in their fields, particularly when it comes to understanding the capabilities of our machines," notes Nick.
Keen to continue improving and developing its services, JC Metalworks will continue to focus on having the right equipment, people and processes in place to serve both new and existing clients while also seeking out new developments in the machine market at exhibitions such as EuroBLECH. "We have plans to look at robot welding and a new laser over the next 12 months so it is vital to maintain our knowledge of the market place," says Nick.
"Over the next few years we have ambitious growth targets that read £10 million for 2018/19; to reach these targets, we will invest in machinery and ensure our people strategy aligns with this growth; to do this we will expand our skill base and continue our apprenticeship programme," concludes Nick.
JC Metalworks
Products: Components and assemblies for a number of industry sectors