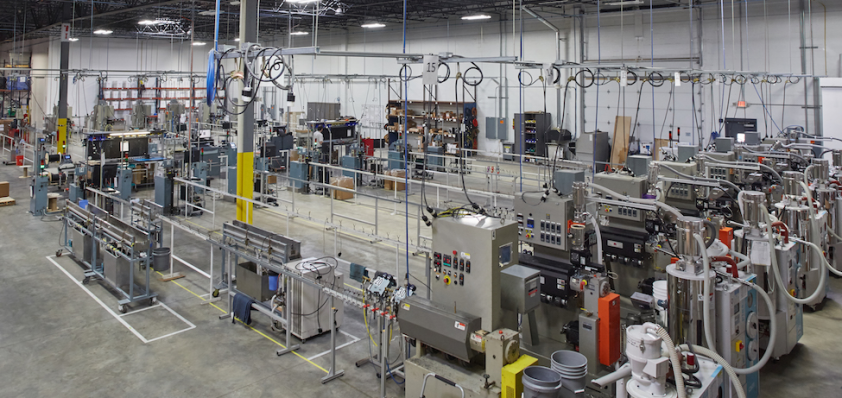 For several years, Village Plastics had a reputation in its industry as a leader in the development of quality 3-D printing filament and welding rods. When it was acquired by 3D Systems Inc. in 2013, the company left the open source space, making filament for its parent company and a few other clients.
"People forgot about us," John Hosbach says. "We fell off the radar in the open source filament market."
Today, as Keene Village Plastics, the company wants to re-establish its status as a market leader. Hosbach is the general manager for the Barberton, Ohio-based company, which also provides welding rods and accessories.
He explains that Village Plastics started operations in 2004 out of a storage shed, where it served customers' needs for thermal plastic welding rods. "They had a small aftermarket extruder that they purchased and were running reels of welding rod out of high-density polyethylene material," Hosbach says.
When business grew, Village Plastics moved into a larger, 10,000-square-foot facility. "They added some other extrusion lines and really were concentrating on the thermoplastic used in tank fabrications," he says, noting that these are often used in fire trucks or drainage pipe applications seen in new store construction.
When 3-D printing became more prominent, Village Plastics began producing 3-D filament. Over time, many desktop 3-D printer companies purchased the filament from Village Plastics and relabeled it as their own.
The company grew to serve two of the largest printing companies: MakerBot Industries LLC and 3D Systems. With their business, "We grew to 10 extrusion lines in a 10,000-square-foot space," Hosbach says.
Exclusive Work
When Stratasys Ltd. acquired MakerBot in 2013, 3D Systems purchased Village Plastics later that year so it could stay competitive. While the firm continued servicing the welding rod industry, it made filaments only for 3D Systems and a few other clients.
It also grew its operations by moving into a brand new, 30,000-square-foot facility in 2014, which allowed it to add five more extrusion lines and increase its capacity to slightly more than a million pounds annually. The company made all of the materials for 3D Systems' FDM printers until 2016, when the company announced it was discontinuing its consumer printers.
"At that point, we didn't fit into their new business model," Hosbach recalls. "I was able to generate interest in the business and helped come up with a new plan to sell the company as a complete entity."
3D Systems received several offers. However, "They looked at the offers that seemed the best fit and had the best vision of growth and longevity," he recalls.
Some offered large amounts of money, but required disrupting the workforce and shifting the focus of Village Plastics. "The offer from Keene Building Products showed the best promise for future growth," Hosbach says.
"They do extrusions of products for the building industry, so there were some synergies there," he says, adding that the firm acquired Village Plastics in 2017.
Big Differentiators
Keene Village Plastics is in the process of reintroducing itself to its market, but the assets that made it a leader have never gone away. Before the 3D Systems acquisition, "We were producing products that were better than other materials on the market," Hosbach says.
"That continues to be the case," he says, noting that its processes and work practices allow it to provide quality on a continuous basis. "That sets us apart from what other companies are doing."
Director of Sales and Marketing Steven Gall adds that Keene Village Plastics manages this with its equipment, experienced team and an internal system that tracks usage of its equipment, as well as the measurement of its products. "That's really a big differentiator," he says.
Most 3-D printing companies, Gall says, can only track their production down to a single batch. "We track by every single product," he says, noting that this is managed through the unique bar code located on each reel.
This gives Keene Village Plastics access to all data points, Hosbach says. Not only can the company tell what line made it, but also who ran it, what time it started and what time it ended.
Many of these practices, Hosbach adds, were established through the company's work with MakerBot and 3D Systems. "We were agile and able to work with both companies on what the standards should be," he says, noting that MakerBot still uses some of the same practices and quality requirements to this day.
Making a Comeback
Keene Village Plastics has taken several steps to re-establish itself in the market, which has included re-opening relations with large OEMs and white label clients. "Since we have 15 extrusion lines, we have more capacity than almost anyone in the country," Hosbach says.
Many potential clients are coping with increased demand but work with smaller suppliers. "They're struggling with consistency between their suppliers," he says. "We're getting a lot of interest from people who want to get their manufacturing under one roof."
The customers also are looking for a supplier who can make sure the product is consistent from batch to batch. "We're the only one who can do that," Hosbach says.
Keene Village Plastics also launched a retail brand through a new website where clients can purchase items individually. "We're also developing partnerships with welding rod equipment companies that customers use for fabrication," he adds.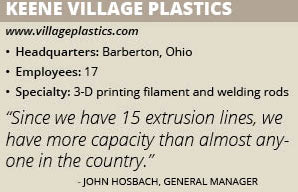 Gall adds that the company has increased its range of materials. Regardless of what technological advances its clients implement, "They're always going to need materials to make things," he says.
Today, Keene Village Plastics has more than 30 different kinds of materials for both 3-D printing and welding rods. "We also have close to 200 active color options across all product lines," Hosbach says.
Essential Materials
Finding quality materials has become more challenging for Keene Village Plastics. "There are a lot of players that are just throwing their product out in the market," Gall says. "All 3-D printer companies are suffering from this glut of material that is marginal in quality."
Keene Village Plastics has coped by using material that is consistent and high in quality. However, "As 3-D becomes more mainstream, the demand for more functional materials is on the rise," he says.
"It's one thing to be able to provide ABS and PLA," Gall says, adding that healthcare and aerospace companies are looking for highly functional, medical grade materials as they begin embracing 3-D printing full time. "They're looking for those types of materials that can withstand engineering demands."
Currently, Keene Village Plastics has nine materials in research and development that it plans to release into the market soon. "[We're] going from something that seems like a cool tech to something that's become an integral part of how we do business," he says.
One example of a functional material the company developed is polyamide polyolefin and cellulose (PAPC) filament, which carries bio-absorbable qualities and is rated for Class 1 and 2 medical devices. Hosbach notes that a client reached out to Keene Village Plastics to develop PAPC.
The process took two years. "Now, it's the only cellulose-based material on the market which is bio-compatible and machinable," he says, noting that the company works with other firms on new products.
"We can help with the material development and sales channels moving forward," Hosbach says, adding that Keene Village Plastics is working with five companies that need material converted into filament.
Efficient and Organized
Keene Village Plastics maintains an extensive quality control program, which adopted several of its current practices from 3D Systems. After it was acquired in 2013, Village Plastics underwent the procedure of becoming ISO certified.
Keene Village Plastics is not ISO certified today, but "we have all the procedures in place," Hosbach says. "So if we decide to go ISO certified, our work has already been done."
Hosbach, who has a green belt in Six Sigma, adds that the company uses lean manufacturing practices on its floor, which maintains an efficient flow. "When we moved into this building, it was a brand new, empty slate, so we could design and flow chart everything before we put anything in place," he recalls.
Today, "The plant flows really nicely," he says, noting that guests are impressed by the layout. "If you've been to a lot of different extrusion places, you run into a lot of clutter. [Our] guys take a lot of pride in keeping it clean and organized."
The manufacturing process also flows with little wasted effort or time. "We don't need to concentrate on spending an hour looking for something," he says, noting that a company can lose its capabilities with such an effort.
The layout also keeps Keene Village Plastics flexible. "We're very agile to adapt and make some changes on a day-to-day basis," Hosbach says. "If a customer calls and says, 'I need this and I need it by a certain date,' we're able to shift and move and take care of what that customer's requirements are."
A recent client needed a yellow polycarbonate filament on a tight schedule. "We were able to work with people, create a color for him and get it to him within a week so he was able to finish his project," Hosbach says.
Keene Village Plastics also has designed much of the equipment in its lines, including its winders and pullers. He notes that this gives Keene Village Plastics many advantages.
"If I have a winder that goes bad on line eight, it takes a minimal amount of time to get to service, because we did it ourselves," Hosbach says. "Everything is exactly the same for [all of our] extrusion lines."
He also highlights its 3-Axis laser micrometer technology, which has the ability to perform 900 measurements per second. "It's 100 percent inspection, all the time," he says, noting that the system immediately alerts of any filament that does not meet specifications.
One to Rely On
Hosbach sees a strong future for Keene Village Plastics, as the need for engineered materials grow. "We're able to introduce innovative stuff," he says, noting that the company can develop products with UV colors that glow or even change to another color when put in front of a black light.
"We're the only company that runs different shades of wood," he adds. "We're really focused on the consumer market for some of these materials."
Gall says, "The ultimate goal is for us to be the go-to company for bringing new materials in the market, and to be the place for one-stop shopping for 3-D printing materials."
"There's nothing more expensive in additive manufacturing than to be printing a critical part and it fails because the filament was inconsistent," he says, noting that clients can lose precious time that they cannot get back.
"That's what we're focused on."
Sidebar — On the Fly
One element that makes 3-D printing so attractive, Keene Village Plastics Director of Sales and Marketing Steven Gall says, is that it gives users the ability to make changes to products on the fly. It has much more flexibility than the process of making a mold. "Once you've got your mold and making things, it's a very expensive process to change something," he says, noting that these changes can be made quickly before the product is manufactured via 3-D printing. He adds that the Department of Defense is on the hunt for organizations that can provide the materials and have the capabilities to 3-D print non-conformable items including drone bodies. Additionally, "That's where the Navy is going," he says. "By 2025, they want to be able to print stuff that will go on an aircraft carrier," Gall says. "So getting the right people and the right companies is where 3-D printing is going."