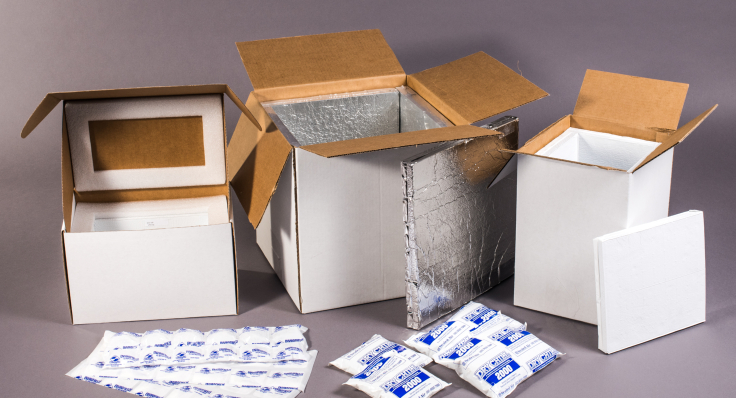 Kevothermal specializes in the manufacturing of custom silica-based vacuum insulation panels (VIP) to help maintain product temperature integrity for a broad array of diverse markets. "Our VIPs are engineered for particular applications and our flexibility in manufacturing is part of what separates us from the competition," says Mark Connell, technical director of temperature assurance for Kevothermal. "We offer short lead times, quick changeovers and delivery of a high-quality custom product. Our differentiator is really our service to our customers as well as delivering a premier VIP solution to the industry."
The Albuquerque, N.M.-based company is a wholly owned subsidiary of Sealed Air, a global premier packaging solutions manufacturer. Sealed Air started with two engineers and an idea for wallpaper. In 1957, Alfred W. Fielding and Marc Chavannes set out to create a new wall covering by laminating two plastic sheets with air bubbles in between, which never caught on as interior décor and became what we now know as Bubble Wrap®.
Bubble Wrap revolutionized the shipping industry by reducing damage and product loss while reducing total packaging cost by using less material and reducing package size and weight. Today, Sealed Air provides a material agnostics approach, solving complex fulfillment challenges by designing primary and secondary packaging solutions for each step of the supply chain across a variety of industries.
Two of those industries, food and life sciences, center around perishable products, which need cold chain logistics, adding to an already complex supply chain journey. In the cold chain space, Sealed Air combines primary packaging to assure food safety and shelf-life integrity with secondary thermal packaging solutions to maintain proper temperature throughout the delivery journey, underpinned with temperature monitoring for supply chain transparency.
"If you go into the grocery store and buy chicken, for example, it's our Cryovac® film that protects that chicken and its shelf-life integrity to make sure your food is safe to eat," explains Susan Bell, Sealed Air vice president and general manager of bio and thermal assurance. "A lot of things in your everyday life are protected by Sealed Air, but you may not know it."
In its 20 Packaging Design and Application Centers worldwide, Sealed Air works directly with customers to solve complex fulfillment challenges and creates customized solutions. Within these centers, the company operates 18 ISTA-certified labs and is in the process of opening another one in Singapore. "With dedicated packaging engineers on staff, we are ready to listen and deliver," Bell says.
In 2007, Sealed Air, along with a technology company in Albuquerque, formed a joint venture (now known as Kevothermal) that broadened Sealed Air's temperature assurance solutions portfolio. In 2009, Kevothermal expanded its operations to the UK. With more than 10 years of manufacturing experience, Kevothermal offers its customers unparalleled quality and service backed by its extensive knowledge and manufacturing know-how in silica-based VIPs.
Kevothermal ultra-thermal insulation is a nanoporous solid with both low density and small pores. The composition is based on amorphous silica in a three-dimensional, highly branched network of primary particles, which aggregate into larger particles. It has 30 to 70 nanometer pore sizes, which are more than 100 times smaller than conventional insulation, which is a technical advantage based on Knudsen diffusion theory.
The physics of Knudsen diffusion is the what determines the thermal transfer rate based on pore size, and the nano-scale porosity gives Kevothermal's insulation its excellent thermal performance along with lifetime attributes that exceed other forms of VIP core materials.
Kevothermal insulation begins as a nanoporous powder, which is pressed into a board of the desired thickness. Thicknesses range from a quarter of an inch to more than one inch and panel squares range from two inches up to two feet by three feet. The insulation is then cut to the size required by the customer, encapsulated in a protective barrier film and vacuum sealed, creating a VIP.
Engineered to Protect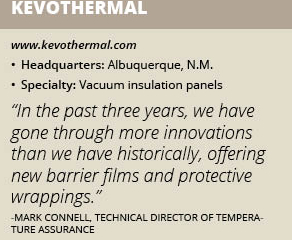 Kevothermal VIPs reduce the need for refrigerants to maintain proper temperatures, extend shipping durations, reduce package size and/or lower freight costs. The panels are used on every continent, as well as in outer space. The product meets a multitude of insulation application needs in the construction, aerospace, medical device, fuel cell, solar, energy storage system and defense markets among others. One of the dominant markets for Kevothermal is controlled-temperature packaging.
In this industry, Kevothermal VIPs are used to thermally protect products (typically, but not limited to, pharmaceuticals) during shipping. Because of the highly insulative properties of Kevothermal VIPs, the payload inside the shipping box is protected against severe ambient changes, which means there is less chance of the product becoming too hot or cold. In the case of pharmaceuticals, "maintaining proper temperature control is literally a matter of life or death when someone is relying on the efficacy of the drugs being delivered," says Connell.
Kevothermal is a custom VIP manufacturer, meaning the company will create VIP products that are tailored to suit the needs of its customers. When developing a custom VIP solution, Kevothermal first identifies the application, how it's going to be used and what the critical features are that need extra attention in manufacturing. For every product, the company establishes an outgoing quality certification plan to perform statistical-based checks for customer performance. "We check the VIP internal pressure, dimensions and critical features requested by the customer," Connell explains. "Once that passes, it's a certified product and can be shipped."
Typical lead times for Kevothermal average about four weeks, but that varies depending on order demand and customization needs. "The VIP market has shown cyclical demand order patterns that, at times, challenge Kevothermal's manufacturing capacity," says Connell. "We make every effort to provide our customers the material they need when they need it, but this can sometimes be a challenge when customer needs all come at once."
Because of the capacity challenges, the company has invested $4 million to relocate to a larger manufacturing facility next year in Albuquerque, doubling its footprint to 36,000-square-feet to add capacity. Kevothermal is also investing significantly in automation to reduce the labor involved in packing VIPs. In 2017, Kevothermal also expanded its UK manufacturing facility to 27,000-square-feet to support capacity growth in that region. "Since the US and UK make the same product, we can leverage the facilities for capacity needs. It is important for our customers to know that we have flexible capacity on different continents to support their global needs," says Bell.
VIP Innovation
As each product is custom designed to meet its customer's needs, Kevothermal prides itself on continuous innovation. "We are always doing research and development efforts on new core materials and other technologies to try and improve pricing and performance that meet the application need and cost-effectiveness for our customers, as well as improvement in product performance," Connell says. "In the past three years, we have gone through more innovations than we have historically, offering new barrier films and protective wrappings. In the last few years, we have improved our core material and manufacturing process for optimal performance. Innovation is a continuous process."
And the innovations aren't just at the VIP material level. Kevothermal is able to couple its science and technology with other Sealed Air technologies to provide application-based, solutions to meet customers needs. "It's about taking different parts of Sealed Air and Kevothermal and creating the best solution for the customer," Bell says. "We are material agnostic to provide our customers the best application to fit their needs."
A recent example of a Kevothermal/Sealed Air innovation can be found in a new polyurethane VIP assembly, which wasn't a standard off-the-shelf product. We worked with the customer to develop the design and assembly techniques needed to make an integrated solution.
Continuous innovation helps to develop deeper customer relationships. "We talk about their needs and what it is they are looking for to navigate new VIP designs and materials or direct them to other Sealed Air alternatives," Connell says.
Similar to its engagement with customers, Kevothermal prides itself on maintaining open communication with its suppliers. "The better communication we have on both sides, the better we are planning for material adjustments and manufacturing needs," Connell says. "We have regular dialogue with our main suppliers and work with them on forecasts and adjusting plans. We form partnerships with them to help their business, as well as help ours at the same time."
Developing close relationships with key suppliers allows Kevothermal to manage its inventory levels so the company does not have to carry a lot of stock. "We are in the mindset of keeping inventory levels as low as we can while having the ability to balance that with a sudden increase in demand and potential disruptions to the supply chain," Connell says. "We work with our suppliers to ensure we have a backup plan in those scenarios."
"Whether it's our customers or logistics carriers, we form strategic partnerships so we can work together as a team to solve critical fulfillment problems with innovative solutions," Bell adds. "We form those partnerships to ensure that in the event of a catastrophic accident that our customers are covered."
Sealed Air is a leader in packaging solutions and solves critical challenges for customers through specialized applications such as Kevothermal.
"We look to achieve profitable growth with our disruptive technology and drive an inspirational culture to achieve world-class performance to expand our margins and our customers' margins," Bell says. "Sealed Air has 92 manufacturing plants and 75 warehouses throughout the world with more than 15,000 employees to ensure our global presence provides end-to-end continuity of supply chain. Wherever you are in the world, we are there to help you."