A strong footprint
Since its foundation in 1988 in Eggenfelden, Bavaria, by Heinz G. Sieg, KMP PrintTechnik AG (KMP) has grown into one of the European market leaders in the supply of compatible printer consumables
Originally focused on ribbon production, the 600 employee strong KMP PrintTechnik AG (KMP) today offers a vast range of printer supplies to customers while operating under the experienced direction of Heinz G. Sieg and his son, Jan-Michael Sieg. Proud to be a family business with tradition and a forward thinking approach to business, CEO Jan-Michael Sieg discusses the reasons behind KMP's success: "Our strengths lie in the exceptional quality of our products as well as the quick time it takes for us to deliver products to the market; we also have a wide product range, which is a great advantage for us. On top of this, our brand name of KMP is strong in Europe and particularly in Germany; known as KMP Classic, this range consists of our ink and toner products.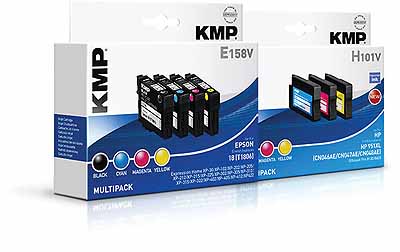 "Another integral part of our success is the development of new products, which stems from market analysis on different printer devices or other products; this work involves looking into a new product and possible market shares before we create a new product for said printer in Germany with support from development and production colleagues in the Czech Republic. It is ultimately about evaluating an upcoming product and working out whether it is a good product for our B-2-B customers or our industrial customers and then creating a product for this item. In 2015 alone we launched 400 new products."
Having embraced the new laser and inkjet printing technologies at the right time, the company has developed a strong reputation and long-term experience in modern printing, with the majority of its revenue now earned from ink and toner cartridges. Tested for absolute reliability via 11-step quality control and numerous independent tests, the company creates first-class products by using high-quality pigment and dye based inks to ensure high colour accuracy, reliable performance and consistency.
Viewed as the perfect alternative, inks and toners from KMP work perfectly in printers and are as colour-intensive and glossy as inks and toners from the original manufacturers; this cost advantage is further increased thanks to KMP's commitment to recycling and remanufacturing many of its inkjet and toner cartridges, which not only lowers long distance transportation but also reduces each customer's carbon footprint. On top of this, the company doesn't use harmful substances, which also helps protect workers, customers and the environment.
"There is a big trend coming up in Europe, one of which involves the EU and the circular economy, which is where we keep resources for as long as possible through re-use before recycling. Although recycling is a big part of our production, this is a task we are working on to fulfil the government's requirements while also helping our customers to re-use their carbon footprint too. For example, if you use one of our XXL toner cartridges, you can save up to 50 percent of printing costs and conserve resources. We want our customers to be aware about the opportunities that our products offer them when it comes to reducing their carbon footprint or enhancing their environmental balance sheet," explains Jan-Michael.
Alongside these continuing developments in toner cartridges, inkjet cartridges, ribbons, franking supplies, large format ink and thermal transfer ribbons, KMP has also been developing a recently launched series of innovative products for the protection and care of Apple products, as Jan-Michael comments: "This is a complete range of products to protect your Apple Mac, iPad, iPod, Apple watch and so on and is aimed customers who have a service team of sales reps or technical staff that are always on the go." Products within this range include a watch stand, which boasts a stylish and innovative German design and high stability due to its aluminium base. Suitable for all watch versions, the stand also has an innovative cable guideline that prevents the knotting of the cable and good operability of the watch, even when it is charging.
Other products in the Apple series include a protective case for MacBooks (Air 11/13, Pro 13/15, MacBook 12"), which is shock-absorbing, light and flexible; easy to attach due to snap-on closures and ensures access to all ports. KMP has also created a protective glass case/cooling case for the iPhone6 and 6Plus, which prevents heat radiation and boasts a simple, elegant design. Furthermore, a high-quality Protective Skin with a patented solution is included in the new portfolio. Continuing with its trend for meeting market needs, the company is also adding sleeves for the iPad and iPhone and further accessories for upcoming iPhones.
In line with these developments the company has continually invested in new manufacturing equipment to ensure ongoing innovation. As Jan notes: "We recently invested in new CNC lines and filling machines; this is a necessary part of our success. If we are going to launch hundreds of high quality products every year, we must invest in new production lines or completely new machines. It is our goal to stay strong in the market and grow in the ink and toner branch; however, our main challenge is to grow the new brand KMP Creative Lifestyle Products, and reach the same level of brand awareness that we have achieved with KMP Classic line (inks and toners)."
KMP PrintTechnik AG
Products: Protective products for Apple and printer supplies