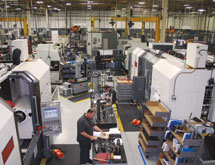 When its tool manufacturing business plunged 35 percent in 2009, KOMET of America, a subsidiary of the German-based KOMET Group, did not lay off as many employees as it could have. Instead, it used the reduced production pressure to improve its manufacturing methods so that it would be stronger than ever when the economy improved.
That investment in the future paid off when the company had a record year in 2011. KOMET of America also experienced a 25 percent growth over the previous year in the first quarter of 2012. "2011 was an all-time record, and 2012 has been very strong so far," reports Dr. F.- Hans Grandin, president/CEO for North America. "We really only had one difficult year, and that was in 2009. It was actually a very severe downturn. Our whole industry shrunk by about 35 percent. We came out of the crisis extremely strong because we prepared for the upswing during the crisis."
Among the changes KOMET of America made were instituting lean manufacturing practices. "First, we had a general training program on lean manufacturing," Grandin recalls. "Then we engaged our employees in a comprehensive ideas management program. We had a 90 percent participation rate on that program."
KOMET of America then instituted manufacturing cells. "We now have cell-based manufacturing," Grandin notes. "This means that we have smaller production cells or teams, which are responsible for an entire production process. The teams are periodically rotating team leaders that are responsible for their area. The last step will be to have a single-piece flow through these cells. This very systematic approach resulted in a 30 percent productivity increase compared to pre-crisis levels."
Grandin maintains that KOMET is outgrowing its competitors. "The company has become much faster and also more reliable in terms of deliveries," he insists. "We generally deliver as promised or earlier, which is not easy to do in the customized tools business. Customers often have emergencies that we have to react to, and we now have the flexibility to adapt our production accordingly."
Diversified Industries
KOMET of America's hole-making tools are used primarily in machining centers in a variety of industries. Grandin estimates that up to 30 percent of the company's business comes from the automotive industry. "We also are very strong in the mining and agricultural equipment business," Grandin adds.
The company also serves the energy, renewable energy and aerospace industries. In addition, it supplies a host of smaller job shops, which helps the company maintain its diversification, minimizing the impact of a downturn in a specific industry.
In 2008, KOMET of America diversified by acquiring a Mexican company known for its regrinding of solid carbide tools. "There is a whole industry in re-sharpening and recoating tools," Grandin points out. "The company we acquired was known for its high-end quality and for being probably the best in Mexico. We acquired them in order to have a bigger footprint in Mexico, and to ensure that we have a production base for solid carbide tools in North America."
KOMET's Mexican sales office and the newly acquired manufacturing plant have been consolidated in a single facility in Queretaro, Mexico. "In addition to selling tools made in Germany and in the U.S., we are now engineering, producing and regrinding solid carbide tools in Mexico," Grandin notes. "By offering such a wide portfolio of products and services, KOMET Mexico has become a significant player in its market, and was able to more than double its business since 2008."
KOMET is also present in Canada with a dedicated sales office in the Toronto area.
Worldwide Engineering Network
KOMET of America produces customized and standard tools. Production lots for standard tooling usually are larger. They are kept in inventory in quantities from 10 to 50 so they can generally be delivered the next day.
Custom tools are specifically engineered and manufactured based on the requirements of each customer's application. KOMET Group has a worldwide network of engineers who are specialized in the machining of specific components. "We have engineers who have more knowledge than others in certain components," Grandin explains. "For example, we have worldwide specialists who are focusing on cylinder heads, engine blocks, knuckles or landing gear, just to name a few. We exchange all this knowledge on a worldwide basis."
This concept enables KOMET to find the most productive solution for each customer quickly, using best practices. The custom tools will significantly improve the respective production process. For example, a process that would require two, three or even four standard tools can be achieved with a single, custom combination tool, saving customers time and money, and increasing their productivity.
Outlook is Positive
Many of KOMET of America's customers operate globally, which KOMET Group supports with its presence in more than 50 countries. Many of these countries are growing rapidly, resulting in an increased need for products manufactured with KOMET tools.
"We anticipate that the industry in general will grow," Grandin predicts. "The worldwide population is growing, so there will be more people who will need the products we provide. More people will need energy, raw materials and transportation, leading to increased production of cars, airplanes, trains and industrial equipment. KOMET of America has a solid financial base, offers superior products and services, and has a very clear growth plan, so I'm confident that we will have a very bright future."