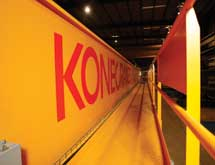 With full-service capabilities and experience working with numerous industries – as well as the expertise that comes from a history that dates back to 1910 – Konecranes takes pride in becoming part of its customers' processes.  To Konecranes, this not only means responding to customers' needs as they evolve, but also constantly evolving on its own – developing new technology, investing in research and development and enhancing its operations with new services – to be a valued partner in meeting customers' lifting needs.
"We are unique in that we understand our customers' processes and then meet their needs with our technology and equipment," explains Tom Sothard, senior vice president, head of Konecranes Region Americas. "Avoiding unplanned downtime is critical to our customers' success and profitability, so we use our expertise to design equipment that maximizes availability and reduces unplanned repairs, helping maintenance managers to keep production moving."
Konecranes is a global operation serving the global automotive, energy, manufacturing, intermodal and rail, mining, nuclear, oil and gas, pulp and paper, ports, power and steel markets. It maintains an extensive long-term customer base with its top-quality cranes, lifting products and comprehensive services, which work together to increase the value and effectiveness of clients' businesses. The company's global business is based in Finland, and Konecranes Region Americas is based in Ohio, with operations and offices throughout North, Central and South America, as well as the Caribbean.
The company's continuous goal, Sothard says, is to utilize its technology and lifting expertise to "improve and enhance productivity and lifecycle costs" for its customers.
"Recently, we've invested a significant amount of money developing new mechanical and electrical designs for increased automation, which can meet the needs of many applications," he says. "We've created some remote service systems, for example, that allow us to monitor and, in the future, maintain the equipment from remote locations. With this technology, we can detect and manage problems before they adversely affect production, which maximizes efficiency. It is also more "green", because it minimizes emissions and unproductive use of electricity.
"Some of our customers work in dangerous markets and harsh conditions, so this technology can allow them to monitor, and in some cases control, the equipment from several thousands of miles away," he adds. "We also can diagnose the equipment for customers remotely. For some of our customers, this is a major competitive and strategic advantage."
Working to ensure its equipment is responsible to the environment is one of Konecranes' key concerns, while it continues to remain focused on its expertise in improving customers' operations. Scott Gilbey, director of marketing and communications, Konecranes Region Americas, notes that regenerative braking – a process where electrical energy from the motor is fed back into the power grid – is one example of how Konecranes is adapting its equipment to be kinder to the environment.
"The bread and butter of our business has been and always will be the expert service and reliable technology that we provide," Gilbey says. "With our experience, we understand how customers work, how their processes flow and where their bottlenecks are. Then we use our systems and service to increase their profitability and safety in their operations. Environmental responsibility is just another aspect of the comprehensive packages we provide."
"We are the largest full-service organization of this type in the world," Sothard adds. "Our range of services and expertise are what make us a value to our customers."
Staying Positive
Konecranes Inc. operates four manufacturing plants throughout its region, and while the plants share expertise, each specializes in specific products – cranes, hoists, lift trucks and various components. The global Konecranes operation is widespread with major centers in Europe, China and Australia, ensuring the Americas is able to meet clients' needs outside of its regional footprint. All of the company's manufacturing operations are ISO certified.
"We have more than 100 service locations in our region, and we continue to add four to six locations each year," Sothard explains. "It's important that we get closer to our customers and not make the customers come to us."
Konecranes continuously improves its operations and implements new technology and systems to enhance its operations, but much of the company's strength, Sothard says, comes from its employees. Therefore, Konecranes continually invests in employee training.
"We are proud of our internal organization and our low level of turnover, and we're always working on the environment here," he says. "We have a positive environment, I believe, because our people are encouraged to exercise their minds. It's OK to make mistakes, but it's important to remain conscious of the customer. Our motto is that we work 'humbly, but are confident,' and we're continually improving to be even better."
This dedication continued during the tough economy of the last few years, even in 2009 when Konecranes' business took a hit, Gilbey notes. He says the company had to trim some its work force, but at the same time maintained investments in training for the future.
"This is the fourth recession that I've been through since I've been in this business, and the economy always recovers," Sothard explains. "When you cut key resources, it takes longer for your business to recover. We recovered quickly because we didn't cut much.
"Our business is about people, not equipment," he stresses. "Therefore, the best place to invest is in our people."
Much of Konecranes' recent training has focused on ensuring its people are up to speed on its automation systems and remote services technology. It's important that the people in the company's service departments are skilled on all of its new products, Sothard says, but not all of its training is about the company's and industry's newest advancements.
"In our industry, there is more old equipment out there than new," he says. "The schools are teaching about the new technology, so we have to teach our people about the old – they have to know both to provide the top level of service.
"In our managerial training, we focus on leadership skills," he adds. "In sales, value proposition training is important. They need to know all of the details when they say to customers, 'If you make this investment, this is what you can expect from us.'"
Konecranes works "painstakingly hard" at developing its employees, Sothard stresses, because the company wants to ensure its people are a good fit for its culture and organization, and that Konecranes is a good fit for its people. It has to be a "win-win situation," he says, or the operation won't be as successful.
"The key is mentoring our people," he explains. "We make a greater investment in training than many of our competitors' annual bottom lines. This is what drives the quality and success of our operation."
Moving Forward
Konecranes' ongoing drive is to improve customers' operations, and with customers in most of its markets, the company is currently focused on helping to them to modernize. "We take a look at their existing structures and equipment and help them to make upgrades to improve their efficiency and quality," Sothard says. Additionally, he notes, although modernization is important to customers in the nuclear energy market, these customers tend to have more pressing needs at this time.
Konecranes has an advantage in this niche because it is one of the few companies in its industry to serve the nuclear energy market. Its Wisconsin facility, Sothard says, is certified to the strictest quality standards of the nuclear industry.
"For our nuclear clients, we are doing a lot of upgrades to their existing facilities, but it's not just modernization, we're also very focused on safety," he explains. "After the earthquake and tsunami that set off the nuclear disaster in Japan, there are a lot more concerns here about the U.S. facilities. We are helping them become safer by providing better controls."
It's Konecranes' comprehensive product and service offering, as well as its dedication to helping customers – in any industry – improve their safety and productivity, which will continue to drive the company's growth. There is still much room for it to expand its market share in products and services in North America, he says, but Konecranes also is going after a number of emerging markets in South America. With so much to offer so many industries, the company plans to continually expand its footprint.
"We provide an attainable ROI as well as dependable and reliable products," Sothard says. "Konecranes offers the best product lifecycle cost in the market, which leads to repeat business and our continued growth."