The best treatment for wood
Providing a variety of treated wood products, wood treatment chemicals and carbon compounds, Koppers is a global business looking to expand through investment and recruitment in 2021
Koppers strives to be recognized as the world's leading provider of wood protection and preservation technologies, through high-quality treated wood products, wood treatment chemicals, and carbon compounds. Koppers is a global business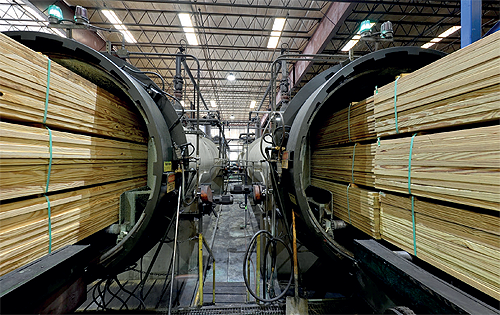 with plans to expand in 2021 through organic and strategic growth initiatives.
While the company is headquartered in Pittsburgh, Pennsylvania, Koppers truly has a global reach. Serving multiple markets, including the rail, chemical, residential, utility, agriculture, steel, rubber and construction sectors, Koppers has more than 2100 employees worldwide and operates across North America, South America, Australasia and Europe.
Publicly traded since 2006, Koppers is divided into four business units: Railroad Products and Services manufactures railroad crossties and rail joints, and offers bridge repair services and the recovery and recycling of railroad crossties.
Utility and Industrial Products is the second-largest wood utility pole manufacturer in the North American market, supplying quality poles and cross-arms to utilities in the region.
Carbon Materials and Chemicals, with facilities in the US, Denmark and Australia, distills coal tar into a variety of products, including creosote for treatment of railroad crossties, carbon pitch for use in aluminum smelting, and other chemicals for use in a variety of industries including the construction sectors.
Performance Chemicals develops wood preservative systems and technologies used to pressure-treat lumber for repair and remodeling, residential construction, and commercial buildings. Products treated with its well-known, market-leading, patented wood preserving products can be found at home improvement stores across the US. It also produces wood preservatives used in utility poles, heavy duty marine and agricultural use.
Jim Sullivan, Koppers' Executive Vice President and Chief Operating Officer, believes that the company's diversified offering is one of the main things that sets the business apart from its competition.
"A significant inflection point for this company came in 2014, when we successfully transformed a business built on producing carbon pitch for the aluminum industry into an enterprise centered on the preservation and enhancement of wood," he begins. "It was a strategic decision based on how markets and macroeconomic conditions have shifted, and it has paid off.
"Customers want to know their supply chain is secure and that is why they turn to Koppers," Jim continues. "Somewhere between 18 million and 23 million railroad ties get replaced in North America every year and the issue of maintenance is of vital importance to both large and small railroads. Our position as a reliable supplier, therefore, is critically important. We have partnerships that go back decades because customers trust us."
In order to support its broad and varied offering, Koppers runs numerous manufacturing plants and operational sites across the world, including 19 wood treatment plants, three carbon materials and chemicals plants and eight performance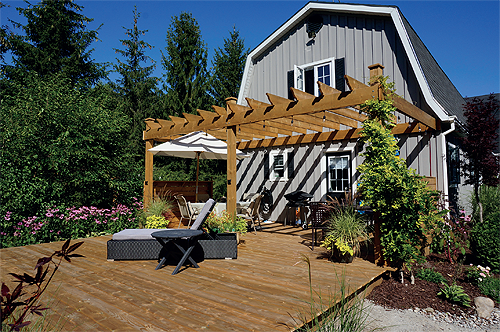 chemicals facilities such as the plant in Hubbell, Michigan, where copper carbonate is manufactured for use in wood treatment.
In mid-2020, Koppers announced that one of its railroad tie treatment facilities, located in North Little Rock, Arkansas, would undergo a $40 million modernization in 2021. Not only will the investment help fund new equipment and upgraded processes, but it will also result in hiring additional employees.
"The renovation at the North Little Rock facility came about after we secured a ten-year contract with a Class I railroad for more volume, but to do so, we had to commit to major upgrades of the facility," Jim explains. "The work is well under way and we expect to complete the final phase by the end of 2021. The site will include all-new treatment cylinders, all-new material handling equipment and updated environmental controls.
"We have also just acquired land near our Rock Hill facility in South Carolina, which is one of our Performance Chemicals plants," Jim adds. "We will be expanding the site in the future as we implement plans that give us more manufacturing capacity. We are looking for continuous improvement across the board."
Though the latest equipment and technology will no doubt play a key role in helping the company achieve future success, Koppers believes that the most important part of the organization is its people. Consequently, the company regards safety as its number one priority and is united behind "Zero Harm," an operational philosophy and set of specific behaviors focused on reducing incidents and creating a culture of safety excellence across the business.
"If you can achieve excellence in safety, you can achieve excellence in everything else," Jim asserts. "We care for each other and we look out for one another – that is one aspect that sets us apart. Not long ago, we came up with a statement of purpose that we think sums it up nicely: 'Protecting What Matters and Preserving The Future.' What matters to us is our people, the environment and the communities that surround us; if we protect those, we will have a strong future."
Koppers' culture of care has been exemplified over the last 12 months as the company and its employees have battled against the Covid-19 pandemic. In March 2020, as many companies began making job cuts, Koppers pursued a strategy of careful but aggressive cost containment, so as to keep its facilities in operation and all of its employees working. As facilities needed to close temporarily due to certain stay-at-home orders overseas, or to handle Covid infections and cleaning protocols, or when specific individuals needed to remain in quarantine or be treated for the virus, Koppers continued to pay all its employees. In addition, the company provided a bonus to its worldwide team at the end of 2020 in recognition of the many sacrifices and extra efforts required to persevere during the pandemic.
"We care greatly for our people. As an essential business during this pandemic, we have done everything we can to keep them safe," Jim declares. "In a wider sense, I am really proud of the way the company reacted to the Covid crisis. We didn't panic; we put our frontline people first, we didn't cut jobs, and when things started to turn around – when demand for residential lumber went through the roof, for example – we were able to institute a merit increase. We worked together and hung in there really well."
Koppers' strong performance throughout the pandemic means that the organization is well positioned to focus on growth opportunities for the future. Although this growth will primarily be driven by the aforementioned investment in production, Koppers will also be looking for innovation from within. Koppers Global Technology Center, an applied research facility in Pittsburgh, Pennsylvania, and its research laboratory and pilot plant in Griffin, Georgia, work every day to drive new enhancements and offerings. Additionally, employees are also encouraged to share their ideas – both big and small – through a virtual innovation portal called iShare. The program has yielded numerous practical solutions that have improved safety and efficiency throughout Koppers. Corporate Social Responsibility remains another important focus for the business too. Koppers significantly advanced the company's Sustainability strategy in 2019 and 2020 by establishing new governance structures; fostering organizational alignment; assessing and prioritizing initiatives and opportunities, risks and impacts; and working to establish new benchmarks and forward-looking goals. In January 2020, the company announced the election of Leslie Hyde as Kopper s first Chief Sustainability Officer. In 2021, Koppers hopes to further develop its sustainability practices in line with its five-year strategy.
"We have a very robust five-year plan and we trust where that will take us," Jim states. "First, we will get the work at the North Little Rock facility completed, then we may look at expanding some other facilities as well as getting cost reduction projects underway.
"In the coming years, we will be looking at two things in particular: Stronger growth and greater efficiency. We are mindful of the appropriate areas in which we can organically grow our business because of who we are and what we do, and we have already identified multiple new projects. In three to five years' time, we expect to see top line growth, and at the same time, increased efficiency. We hope to be a business driving more to the bottom line, while continuing to take care of our people."
Koppers
Products: Treated wood products, wood treatment chemicals and carbon compounds
www.koppers.com