Standard bearers
With over 35 years of experience and expertise in providing solutions within highly regulated environments, LabLogic is responsible for a host of industry standard solutions that can be found in more than 50 countries
With its roots dating back to 1980, when it provided services on existing instrumentation used in the Life Science sector, LabLogic would go on to become known for the development of hardware and software products used in the detection and measurement of radioactivity. These have subsequently been supplied and supported for the past four decades to assist with the new drug discovery and development process. Through a combination of direct sales and a network of 30 international distributors, the company has successfully sold to customers in over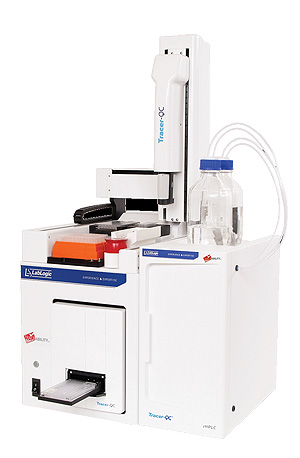 50 countries around the world, 18 of the top 20 pharmaceutical companies, leading radiotracer manufacturers and world-renowned universities.
In the early 2000s, LabLogic set its sights on the US pharmaceutical industry, and its subsequent acquisition of IN/US System (now LabLogic Systems, Inc.) in 2007 allowed for rapid expansion in this huge market through direct sales and thus a significant increase in long-term service revenue. More recently, the company took the bold step of applying its knowledge and experience to the Positron Emission Tomography (PET) and nuclear medicine market.
"At present, PET provides the best functional medical imaging capability for the diagnosis and treatment of many major diseases, including cancer," begins LabLogic's Managing Director, Richard Brown. "Through the development of innovative radiochromatography hardware products and supporting software solutions, penetration of the PET and nuclear medicine quality control market has proven to be a very lucrative step, and now represents one third of total turnover. Meanwhile, moving away from reselling products with a limited margin to establishing a manufacturing base has created greater sales margins, while revenue is also generated through after sales support, essential validation services, consultancy and project management."
Expansion into further highly-regulated environments including the security, military, civil nuclear and industrial sectors also helps to explain how LabLogic's turnover has increased from £3 million in 2006 to over £14.5 million. This growth was acknowledged nationally in 2018 through the publication of the Fast Track Profit Track 'Ones to Watch' list compiled by The Sunday Times, in which LabLogic came runner up out of five million eligible companies.
Today, LabLogic's hardware products, such its Beta-RAM radio flow detector, Flow-RAM radio-HPLC detector and its Scan-RAM radio-TLC scanner, and its software solutions, dubbed Debra, Laura and PETra, have become industry-standard in their respective market sectors. In the meantime, the company's highly skilled R&D department continues to produce innovative new creations. "One recent product we have co-developed is Tracer-QC," Richard continues. "This completely automated solution for PET QC testing and reporting presents a complete paradigm shift to the currently adopted approaches for the QC of radiotracers. The product is the first of its kind in the world and completely automates the traditional PET tracer release testing process, known for its complexity, subjectivity and high-skill requirements.
"The establishment of Tracer-QC within the global arena will revolutionise the technological approach to undertaking QC and will also open up the PET imaging modality to developing nations, and improve accessibility on a global scale. Commercially, the business will benefit enormously in being able to establish a dominant market share and there will be a significant social impact in actively working on improving the lives and treatment of cancer patients."
LabLogic has entered additional new markets through the research, development and manufacture of gamma probe systems used for surgical applications, creating the new C-Trak Apollo Gamma Probe System for use in breast cancer surgery. This solution allows for the detection of radiation for use during sentinel node biopsies, and will be the only system in the world that allows for both wireless and wired connectivity with the same probe.
Today, the majority of LabLogic's manufacturing exists in Sheffield (the company is registered as a 'Made in Sheffield' brand), while the majority of its key suppliers can be found located in a 20-mile radius of the city. "This approach enables us to have greater control over our supply chain to ensure ever-increasing demands are met," Richard reveals. "As an SME, a number of innovations have arisen from our collaborative approach to R&D through engaging with various academic institutes, and we currently have active research programmes with the Universities of Sheffield, Lancaster and York, as well as with the National Physical Laboratory. By maintaining these strong links, and engaging in Knowledge Transfer Partnerships, as well as the RISE and IMechE internship schemes, the company has retained invaluable access to new technologies and equipment."
Turning to LabLogic's plans for the future, a key business objective is to cement its experience and expertise within the niche markets that it serves. "This will be achieved via our sustained commitment to developing innovative new products, working closely with our customers and applying cutting-edge technology to both established and new sectors," Richard adds.
"An additional main objective for the next three years is to continue to develop individuals in order to ensure that the business can follow-up on the current trend of expanding the product range and experience high levels of growth," Richard concludes. "Eight members of our senior management team are currently completing a two-year CMI Leadership and Management Course, demonstrating clear investment in management training and development. Additionally, LabLogic is an 'Investors in People' accredited organisation, and we will always look to put our staff at the forefront of what we do."
LabLogic
Services: Medical, Life Science and radiation software and equipment