Nestle in comfort
Lebus Upholstery's in-depth sector knowledge allows the manufacturer to address the dynamic product requirements of its customers in a timely fashion and be first in bringing stylish sofa models to the market
Returning to and enhancing the company's age-old strengths was the card the new owners of Lebus Upholstery played when they bought the upholstery manufacturer out of administration in September 2005. The business' hardships notwithstanding, current Managing Director Karl Walker and his partners had been convinced in the huge potential Lebus possessed, with a loyal customer base and a skilled workforce in place.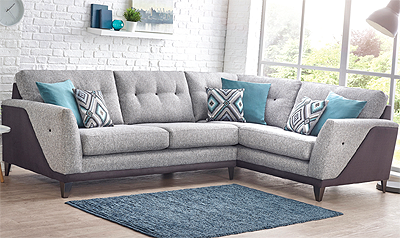 "The first objective was to bring as many of the manufacturing processes back in-house," Karl remembers. "The previous directive had been to outsource much of the cutting and sewing work overseas, which turned out to be inefficient and highly problematic. We wanted to be in a position to have every process under our direct control and we admit to being slightly 'control freaky', but this way we could manage costs and quality, and remain competitive in the aggressive sector we operate in." Thus began the revival of a company that was originally founded almost two centuries ago, in 1840.
"Our core strengths are knowing our marketplace and customer requirements and as we want to be closer to clients, we needed to bring all manufacturing back to the UK. This has now made us one of the very few fully-integrated volume upholstery manufacturers in the country, which is a distinct advantage in the marketplace," Karl continues.
A chief reason why Lebus' new owners expressed an interest in acquiring the business in the first place, was the 240,000 square feet purpose-built facility, whose operation is the axis around which every decision taken at senior level revolves. "Maximising the site's efficiencies and capacity is a major priority for us and we invest continuously in plant, machinery, and people to enhance the robust processes and systems that we have in place," Karl discusses. "Recent additions include a state-of-the-art foam conversion facility, making us one of the top three convertors in the UK. We also had upgraded cutting facilities installed last year and we are just in the process of adding a 30,000 square feet mezzanine for additional space to further bolster our capacity."
The vast array of manufacturing processes Lebus performs, serves the company's ambition to offer a varied product portfolio that covers many different styles. Karl explains: "A broad product catalogue and wide distribution are imperative. There is a requirement for model exclusivity from our customer base, which leads us to run a constant programme of new model development. Our R&D team is very prolific and is working on new designs and styles all the time. It is always challenging to create a highly desirable and aspirational offer within our market sector and our job is not made easier when trends constantly change and evolve. There are always newly-emerging styles and combinations of products, but we know where our strengths lie and we make sure we respond quickly, so that our models are out in the shortest possible timeframe. Ours is a cyclic business, with the busiest time being between October and
February, so we place very strong emphasis on targeting our new products at this key trading period."
The skills crisis in UK manufacturing is an issue that has escalated so much in the last few years, that it has entered the top priorities on the agenda of a vast number of industries. One of the most popular methods adopted by businesses to tackle the problem is the initiation of apprenticeship programmes designated to insert young blood into an ageing workforce. Such course of action has also been chosen by Lebus. In July this year, the manufacturer opened no less than 15 places for apprentices aged 16 to 20, in order to try and bridge the skills gap.
"We are recruiting from the local area, offering an alternative to college and university," Karl comments. "Our intention is to bring new people on an annual basis and we have one of East Midlands' leading training providers – WEBS – partnering with us to help youngsters develop skills that will benefit both them and us as a business.
"It is more of a 'back to basics' programme, which aims to recreate what traditional apprenticeship entailed and offer a rounded view of the production process and the skillset required in every area of the business. We have no preconceived idea as to where the individual strengths may lie, therefore, we look to identify where the fit could be within the company," he adds.
While it is hard to deny that the shadow of economic uncertainty hanging over the UK makes it difficult for businesses to expand significantly, especially in competitive environments, Karl is pleased that Lebus is on its way to achieving seven per cent growth this year. "This will allow us to reach turnover in the region of £43 million and I believe that value businesses like ours will always thrive in more challenging conditions, because we have a clear vision and know our core markets and strengths."
He concludes: "Quick turnaround, progressive design, and the ability to understand market requirements are becoming increasingly important to the customer. These are trends in their behaviour that fill us with optimism that there is still significant growth potential for us. Within the next five years, we will place even more investment in people and plant, including in heightened warehousing capability, to meet our objective of increasing our market share."
Lebus Upholstery
Products: Upholstery