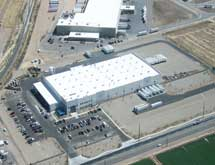 Rick Schmidgall is not your average successful businessman. He doesn't have a business degree. He would rather be down on the production floor than up in his office.  He doesn't believe in over-thinking the future. For example, he doesn't believe in long-term business plans, and he doesn't project annual sales. In fact, if you had asked Schmidgall back in 1990 when he began manufacturing furniture in an 800-square-foot space whether he believed that some day he would have a 133,000-square-foot manufacturing facility and four warehouses, he probably would have said no.
But today, Legends Furniture of Tolleson, Ariz., employs a staff of 200, counts retailers from around the country as customers and is celebrating its 20th anniversary.
Cost, Quality, Delivery
Schmidgall credits his company's success over the last two decades to a no-nonsense, common-sense ap­proach. "We just did business the right way," he says. "If we said we were going to do something, we did it."
This approach is reflected in his mantra: Cost, quality, delivery. "You're overpriced, your quality is not very good, or you can't ship on time – they're not going to buy from you," Schmidgall says. "You only need to miss one of those three things and you're out. The uncertainty in any business kills, and I think we're very good at trying to eliminate [it]."
Legends Furniture manufactures mid-line home entertainment, home office and bedroom furniture out of the plant in Arizona and imports a second furniture line from China and Malaysia. Business is split about evenly between the domestic and imported lines.
Schmidgall believes that the company's relationship with its dealers should be like a partnership. Both parties must benefit. He knows his success centers upon his ability to give reliable service to those  partners. Whether at trade shows, in stores or at his factory, Schmidgall is always asking his retailers for feedback on his products and the styles their customers seek.
As former retailers, Schmidgall believes he and his sales manager, Jim Cherry, are better able to hone in on what's important to retailers. "Customers can call me directly," Schmidgall says.
To improve customer service, he switched from a made-to-order to an inventory system. He now has three warehouses nationally – in Phoenix, Dallas and High Point, N.C. – and one in China for the import line. Delivery for domestic orders now takes seven to 10 days vs. several weeks.
Schmidgall expects the same kind of customer focus from his suppliers. For the last four years, he has been using Sherwin-Williams paints and stains exclusively. Schmidgall says he appreciates the company's dedication to the same cost, quality, and delivery factors he finds so important.
Going Lean
For all his self-guided business in­stincts, Schmidgall is not averse to using studied and established techniques when he thinks it might get the job done a little faster and cheaper.
A few years ago when growth management became an issue, he implemented the lean process improvement technique. "We were really struggling to get our product out the door and our labor rate was going through the roof," he says.
"Now, we're totally a 100 percent lean factory," he says. "Our labor rate has plummeted. We still constantly search out a way to save 20 seconds, a minute on certain processes. We're very good at what we do."
While he makes no formal long-term plans, Schmidgall knows how to adapt and takes advantages of opportunities for growth. That, he says, is how he went from being a local business specializing in casual home furniture, to a regional supplier, and now to a national business. "We earned our way there every time," he says.