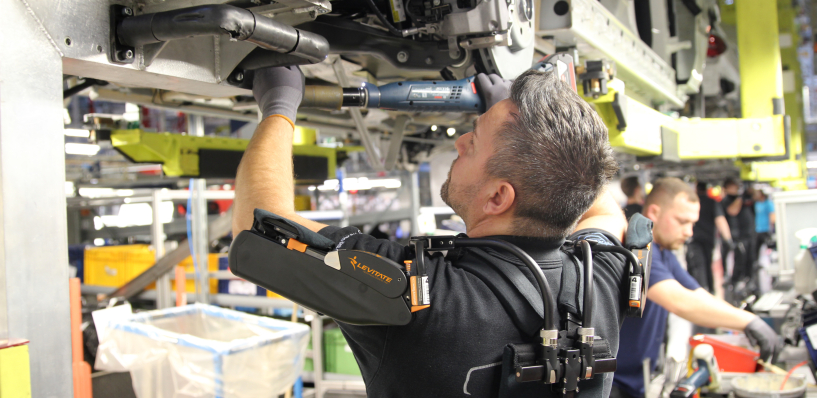 Levitate Technologies wants industrial workers to take a load off – literally. The company's main product, the Levitate AIRFRAME™, is a lightweight exoskeleton technology engineered to support the upper body of professionals and skilled trade workers who frequently extend or elevate their arms.
The AIRFRAME™ transfers the weight of the arms from the shoulder, neck and back to the outside of the hips, evenly distributing loads carried by workers and reducing muscle fatigue.
"We consider this to be a paradigm-shifting technology," says Joseph Zawaideh, vice president of marketing and business development and a co-founder of the company. "Workers have been working at shoulder level or overhead ever since manufacturing started, and there are many jobs that require shoulder-level or overhead work that robots can never perform."
The device has the potential to greatly reduce work-related musculoskeletal disorders, including in the upper extremities. "Over the last 50 years, there has been a significant spike in the instance of musculoskeletal disorder diagnoses among workers," he adds. "These disorders in 2011 accounted for more than 33 percent of newly disabled workers, up from just more than 8 percent in the 1960s." A large part of this increase comes from an aging workforce.
The prevalence of these disorders represent a challenge to worker health and productivity. "I am proud that we are improving the health and well-being of workers during their time in manufacturing and providing them with a healthier retirement," Zawaideh says.
Flexible and Scalable
The AIRFRAME™ exoskeleton slips on and off easily and moves seamlessly with the wearer without intruding into the workspace or limiting motion or dexterity.
"The idea of exoskeletons has been around for a long time, but we like to think this is the first exoskeleton that is light enough, low-profile enough and comfortable enough to be worn all day," he says. "If an exoskeleton is too bulky, you will hit the worker next to you or be unable to get through a door. If it's too heavy, you're loading your back, and if it's not comfortable around the spine, it will press on your lower back.
"Our product provides ergonomic support when you need it, and that support goes away when you don't," Zawaideh adds. "When you put your arms by your side, you shouldn't feel any pressure or force on your arms; when you raise your arms, the support automatically kicks in."
The AIRFRAME™ is strictly mechanical and does not include lubricants, seals, software, electrical components, pistons or compressed air. Instead, the system consists of cables, pulleys, springs and aluminum tubing. "This makes the devices reliable enough to be used all day and every day by the worker," Zawaideh says. "Most people describe [the AIRFRAME™] as being simple and elegant."
The device is flexible and scalable to all sizes of people. "The modularity of the device is a majority part of the innovation," he adds. "The human body comes in all shapes and sizes, and the AIRFRAME™ design allows for quick adjustments and selections of components that allow the device to be fitted for a 5-foot, 2-inch tall person or a 6-foot person in a matter of a few minutes." Once the device is configured for the user, there are no further adjustments needed for everyday use.
Development and Testing
Zawaideh co-founded Levitate Technologies in 2014 with partner Mark Doyle. Previously, the two had worked had together in a medical devices industry. Doyle – an inventor and serial entrepreneur – had also previously worked with surgeons on developing new instruments.
While observing surgeons in the operating room, Doyle noticed many of them were becoming fatigued as a result of hanging their arms over patients. This observation was the genesis of the AIRFRAME™ device.
The device was originally tested by surgeons while performing laparoscopic procedures and sonographers performing echocardiograms. The technology was validated in Internal Review Board-approved studies performed at the University of San Diego Industrial Engineering and Ergonomics Lab as well as in a partnership between Toyota, John Deere and Iowa State University.
"We believe we have the most extensive amount of safety data collected on an exoskeleton, and have performed extensive studies with electromyography in both the lab and on the job," Zawaideh says.
During its testing and development, the AIRFRAME™ gained interest beyond the medical community. "As we brought in money from private investors and developed the exoskeleton, manufacturers found out about us," he adds. One of those manufacturers was BMW, was interested in using the exoskeletons for employees in its Spartansburg, S.C., manufacturing facility. Toyota had also expressed an interest.
"Industrial companies invited us to demonstrate the prototypes we had and were so impressed they quickly started placing orders," he adds.
This interest led the company to switch its target market to the much larger industrial market.
Widespread Adoption
Since its commercial launch in 2017, the AIRFRAME™ has been used by assemblers, painters, welders and material handlers at automotive, aerospace, heavy machinery and agricultural equipment manufacturers.
In addition to BMW and Toyota, other customers include Mercedes and the U.S. Navy, among many others. "There is also interest from biotech companies for the use of the AIRFRAME™ in pipetting," Zawaideh says.
The AIRFRAME™ is exported from the company's American-based contract manufacturing facility to customers around the world, including in Europe, South America and Japan.
Levitate Technologies supports its U.S. customers with the help of its field staff, known as ExoTechs. "Our ExoTechs provide support for customers when they first evaluate our technology, help our customers through the process of ordering the products and are there for the deployment of the product once their evaluation is over," he adds. "Our greatest strengths are our service, our product and the safety and efficacy data we have backing it up."