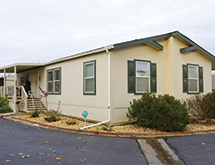 Lexington Homes prides itself on manufacturing homes that combine quality and value. "Our vision is to operate a business built on Christian values that makes the dream of home ownership an affordable reality for our customers, and to provide gainful employment to the citizens of both our local and extended communities," the Lexington, Miss.-based company says. "Our philosophy of building quality homes at a high volume while keeping a very low overhead allows us to have one of the lowest-cost-per-square-foot homes of any builder in the nation."
Lexington builds its homes in a factory using assembly line methods, giving it a cost per square foot of half that of site-built housing. "This is the same reason an automobile built on an assembly line is about half the cost that it would be if you assembled that same car one part at a time in your back yard," the company adds. "Factory building means no weather delays, better inventory control, reduced labor cost and better quality control. Factory building also lets us buy in volume, thus further reducing the cost of materials per home."
The company uses many of the same materials seen in site-built housing including brand names such as Georgia Pacific, Rheem, Nordyne, Whirlpool, Shaw Carpets, General Electric and Owens Corning, it says.
Founded in 2004, Lexington Homes specializes in HUD-approved manufactured housing. "The company was started by individuals who have many years of experience in the industry including production, wholesale and retail sales, and retail financing," Lexington Homes says.
The company's owners have more than 100 combined years of experience and work closely in the business' day-to-day operations. They employ more than 300 people and build approximately 50 homes per week.
Lexington Homes are sold by more than 80 retailers in Alabama, Arkansas, Florida, Kansas, Louisiana, Mississippi, Missouri, Oklahoma, Tennessee and Texas. "By being centrally located in Mississippi, the company is able to affordably ship to all points in the Southeast," the company says.
Company Recognitions
Lexington Homes produces single- and multi-section HUD homes as well as modular homes for the federal and Mississippi emergency management agencies. The company has been noted for its quick response in providing housing for hurricane victims and was also in recent years named "Manufacturer of The Year" by the Mississippi Manufactured Housing Association.
The company's recent recognitions include having the best-selling home model in the state of Mississippi. Lexington Homes is also one of the top-10 manufactured housing producers in the country, it says.
The company in 2007 qualified as an Energy Star-certified manufacturer. Since then, it has produced roughly 500 Energy Star Homes. The company recently won Energy Star's "Leadership in Housing" award, given to manufacturers who have "provided outstanding contributions to protect the environment," it says.
Manufactured Strength
Lexington manufactured homes include a number of features that contribute not only to their energy efficiency, but also to their overall strength. All homes feature a non-corrugated I-beam with full outriggers throughout their entire length, which provides a strong foundation, better frame and more support. Floors feature a 2-inch by 6-inch floor joist on 14-foot-wide floors, and a two-inch by eight-inch joist on 16-foot floors, which makes them sturdier and longer lasting, the company says.
Exterior walls feature 2-foot by 4-foot studs with 2-foot by 4-foot top plates, making them stronger and straighter. Interior walls and floors feature R-11 insulation, and R-14 insulation is used in all ceilings. This eliminates hot and cold spots and lowers utility bills.
Other notable features include:
> Insulated heat ducts, which provide for the quiet, efficient operation and better air distribution in heat and air systems
> Freeze-resistant "Pex" plumbing with brass fittings
> Congoleum no-wax vinyl flooring
> Two-inch blinds for all windows with valences
> Plywood kitchen drawers
> Durable fiberglass tubs and showers
> Overhead kitchen cabinets