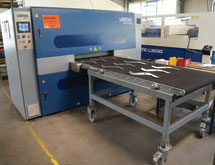 Industries that rely on metal parts expect them to be safe to handle and free of sharp edges that could cause injuries. Lissmac USA plays a part in helping its customers deliver that level of safety, Vice President Ingo Heiland says.
Based in Waterford, N.Y., the company is the U.S. operation of Lissmac GMBH. The Germany-based manufacturer specializes in construction technology, handling equipment, metal processing and complete plant engineering, "where we design and build complete plants," Heiland explains.
"Over here in the United States, we're only working on metal processing and handling equipment," Heiland says. Lissmac USA serves customers in the agriculture, automotive and airplane industries, including John Deere and Bombardier. Lissmac also provides metal finishing, deburring and edge-rounding solutions to job shops, precision sheet metal shops and steel service centers here in the United States.
"They very much need rounded edges," he says, adding that the firm also helps the appliance industry, thanks to its 2012 acquisition of Steelmaster. "[They are] focused on wide belt grinding machines, which create the nice, smooth, uniform surface finish that customers particularly in that market segment are looking for."
Innovative Machining
A veteran of the metal surface and grinding machine industry, Heiland took leadership of Lissmac USA in 2011. Previously, he was the general manager of a competing machine firm in Germany.
"Then, I got an order to take over the United States facility," Heiland recalls. "Since then, we [have grown] rapidly." He credits the company's success to its level of innovation.
For instance, one flagship product is its SBM machine that both rounds edges and removes oxide from parts. This solved a problem that almost every job shop faced, Heiland says.
When metal parts are cut with a laser, he explains, the process can leave a layer of oxide. "If you paint over an oxide layer, it will chip off," he says, adding that this can lead to rust.
To solve this problem, Lissmac created a machine that could round edges and remove oxide. Today, "We are still selling it and we are now in the third generation of this kind of machine," he reports. "We constantly put new machines on the market."
The main characteristic that makes Lissmac machines stand out in the market is that they can round edges or remove oxide in a single pass. "That means you don't have to flip over the parts," Heiland says.
The company's competitors, he notes, manufacture machines that require users to flip over parts, which can take more time. "If you have a part that is 12 feet long, two-and-a-half feet wide, and a quarter-inch thick, it is a hassle to turn it over," Heiland says.
On Lissmac's SBM machines, "It doesn't matter if the burr is up and down or [if] the oxide is more [on one side]," he says. "Just running the part through the machine once cleans up all edges simultaneously."
Top-Notch Testing
The majority of Lissmac's manufacturing is completed in Germany, but its U.S. arm manufactures some conveyor tables. The U.S. operation also tests sample parts for clients.
After Lissmac USA's customers send over a part, the company will run it through a demo machine so it can determine which would be best for its customers' needs. In the end, "The customer gets their issue solved and has a machine that is efficient," Heiland states.
SBM machines are designed to provide an automated solution for processes that can be time consuming and labor intensive when done manually, and in many cases are easily cost justifiable. Lissmac USA's customers soon discover the advantage of using its products, as opposed to having workers grind metal parts by hand, Heiland says. "It's very obvious where the machine is more efficient for the customer," he says. "There is a uniform finish which you can never get from manual operations."
Plans to Grow
Lissmac USA has had a positive and busy market since the middle of 2013. "Due to our innovative technology and overwhelmingly positive customer feedback, our orders have been steady and we're already facing some lead-time as we move towards year end," Heiland says. "We're not complaining about the market situation right now."
He wants Lissmac to become better known in the United States. "There are still many companies that haven't been able to learn about us," he says. "This is why we are getting more and more machines into the field."
The goal is to see that more customers will come to know and trust Lissmac USA. However, "It's quite difficult to get into the areas that are still white on our map," he admits.
The company also wants to increase the amount of manufacturing it performs in the United States, which would require it to open more locations. "We definitely have the plans that if we increase our market share, we will start to create our own manufacturing of the machines right here in the United States," he says.