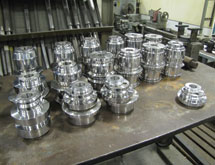 Keeping weight down while strengthening components is key to achieving mileage reduction goals in the automotive industry. Although weight is not as crucial to autos and trucks as to airplanes, it is being designed out of vehicles to improve fuel economy. Assisting in this quest are the parts LTC Roll and Engineering supplies that combine strength with weight reduction.
The company forms a key assembly component for cars and trucks called the rocker panel that needs to be made from high-strength steel called Martensite, but as the steel strength increases, so does the brittleness and springback.
"Rocker panels are the structural pieces that GM uses to set the whole body-in-white structure of the vehicle," explains Russ Senkowski, LTC's director of business development and sales. "They are the first pieces they set in the structure assembly process. They weld the body side frame of the vehicle to it. The tolerance is very significant because of the position that is utilized for the whole structure of the vehicle."
Because of Martensite's brittleness and springback, special forming techniques had to be developed. "LTC is a company that was on the forefront of developing tooling processes to manufacture this type of material dating back to the early part of 2001 and 2002," Senkowski recalls. "We've got a pretty long history with it. We are probably GM's biggest rocker panel supplier, because we have the contracts for four different vehicles with GM."
Hardened Character
LTC runs grades of Martensite up to 1300, which become more hardened with forming. "It's almost like a spring steel, where it has a memory, and consequently because the material has those characteristics, you can't typically use traditional metal-forming methods like stamping, because it's prone to cracking," Senkowski explains.
The solution is roll-forming the steel gradually through a linear-fed line of roll passes or roll dies. "There are many instances where we have to overbend or overform the part to achieve the final shape required by the customer," Senkowski declares. "You almost have to overbend it 50 percent just to get it to come back to where we ultimately need it."
Only a handful of companies can form these types of parts, Senkowski maintains. "One of the advantages we have is we build our own tooling," Senkowski points out. "So we have a tremendous amount of experience in developing tool processes to make Martensite products."
GM's steel suppliers have developed two stronger, lighter grades of Martensite – 1500 and 1700. "GM tasked LTC with developing tooling processes to manufacture that material," Senkowski reports. "So it's nice when your customer comes to you and looks for assistance."
LTC even has developed a method of flattening out the waviness or oil-canning of the Martensite. "That is proprietary," Senkowski stresses. "It's something LTC developed; no one else in the industry has it. It drives GM crazy – they'd like to know more about it, but we won't let them have it."
Auto Industry Emphasized
LTC Roll and Engineering's business is centered 100 percent on the automotive industry. It will be installing several pieces of new equipment in its facilities to better serve this client base. "We have purchased a new rolling mill that is going to be the largest-size capacity that we've ever had, and also introducing to LTC a new process called induction welding," Senkowski says. "What we're going to be manufacturing for our new customer, Metalsa, is a structural tube truck frame component for the Ford Expedition and Lincoln Navigator out of a heavy-gauge, 4 mm-thick high strength steel."
Metalsa manufactures structural components for light and commercial vehicles and has plants and offices worldwide. This part will be delivered to Metalsa's facility in Kentucky – which is near the Ford assembly plant for those vehicles – and will be manufactured on the new rolling mill at LTC's Michigan plant.
"How they judge size is the size of the spindle, so it's a very heavy-duty, robust 3-inch roll mill with a high-frequency induction weld cell in excess of $1 million," Senkowski says. "From the coil feed through the roll mill into the welding is all integrated and automated. It will be supervised, but it's a job that really doesn't require a whole lot of labor. Roll forming is a pretty lean process to begin with. It's not heavily labor-intensive."
LTC has a plant in Celaya, Mexico, which is near the GM plant in Silao, Mexico, that uses the rocker panels it manufactures there. The company's combined manufacturing space in Michigan and Mexico is approximately 275,000 square feet.
The high-strength steel for LTC's parts is obtained by the auto companies and sold back to the suppliers at a fixed price over a guaranteed time-span, so the auto companies absorb material price fluctuations.
"What else the auto companies have done is if you have steel that you buy on the open market, they have what they now call a cru index, where they allow fluctuations to be absorbed and adjusted on a quarterly basis," Senkowski notes. "In the past, they were not allowing the supplier to participate in increases. Now they are allowing it. It's a much more healthy relationship between the OEMs and the suppliers."
Another trend Senkowski is seeing is a requirement by auto companies that their suppliers locate their facilities within 25 miles of the auto assembly plants to reduce shipping costs. "I think they've come to understand that importing product offshore is not the most cost-effective way to go," Senkowski asserts. "With this new strategy, you will see a tremendous amount of reshoring taking place."