Maag Pump Systems AG's recent union with Gala Industries and Reduction Engineering Scheer (RES) will allow all three companies to take a giant step forward.
Maag is a manufacturer of high-quality pumps used in the plastics industry. In 2015, the company joined with Gala, a leading manufacturer of underwater pelletizing systems and centrifugal dryers based in Eagle Rock, Va., and RES, a manufacturer of strand pelletizing systems and pulverizers based in Kent, Ohio.
"Maag's products serve the same industry as Gala and RES," says Lawrence Rentz, general manager for Maag Americas, the company's North American operation. "We can now offer complete solutions to our customers – from pumping molten plastic and filtering, through pelletizing and drying. We continue to focus on bringing more value to our customers."
Combined, all three companies have more than 300 employees working in a total 200,000 square feet of manufacturing space in the United States, and 1,000 employees worldwide. "We take pride in serving as our customers' go-to innovators, providing the best customer support and manufacturing Made in America products," Rentz adds.
Founded in 1913, Maag has a manufacturing presence in five countries and sales staff in seven. "We aim to be the leading manufacturer of gear pump, filtration systems, pelletizing and pulverizing equipment," the company says.
Complete Systems
Maag's recent acquisitions allow the company to better meet its customers' needs. "Our customers are looking more and more toward complete system solutions," Rentz says. "They want someone to understand their process needs and find ways to innovate and service their entire line."
The new Maag Americas has a strong customer service focus. Gala Industries, for example offers clients extensive support including engineering expertise. The company often brings clients into its lab, where it shows them how its machines can be used to process their products. Clients also get operator training, technology updates and 24-hour technical support.
"Gala has long been noted as being extremely knowledgeable of its customers' processes and is a strong partner," Rentz says. "We are leveraging those characteristics, sharing internal best practices and placing a greater emphasis on customer support and customer value optimization."
All of Maag's customers expect their machines to be reliable. "We want to make sure their uptime is maximized and that they are able to run their process and generate value non-stop," he adds. "Our customers expect exceptional service, beyond simply reacting to potential issues. We are committed to providing proactive service in all we do."
Market Applications
The machines manufactured by all three companies are used in applications including bulk resin and polymer production.
Maag machines are also used in the plastic compounding process, which involves adding colors or other materials to virgin polymers to produce new materials with desired qualities. This process is done to the specifications of the end-user of the plastic being produced. "With Maag's strength in virgin polymer production married with Gala and RES' presence in compounding, we further expand our capabilities as a complete solution provider," Rentz says.
After compounding and production are complete, end-users take the plastic and perform injection, roto molding and other manufacturing processes to produce a final product. Maag's equipment is used in a variety of industries in a variety of industries including automotive manufacturing, construction and packaging.
For example, Plastics processed using Maag, Gala and RE Scheer equipment are used in products including wiring, food containers, adhesives, medical tubing, automobile interior components, drink bottles and Styrofoam cups.
"Roughly half of the industries we support focus on packaging," Rentz notes. Packages manufactured using plastics that processed by Maag machines are produced and sold around the world.
Recycling is an additional application for Maag machines. "We take pride in being leaders in supporting the recycling industry. We're committed to improving our environment and strengthening our communities," Rentz adds.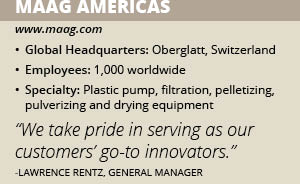 Customized Solutions
Maag operates three production facilities in the United States. Gala and RE still manufacture machines marketed under those names in Eagle Rock and Kent, respectively, while pumps bearing the Maag brand are manufactured in Oberglatt, Switzerland.
Each facility has engineering as well as manufacturing operations. "We pride ourselves on being able to optimize our customers' processes and give them a highly engineered product. Whether through offering standard products or custom solutions, we are committed to understanding and fulfilling our customers' needs," Rentz says.
Maag's manufacturing processes include fabrication, machining, assembly and field repair. Its fabrication processes include laser cutting, welding, rolling and sawing. The Kent facility has CNC machine centers and CNC grinding for pelletizer rotors and machine components as well as critical parts for its pulverizers. The Kent facility also has a full-service repair center for rotors, pumps, filters and many other Maag systems, Rentz notes.
Products are tested along each of the company's assembly lines. "We measure the key characteristics and evaluate the capabilities of our equipment to make sure our productivity remains high and our scrap rate is low," Rentz says.
Maag has robust quality procedures where parts and subassemblies are measured and tested. "The safety of our employees and customers is our priority , with quality being second – it is our lifeblood," he adds.
Final Gala, Maag and RE products are tested in a facility in Roanake, Va. "We are able to test our machines to make sure they can produce specific polymers as requested by our customers. This is where much of our innovation is verified and refined," he adds.
Maag's suppliers are critical to guaranteeing the high quality of its products. The company measures the on-time performance and quality levels of its suppliers. Suppliers also provide Maag with final inspection reports for the components they supply to the company.
"We view suppliers as an extension of our capabilities and see them as our partners," Rentz says. "Any production facility can order a part and try to get the lowest cost parts out there, but we find value instead in working with suppliers who can challenge us on ways we can improve our designs. Having relationships with suppliers that allow us to constantly improve is the key to our success."
A Lean Focus
Maag is enhancing the manufacturing capabilities within all of its facilities. Recent additions include new CNC machines and new laser and automated press brake equipment. "We're spending a lot of energy optimizing all of our operations," Rentz says. "There are opportunities for investment including new production lines and higher capability equipment in both the Gala and RE facilities."
Lean manufacturing improvements are also underway. In the past year-and-a-half since Maag purchased both companies, Gala and RE have held multiple kaizen events. Employees are also being trained on lean principles.
Lean is a corporate focus for Maag's parent company, Dover Corp. Headquartered in Downers Grove, Ill., Dover is a diversified global manufacturer with annual revenues of more than $7 billion. The company operates in four major segments: energy, engineered systems, fluids and refrigeration and food equipment. "We are bringing Dover's resources and expertise in lean manufacturing and sourcing to Gala and RE to grow their operations," Rentz says.
Leveraging Strengths
Maag has introduced several new products to the market since merging with Gala and RE. "We quickly brought our engineering teams together to look at the products being made at each of our facilities and launched new products that combine the best products of each of our companies," Rentz says.
The company's newest products include a dryer, an underwater pelletizing system, a strand pelletizing system and a pulverizer.
Rentz says the company is proud of how it was able to integrate the various functions of its newly acquired companies into one. This goes beyond production activities to include the human resources, finance, supply chain and engineering departments.
"We continue to challenge each other to be more creative and help our teams think outside of the box," he says. "We are leveraging our strengths and getting results. Our team is happy and proud to be part of a large group, and our customers are really seeing an improvement to our combined services as well."