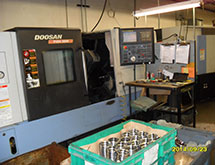 Machinewell Inc. of Grygla, Minn., is a top job shop for machined parts. Founded in 1976, it specializes in the machining, welding and fabricating of components and assemblies. It currently serves more than 80 customers.
These customers include leading manufacturers of recreational vehicles and additional high performance parts, playground and exercise equipment, military sectors, industrial restaurant assemblies, fire suppression components, agricultural equipment add-ons and many more.
Machinewell often sells its parts to dealers who in turn provide them directly to end-users, making it a 3rd tier supplier.
Machinewell works with all types of metals including steel, stainless, aluminum, brass and copper, as well as plastics. It also sources castings and special extrusions that require added-value machining.
In the beginning, the company had fewer than a dozen employees in the shop, which utilized hand screw machine operators. CNC was introduced and a team of salespeople then generated additional business. Palm says he has attained dramatic success with an outside sales campaign he launched a decade ago adding more than 80 extra clients. Currently, the company is concentrating on expanding all areas of its business.
Working out of a 30,000-square-foot facility, the company's production operation consists of a material saw department, turn department and transfer cell department. Machinewell also has mill, weld and engineering departments.
Machinewell offers an internal research and development lab along with a tooling department. The transfer cell department includes specialty equipment built in its internal research and development lab. The tooling department produces several different types of jigs, fixtures, prototyping and specialty machines for producing quality parts.
Customer Base
Polaris of Roseau, Minn., and Arctic Cat of Thief River Falls, Minn., have been two top customers since the 1980s, of which they account for 42 percent of Machinewell's sales. "I started working here in 1987 and we had just started working with them," Palm recalls. "It has grown since that time." Because the three companies are located nearby in small-town communities "where everybody knows everybody," many employees between companies share lifelong personal relationships.
Machinewell also supplies high-performance parts for its customers. "There are still people out there who want better performance with their ATVs, side-by-sides and snowmobiles," Palm explains.
On the military side, its largest client has been General Dynamics Ordnance and Tactical Systems of St. Petersburg, Fla.
Machinewell says its mission is to be its customers' preferred supplier of machined or welded parts, components and assemblies. It provides just-in-time delivery with high-quality products "in order to develop long-term, beneficial relationships," the company says.
Recruitment Accomplishments
One challenge is attracting top talent. "In today's economy, it is very difficult to find skilled people to work in the shop," Palm says. To overcome that challenge, Machinewell partners with local high schools offering a nine-week school-to-work program.
Students spend an hour per day in each company department over a nine-week period. The company then finances tuition for a two-year technical degree in exchange for a commitment to work at the company for at least two years.
Enrollment to the program begins with an assessment, which includes a student's grade-point-average. Generally speaking, Palm has found the most successful recruits are the ones with the best grades. "They perform very well," he says.
"Some of our employees have gone through that program," Palm says. "It has been very good for us as we are in competition for people."